Three Wins, Three Sports, One Feed- Winning Week for Triple Crown Horses in Polo, Show Jumping and Barrel Racing
Posted | Tags: barrel racing, horse shows, News, Nutrition, Performance Horse, polo, Riding, Show Jumping, Sponsored-rider, Training, Wellington, Winter Equestrian Festival
For Immediate Release:
Contact: Kelly Payne
Triple Crown Nutrition
(800) 451-9916
kpayne@triplecrownfeed.com
Three Wins, Three Sports, One Feed- Winning Week for Triple Crown Horses in Polo, Show Jumping and Barrel Racing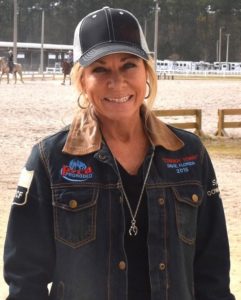 Wellington, Florida (March 28, 2018)—Last week, barrel racer Sabra O'Quinn, polo player Timmy Dutta, and jumper rider Laura Chapot each took home big wins in their respective competitions. While the competitions were quite different, each of the winners had one thing in common: their horses were fueled by Triple Crown Nutrition!
At the Houston Livestock Show and Rodeo, barrel racer Sabra O'Quinn of Ocala, Florida, had a big week, taking home $7,250 in prize money! She and her horse Chaos had several fast times, with the most exciting ride being in the Wildcard where O'Quinn kept the last barrel from falling and ran a 14.6. O'Quinn is an official Triple Crown rider and keeps her horses fueled for speed with Triple Crown feeds.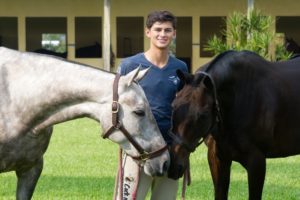 In Wellington, Florida, Triple Crown rider Timmy Dutta won the Iglehart Cup 20-goal polo tournament with his team, Pilot. The sixteen-year-old polo player has been playing with the Pilot team since January, and this was their fourth high goal tournament together. Six teams battled in the weeks leading up to the finals, and Dutta and his teammates knew it would be a tough final match against the La Indiana team. After a fast and exciting match, Pilot came out on top, winning by two goals with a final score of 11 to 9.
During Week 10 of the Winter Equestrian Festival in Wellington, Florida, Laura Chapot of Neshanic, New Jersey, had a very successful week of showing, most notably winning the $6,000 1.40 meter class with her horse Thornhill Kate. Chapot has a barn full of horses this year at the Winter Equestrian Festival, and they are all fueled by Triple Crown products.
It's no coincidence that all of these winners eat Triple Crown products for breakfast! Triple Crown is proud to support each of these riders and is committed to producing the best feeds to keep equine athletes fueled, healthy and ready to perform.
Triple Crown Nutrition prides itself on offering feeds and forages tailored to suit the individual needs of every equine athlete. Using revolutionary formulations and premium ingredients, Triple Crown was the first company to add prebiotics, probiotics, and organic minerals to horse feed. Based in Wayzata, Minnesota, Triple Crown is the official feed sponsor of the US Dressage Team, Land Rover US Eventing Team, and Hermes US Show Jumping Team.
To learn more, visit the company's official Facebook page or Instagram @TripleCrownFeed, call 1-800-451-9916, or visit www.TripleCrownFeed.com. Please direct specific inquiries about Triple Crown Florida to Craig Bernstein at 561-543-4526.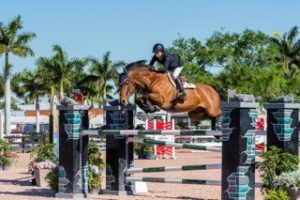 -30-
Photo 1: Sabra O'Quinn and Chaos took home over seven grand in prize money during the Houston Livestock Show and Rodeo. (Photo courtesy of JRPR, no photo credit necessary)
Photo 2: Timmy Dutta and his team won the Iglehart Cup 20-goal polo tournament. (Photo courtesy of JRPR, no photo credit necessary)
Photo 3: Laura Chapot won the 1.40m class during week ten of the Winter Equestrian Festival. (Photo courtesy of Jack Mancini)