Tips and Tricks for Mastering Perfect Centerlines and Halts
Posted | Tags: English, Riding, Training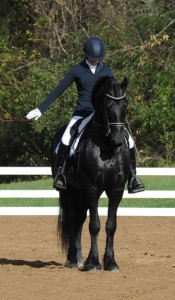 By: Samantha Majors
Impress The Judges By Perfecting Your Entrance Into The Dressage Arena
As the old adage goes, you don't get a second chance to make a first impression. This is absolutely true and extremely relevant when entering the dressage arena. Your entrance into the arena, consisting of your centerline and halt, are your first impression for the judge. Entering the arena can set the tone for the rest of the test. If you enter with a bang, perfectly straight on the centerline with a balanced, square and prompt halt, it is an instant WOW‰ for the judge and easy points. However, if you come in off centerline, wiggling around and have an unorganized halt, you don't ignite that spark in the judge's eyes. Below are a few tips and tricks for better centerlines and halts.
Centerlines
Your horse cannot be straight on centerline if you, the rider, are not straight. This includes sitting evenly on both seat bones, with a strong core and even/square shoulders. Next, when coming down centerline, find a focal point straight ahead and focus on it. It could be the judge, a fence post, a tree or whatever is directly in your line of sight on centerline. If you checked/fixed your straightness and your horse is still drifting, you can subtly work on that. For a horse bulging his shoulder, you can use your outside rein and other aids to prevent that shoulder from bulging. If your horse is losing his hindquarters, then slide the appropriate leg back to help keep those hindquarters in place and if needed, use your whip as reinforcement. My all-time favorite centerline trick is what I like to call riding the bicycle. To do this, open your hands slightly and tunnel the horse from your seat and leg straight through those bicycle reins.
The Halt
A common misconception is that you pull on the reins to halt. While often taught to beginners, pulling on the reins causes a lack of balance and for the horse to fall on his forehand. A proper halt comes from the core and seat slowing the motion of the horse and the reins acting as a wall to prevent the horse from continuing forward. When preparing for the halt, begin with a balanced walk, trot or canter (depending on the level), inhale, then when you exhale, firm your core muscles, resist the motion with your pelvis, use your hands as a steady wall, gently close your leg to keep energy and stop the movement. If this is new to you and your horse, start with walk/halt transitions and master those before moving to a faster gait. And just like with your centerline, make sure you are completely straight and even to get a square halt.
As with all things horse-related, practice and patience are key. Perfection won't be immediate, but practicing on a regular basis will certainly help to improve them!
Sammi Majors is from North Carolina. She enjoys dressage, hunter hack, jumping, and driving.