Triple Crown Feed Invites You to Enter Our 2015 Cutest Foal Contest
Whether Your Adorable Foal Is A Horse, Pony, Donkey, Mule or Minature Horse Colt/Filly, It Is Time to Show Him/Her Off to the World!
Click Here to View our 2015 Cutest Foal Photo Contest Submissions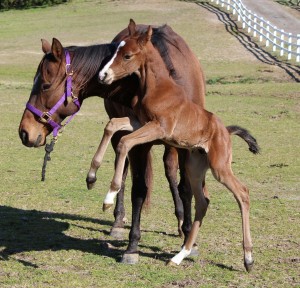 Cutest Foal Contest Rules and Regulations
Contest Eligibility
The Cute Foal Contest is sponsored by Triple Crown Nutrition, Inc. The Contest is open only to U.S. residents who are 18 years or older and is subject to all applicable federal, state and local laws and regulations. Purchase of Triple Crown products is not necessary and will not increase your chances of winning. No other purchase necessary.
Your participation in the Contest constitutes your full and unconditional agreement to these Contest rules (Official Rules) and judges' decisions, which are final and binding in all matters.
Photos you submit must be of 2015 equine foals; horses, ponies, mules, miniature horses and donkeys are all eligible. Photo submissions must be your own; no professional photos will be accepted. You must own the mare/foal in the posted picture. Triple Crown reserves the right to reject any entry due to unacceptable content or noncompliance with these Official Rules.
How to Enter
Each farm or horse owner can submit up to 2 foal entries. We will only accept 1 picture per foal, however.
Submit a picture of your new 2015 foal, in 1 of 2 ways:
1. Submit your entries now, by visiting our website photo uploader: www.triplecrownfeed.com/horsefeedblog/upload-your-photo/
2. Email submissions to Jessica Drexler at jdrexler@triplecrownfeed.com (subject: 2015 cute foal contest)
Dates to submit photo entries (Submission period)
Send us your photos between April 28- June 1st, submission period ending at 11:59pm CST.
(Remember only up to 2 foal entries allowed per owner/farm- only 1 photo per foal, so submit your BEST picture! )
Submit by direct upload, or send photos by email to: jdrexler@triplecrownfeed.com.
New entries will be uploaded into our Facebook photo album ÏTriple Crown 2015 Cutest Foal Contest and shared weekly.
How winners are determined
At the end of our submission period, (April 28- June 1st), Triple Crown staff will take a week to select the winning pictures, staff will vote on the cutest foal and make a final decision on the top 3! On Monday, June 8th, we will announce the first, second and third place winners. Winners will receive Triple Crown merchandise and free bag coupons.
To view all the entries and show some love for your favorite foal pictures, please head to our Facebook page at: www.facebook.com/TripleCrownNutrition
Distribution of Prizes
Prizes will be sent out within 2 weeks after the winners have been determined and shared necessary contact information with Triple Crown. Each winner will receive a TC hat, TC chapstick, and some TC supplement samples (treats, fish oil power and TC rice bran oil). In addition, the first place winner will receive 2 free bag coupons and the second and third place winners will each receive 1 free bag coupon.
License to Photos and Entry Information
By submitting photos to the Contest, you hereby grant Triple Crown an irrevocable, perpetual, world-wide, royalty-free, non-exclusive license to use, edit, reproduce and publicly display the photo. Triple Crown Nutrition, Inc. will not post entrant's mailing addresses.
Modification of Official Rules and/or Contest Termination
Triple Crown reserves the right to modify any terms of this Contest and these Official Rules at any time its sole discretion. Triple Crown reserves the right to cancel, suspend and/or modify the Contest, or any part of it, if any fraud, technical failures or any other factor beyond Triple Crown's reasonable control impairs the integrity or proper functioning of the Contest, as determined by Triple Crown in its sole discretion.
Release of Liability
You hereby agree to release, hold harmless and indemnify Triple Crown, its agents representatives, affiliates, directors, officers, employees and the judges from and against any and all liability or causes of action (however named or described) for any injuries, losses and/or damages caused by or resulting from your entry or participation in this Contest, including without limitation: (1) any incorrect or inaccurate information, whether caused by you, printing errors or by any of the equipment or programming associated with or utilized in the Contest; (2) technical failures of any kind, including, but not limited to malfunctions, interruptions, or disconnections in phone lines or network hardware or software; (3) unauthorized human intervention in any part of the entry process or the Contest; (4) technical or human error which may occur in the administration of the Contest or the processing of entries; (5) any injury or damage to persons or property which may be caused, directly or indirectly, in whole or in part, from your participation in the Contest or receipt or use or misuse of any prize; and (6) any infringement by you of a third party's intellectual property rights. Triple Crown is not responsible for any expenses incurred by you in connection with participation in this Contest.
Law
The Contest will be conducted in accordance with the laws of the State of Minnesota. All disputes concerning these terms and Contest shall be adjudicated exclusively in the federal and state courts having jurisdiction over Hennepin County, Minneapolis, Minnesota, USA.
Sponsor
The sponsor and administrator of this Contest is Triple Crown Nutrition, Inc., and can be contacted at https://triplecrownfeed.com or by U.S. mail:315 East Lake Street, Suite 300, Wayzata MN 55391.