Triple Crown® Nutrition $40,000 Grand Prix Highlights Equestrian Sport Productions Spring Week III
Posted | Tags: English, horse shows, News, Performance Horse, Riding, Show Jumping, Tc Stories, the Hermes U.S. Show Jumping Team, United States Equestrian Federation, Wellington
For Immediate Release:
Contact: Kelly Payne
kpayne@triplecrownfeed.com
800-451-9916
www.triplecrownfeed.com
Triple Crown® Nutrition $40,000 Grand Prix Highlights Equestrian Sport Productions Spring Week III
Wellington, FL (April 27, 2018)— The spring competition season is in full swing at the Palm Beach International Equestrian Center in Wellington, Florida with the Equestrian Sport Productions event. During the show's third week of top-notch hunter, jumper, and equitation competition, Triple Crown Nutrition was a key sponsor of the event, recognizing the talent and hard work displayed by some of the world's top horse and rider pairs.
An Official Partner, Triple Crown kicked off Equestrian Sport Productions Week III sponsoring $10,000 Open Stakes Class (1.40m) II2ab, a class with 32 entries. Pablo Barrios and Le Vio took the top spot, stopping the clock at 74.716 in the first round and 29.246 in the jump off. Their performance earned them $2,700. Emanuel Andrade and Jenni's Chance finished a close second (73.936, 29.753). Joaquim Malta De Abreu rode Arino Du Rouet to third with a round one time of 77.202 and a jump-off time of 30.207.
The next day, Triple Crown sponsored the $25,000 Spring 1 Welcome Grand Prix, which tallied 39 entries. Todd Minkus and 9-year-old bay mare Amex Z (Andiamo Z x Senne) jumped their way to the top prize of $7,500. Their first round clean go of 86.297 wasn't the quickest, but they brought the speed to the jump off and had the fastest time at 39.592. Fabio Leivas Da Costa finished second aboard Tosca De L'Esques (85.02, 40.388). Third place went to Celso Ariani and Dali T (87.396, 41.893).
The Triple Crown Spring III weekend culminated with the $40,000 Triple Crown Grand Prix held April 22. The class drew 29 entries. Kevin Babington, aboard the 13-year-old mare Shorapur (Stakkato Gold x Darinatook), took home the winning prize of $12,000 with a time of 84.213 in round one and 39.258 in the jump-off. Margie Engle piloted Bokmanns Lazio to second place earning with a 80.082 in round one and 40.409 in the jump-off. Their performance paid $8,800. Emanuel Andrade was back in the top three, this time with Hardrock Z. The pair finished third winning $5,200 with a 79.902 in round one and 40.867 in the jump off.
When it comes to fulfilling Olympic-caliber horses' nutritional needs during intense competition, there is no substitute for supreme quality feeds. Triple Crown, a U.S. based company known for its high-quality feed products and scientifically based nutritional formulas, manufactures feeds that manufactures feeds feature revolutionary formulations, premium ingredients and EquiMix® Technology—an innovative blend of advanced supplements, in every bag of feed.
Committed to supporting the dietary needs of horses across disciplines and multiple training levels, Triple Crown was the first company to add prebiotics, probiotics, and organic minerals to its feed. Providing consistent quality, consumers can always rely on a corn free, 'fixed formula' recipe that includes added digestive enzymes and remains the same over time, regardless of rising ingredient costs.
To learn more about how Triple Crown Nutrition, the Official Feed Sponsor of the U.S Dressage Team, the Land Rover U.S. Eventing Team, and the Hermes U.S. Show Jumping Team, please visit the company's website at www.TripleCrownFeed.com or check their official Facebook or Instagram.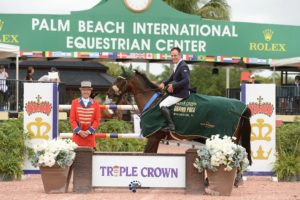 Photo 1: Pablo Barrios and Le Vio winners of the $10,000 Triple Crown Nutrition Welcome during Week III of the Spring Series. (Photo courtesy of Anne Gittins Photography)
Photo 2: Kevin Babington and Shorapur winners of the $40,000 Triple Crown Nutrition Grand Prix. (Photo courtesy of Anne Gittins Photography)