Enter The Triple Crown "Win A Day" Contest
Posted | Tags: Adequan Global Dressage Festival, Allison Brock, contest, Dressage, English, Events, horse shows, Kasey Perry Glass, Riding, Training, United States Equestrian Federation
For Immediate Release:
Contact: Kelly Payne
kpayne@triplecrownfeed.com
800-451-9916
www.triplecrownfeed.com
Less Then Two Weeks Left to Enter the Triple Crown Win a Day Contest: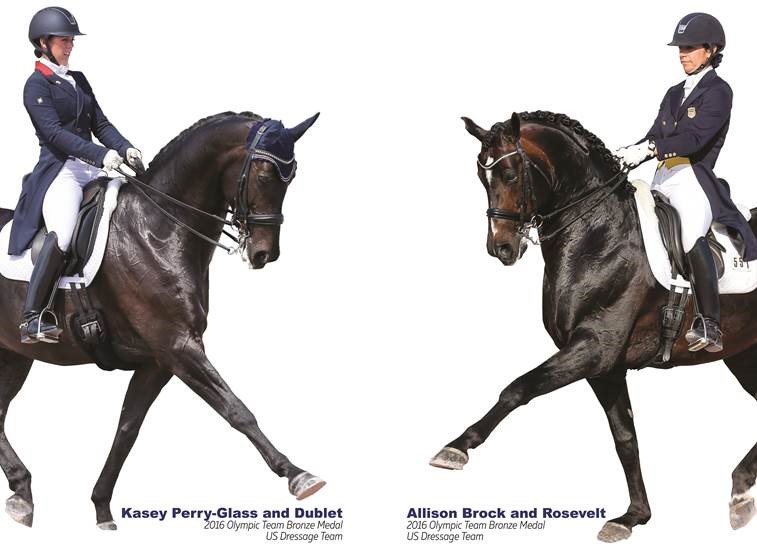 Olympic Dressage Riders Kasey Perry-Glass and Allison Brock Could Teach a Clinic at Your Barn
Wayzata, MN (May 17, 2017) – Most equestrians dream of riding under the guidance of the sport's superstars, but few are able to turn that dream into reality – but thanks to Triple Crown® Nutrition, Custom Saddlery, and Dressage Today, the dream is coming true for one lucky rider at the end of this month.
Through Dressage Today's Win a Day Contest, a lucky dressage rider will win a free clinic with their choice of one of three top Olympic riders: Kasey Perry-Glass, Allison Brock, or Steffen Peters. The three were part of the U.S. Dressage Bronze Medal Team in the 2016 Summer Olympics in Rio de Janeiro, Brazil.
Triple Crown is sponsoring the contest, and is especially excited to provide riders with the chance to learn from Triple Crown Ambassadors Kasey Perry-Glass and Allison Brock. Triple Crown is an equine feed company that has been in operation for nearly three decades, and is trusted by leading riders such as Perry-Glass and Brock for providing their horses with top-quality nutrition.
Perry-Glass explains, "As a professional and also as an athlete myself, I feel that nutrition plays a huge part in performance and training. If you don't fuel your body or the horse's body correctly, it can affect everything – mood, stamina, and energy. I really believe that having a quality feed is just so important."
Brock adds, "My working horses seem to do really well on Triple Crown's Low Starch, and my older gentlemen thrive on Triple Crown Senior," Brock said. "I have used the Triple Crown Safe Starch® Forage as well. I think it is important to be very sensitive to what kind of effect feed has on temperament and body condition."
With their tried-and-true knowledge of horse care and their status as leading U.S. dressage riders, Brock and Perry-Glass are prepared to share their wisdom with Win a Day contest winner and clinic participants. The winner of the contest will enjoy a clinic on their home turf with nine of their closest (and luckiest) friends.
Needless to say, this isn't a contest to overlook. Whether riders are just starting their dressage career or are quickly rising through the ranks, anyone can benefit from the wisdom of some of the sport's best riders.
Entry is simple. Just visit dressagetoday.com/page/winaday and fill out the form to explain in 250 words or less why you deserve to win the clinic. The contest will be open for entries through May 31, 2017.
Triple Crown, founded in 1989 and headquartered in Wayzata, Minnesota, is the first feed company to have added prebiotics, probiotics, and organic minerals to horse feed. The innovative company sells its outstanding product line through independent feed distributors across the United States. To learn more about Triple Crown feed products and why Olympians like Brock and Perry-Glass use them, please visit www.triplecrownfeed.com.
Photo: Through Dressage Today's Win a Day Contest, a lucky dressage rider can win a free clinic with their choice of one of three top Olympic riders, including Triple Crown Ambassadors Kasey Perry-Glass and Allison Brock (Photos courtesy of Susan J. Stickle)