Triple Crown's Facebook TLC $100,000 Holiday Giveaway Generates Huge Response!
Posted | Tags: Holiday, horse feed, Triple Crown Nutrition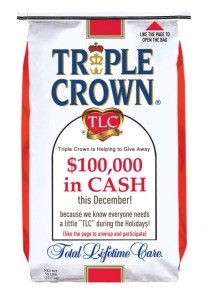 For its TLC $100,000 Holiday Giveaway, Triple Crown Nutrition asked Facebook fans to submit the names of their favorite 501(c)(3) equine nonprofit organizations in need of a little tender loving care this holiday season. This special holiday donation contest was designed to help nonprofits that work hard to help the lives of equines and the people they work with. Nominations included groups that help physically disabled children through equine therapy, rescue groups that rehabilitate abandoned and abused horses, equine retirement and sanctuary groups and even equestrian exhibition teams for financially disadvantaged youth.
Over 3,000 Facebook fans submitted nominations during the first two weeks of December, electing over 450 unique groups. From there, 20 lucky organizations were selected for the final voting round.
From December 14-19, fans voted for their favorite nonprofit finalist, asking family and friends to vote and share the contest information. Nonprofit groups even rallied for more votes. It was amazing to watch the camaraderie between the nonprofit groups who encouraged and congratulated the finalists.
Shortly after midnight on December 19, Triple Crown announced the nonprofits with the most votes:
First place: Healing Horses One Child at a Time, Inc., Wesley Chapel, Fla.
Second place: W.H.I.N.N.Y Horse Rescue, Crooksville, Ohio
Third place: Mitchell Farm Equine Retirement, Inc., Salem, Conn.
The remaining finalists included: Dream Power Therapeutic Equestrian Center, Equi-Kids Therapeutic Riding Program, Florida Thoroughbred Retirement and Adoptive Care Program, ManeGait Therapeutic Horsemanship, Return to Freedom- American Wild Horse Sanctuary, Rose of Sharon Equestrian School, Inc., Squirrelwood Equine Sanctuary, Equest Therapeutic Horsemanship, STAR-Shangri-La Therapeutic Academy of Riding, TRAVERSE, Inc., Rainer Therapeutic Riding, Mylestone Equine Rescue, Dark Horse Rescue, Inc., Blue Horse Mukwa Retirement and Rescue Center, Horse of Tir Na Nog, Lifehorse at Grand Review Farm and One Horse at a Time, Inc.
First place Healing Horses received $14,000; WHINNY, in second, received $10,000 and third place winner, Mitchell Farm Equine Retirement Home, received $8,000. The 17 remaining groups, all very deserving, received $4,000 each.
Posts of congratulations and encouraging comments to the winners and all nominees can still be seen today on our Facebook wall.
We can't think of a better way to end the year than by giving away $100,000 to these 20 worthy equine nonprofit groups. It was a wonderful way to give back to nonprofits that provide so much tender loving care to the equines and humans that are blessed to cross paths with these groups.
All of us at Triple Crown wish you, your families and your horses, the very best for 2013!