Triple Crown® Nutrition Officially Partners with Rio Olympic Games Bronze Medalist Allison Brock
Posted | Tags: Allison Brock, Events, News, Riding, Sponsored-rider, Tc Stories, the Hermes U.S. Show Jumping Team, The Land Rover U.S. Eventing Team, Triple Crown Nutrition, U.S. Dressage Team, United States Equestrian Federation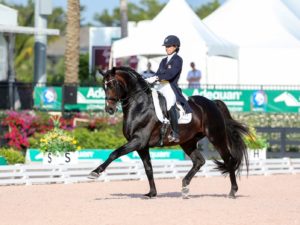 Photo: Triple Crown is proud to now officially sponsor Olympic medalist Allison Brock (Photo courtesy of Susan J Stickle)
Wayzata, MN (November 29, 2016) – Triple Crown Nutrition, Inc., is pleased to officially announce its partnership with international Grand Prix dressage trainer and 2016 U.S. Olympic Dressage Team Bronze medalist Allison Brock. Triple Crown is a strong and dedicated supporter of Olympic athletes, and partners with the United States Equestrian Federation (USEF). The renowned feed company serves as the Official Feed Sponsor of the U.S. Dressage Team, the Land Rover U.S. Eventing Team, and the Hermes U.S. Show Jumping Team. Triple Crown is proud to now officially sponsor Olympic medalist Brock, as well.
Allison Brock knows how important feed choice is when considering her horses' overall health and potential for achieving international success. Brock fuels her Olympic partner Rosevelt, and all her hard working horses, with super-premium Triple Crown feeds. "I have been exposed to and have fed Triple Crown feeds since 2002," Brock said. Triple Crown's premium line of feed, supplements, and forages provides a successful nutritional program, helping horses maintain high performance levels and remain in elite condition during Olympic-caliber competition.
As a typical horse-loving girl growing up in Hawaii, Brock was fortunate to gain experience in a variety of equestrian sports. She rode western, did show jumping, took dressage lessons, and was very active in Pony Club. At age 17, Brock left Hawaii to pursue her dressage goals and became a working student for Olympian Sue Blinks. Brock had the opportunity to learn what it takes to be an elite dressage competitor – and care for an impressive dressage mount – when she accompanied Blinks to the 2002 FEI World Equestrian Games in Jerez, Spain. The experience helped shape her professional career. With Blinks, not only did Brock develop her first FEI horse from start to finish, but she also learned horsemanship, stable management, and the ultimate importance of a sound feeding regimen. Brock began using Triple Crown at that time, and has been using the superior feed ever since.
Proper nutrition brings out the best in equine athletes, and each Triple Crown product is designed to address specific nutritional concerns and feeding challenges. Much like the three phases of the prestigious Triple Crown racing series, Triple Crown's products focus on three critical areas: revolutionary formulations, premium ingredients, and EquiMix® Technology. The EquiMix® Technology enhances the highly digestible fiber sources, added amino acids, and key vitamins in every bag of Triple Crown feed. Even though a horse's nutritional needs can change over time, consumers can rely on Triple Crown feeds to always provide a 'fixed formula' – meaning the recipe never changes, regardless of ingredient costs.
As an experienced ambassador for the feed company, Brock understands how a good feeding regimen must be adjusted as horses age. "My working horses seem to do really well on Triple Crown's Low Starch, and my older gentlemen thrive on Senior. I have used the Safe Starch Forage as well," said Brock. "I think it is important to be very sensitive to what kind of affect feed has on temperament and body condition."
Brock will compete in Wellington, Florida at the Global Dressage Festival this winter show season, and looks forward to campaigning two horses that will be starting their FEI careers. She will also take out a youngster that is learning the ropes of showing. "And hopefully Rosevelt will also be out competing lightly by mid-season," she added. Along with careful training and conditioning throughout the intense winter campaign, her horses will receive the best nutrition available through Triple Crown.
Triple Crown was established in 1989 and was the first feed company to add prebiotics, probiotics, and organic minerals to horse feed. The company is headquartered in Wayzata, Minnesota, and sells products primarily through independent feed distributors across the United States. To learn more about Triple Crown feed products, please visit www.triplecrownfeed.com.