Behind The Crown
Posted | Tags: Adequan Global Dressage Festival, Breeding, Dressage, English, Events, horse shows, News, Performance Horse, Riding, Training, U.S. Dressage Team, United States Equestrian Federation, Wellington, Winter Equestrian Festival
For Immediate Release:
Contact: Kelly Payne
800-451-9916
What's Behind the Crown?  Sponsorships and the Annual Not-to-be-Missed Party-
Triple Crown® Nutrition Season Kick Offs The Fun January 9th at the Winter Equestrian Festival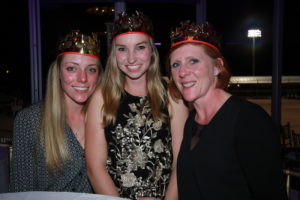 Wellington, FL (January 3, 2018)— In just a few short days, the Winter Equestrian Festival and the Adequan Global Dressage Festival, arguably the largest and most impressive equestrian show circuits in the world, will welcome thousands of horses and equestrian competitors to the Palm Beach International Equestrian Center in Wellington, Florida. To celebrate their connection with the Winter Circuit, Triple Crown is hosting its annual Season Kick Off Party at The Wellington Club on January 9, 2018.
In the past, the Season Kick Off Party has featured the top riders of show jumping, dressage, and polo. The party, held the night before the season officially starts, will run from 7 to 10p.m. at The Wellington Club on the Palm Beach International show grounds, with complimentary hors d'oeuvres, refreshments, fun music, and prizes throughout the night. To join the fun and celebrate the kick off the 2018 winter season, email seasonkickoff@gmail.com or call 800-451-9916.
In addition to sponsoring the Winter Equestrian Circuit, Triple Crown Nutrition premium feeds are now available for pick up or delivery at the show grounds through Gold Coast Feed and Supply, conveniently located across the street from the Adequan Global Dressage Festival and just minutes from the Winter Equestrian Festival. Triple Crown Feed can also be purchase feed at Grand Prix Feed and Supply located in Wellington on Pierson Rd.
Competition at the Winter Equestrian Festival and Adequan Global Dressage Festival is predicted to be especially exciting to watch this year as upper level show jumpers and dressage competitors not only vie for high scores and prize money, but seek to qualify for the upcoming 2018 World Equestrian Games. Triple Crown Nutrition, a company that understands the importance of bringing out the best in equine athletes, both in and out of the show ring, will kick off the winter competition season in style by once again recognizing and awarding top level performances by some of the world's top horse and rider pairs.
Thrilled to sponsor both prestigious show circuits, Triple Crown Nutrition plans to highlight exceptional equine athletes week after week throughout the three months of competition. Recipients of both the Triple Crown Excellence Award will receive a commemorative ribbon, an engraved tray, and feed certificates.
As an official partner of the Winter Equestrian Festival and Adequan Global Dressage Festival, Triple Crown Nutrition will present the Triple Crown Excellence Award to riders who demonstrate exceptional horsemanship on mounts that exemplify exceptional fitness, and by earning outstanding scores while displaying athleticism and excellence, which is reflected in their superior performance.
The Winter Equestrian Festival, the largest and longest running horse show series in the world, gets under way on Wednesday, January 10 and offers 12 straight weeks of hunter/jumper and international show jumping competition for children, junior, adult amateur, and professional equestrians in 70 unique divisions. Competing for significant prize money over the course of the series, excitement and momentum will build throughout the numerous weeks of competition, which culminates with the $500,000 Rolex Grand Prix CSI 5*.
A huge draw for worldwide dressage enthusiasts, the Adequan Global Dressage Festival, now in its seventh year, will host multiple CDI competitions conveniently staged in one locale. As a second-year sponsor, Triple Crown will enjoy close involvement with riders and eager spectators gathered to experience the highest level of dressage in North America. Prize presentations will take place throughout the series, which begins on Thursday, January 4 and runs through late March.
When it comes to fulfilling Olympic-caliber nutritional needs during intense competition, there is no substitute for supreme quality equine feeds. Triple Crown, a U.S. based company known for its high quality feed products and scientifically-based nutritional formulas, manufactures feeds that address three critical areas: revolutionary formulations, premium ingredients, and EquiMix® Technology. EquiMix Technology enhances highly digestible fiber sources, added amino acids, and key vitamins in every bag of feed.
Committed to supporting the dietary needs of horses across many disciplines and multiple training levels, Triple Crown was the first company to add prebiotics, probiotics, and organic minerals to its feed. Providing consistent quality, consumers can always rely on a corn-free, 'fixed formula' recipe that includes added digestive enzymes and remains the same over time, regardless of rising ingredient costs.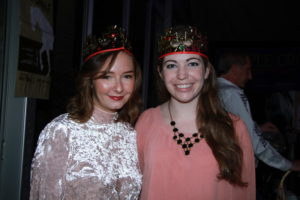 To learn more about how Triple Crown Nutrition, the Official Feed Sponsor of the U.S Dressage Team, the Land Rover U.S. Eventing Team, and the Hermes U.S. Show Jumping Team, please visit the company's website at www.TripleCrownFeed.com or check Facebook or Instagram @triplecrownfeed.
Photo 1/2:  Guests from the 2017 Triple Crown Kick-Off Party