Introducing StressFree™ Forage!
Ideal for picky eaters, ulcer prone, nervous, competition horses and frequent travelers to help provide gastric support.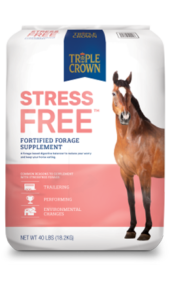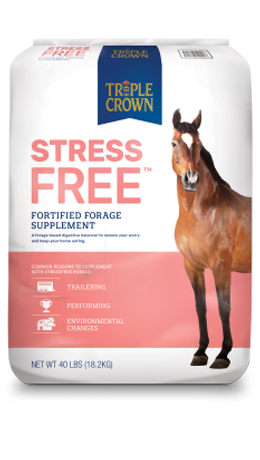 Triple Crown StressFree™ Forage is a fortified forage supplement that utilizes a nutrient-based approach to support digestive health and keep your horse eating.
KEY INGREDIENT: ButiPEARL Z EQ – Encapsulated pearls of butyric acid and zinc – helps strengthen the intestinal tract and build a barrier against Leaky Gut,. Learn more
Help eliminate or delay future ulcer treatments, improve feed consumption when in training or on the road and help improve immunity in stressed horses.
Request StressFree™ Forage at the following dealers near you:
| | | | | | |
| --- | --- | --- | --- | --- | --- |
| TRELLIS FARM & GARDEN | 2N492 KIRK ROAD | ST CHARLES | IL | 60174-3414 | (630) 584-2024 |
| ACE HARDWARE & RENTAL | 1302 HIGHWAY 47 | WOODRUFF | WI | 54568 | (715) 356-3555 |
| CAYUSE SHOP LLC | 532 WATER STREET | SAUK CITY | WI | 53583 | (608) 643-4411 |
| Kettle Moraine Town & Country | 500 TRADING POST LN | KEWASKUM | WI | 53040 | (262) 626-4777 |
| MCCALLUM FEED & SUPPLY | N6675 MAIN STREET ROAD | HORICON | WI | 53032-9715 | (920) 485-2339 |
| Mounds Pet Food Warehouse | 2422 MONTANA AVE | SUN PRAIRIE | WI | 53590-1617 | (608) 825-9800 |
| WS Ag Center | N4330 TEMKIN ROAD | COLUMBUS | WI | 53925 | (920) 623-9360 |
| Top Notch Feed | 211 HOESLY DRIVE | NEW GLARUS | WI | 53574 | (608) 527-3333 |
| Fluegel Elevator | 14700 S ROBERT TRAIL | ROSEMOUNT | MN | 55068 | (651) 437-1587 |
| Fluegel's Lawn Garden | 1278 NORTH FRONTAGE ROAD | HASTINGS | MN | 55033 | (651) 437-7484 |
| Houle's Farm Garden & Pet | 10010 60TH STREET NORTH | STILLWATER | MN | 55082 | (651) 777-7229 |
| Hugo Feed Mill | 5582 146TH ST N | HUGO | MN | 55038 | (651) 429-3361 |
| UFC Farm Supply | 5135 OAK ST | MAPLE PLAIN | MN | 55369 | (763) 479-2123 |
| UFC Farm Supply | 801 S. HWY 284 | WACONIA | MN | 55387 | (952) 442-2126 |
| Rochester Feed & Country | 1550 3rd AVE SE | ROCHESTER | MN | 55904 | (507) 289-1396 |