Understanding Your Horse's Behaviors
Posted | Tags: Health, horse care, Riding, Tc Stories
By: Triple Crown Insider- Laura Kurth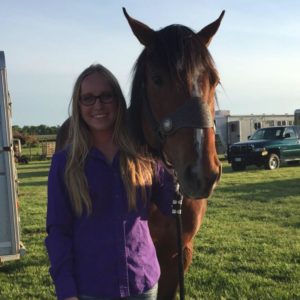 Making Sense Of Your Horse's Behavioral Changes Stems From Truly Understanding Your Horse On Not Only A Mental But Physical Level As Well
Have you ever had a horse suddenly develop what you think is a bad or abnormal habit? Did he go from a level of high performance to low performance? While these things could just be a mentality concern, they could also be signs of a more underlying issue. A horse that is not performing the way it should is typically backed by one of two things: it is not broke or it is not sound. Unfortunately, horses have no way of discussing their issues with us, but we can take note of their behaviors and go from there.
As a barrel racer and a person with experience with performance horse injuries, I learned what things to look for and focus on when my horse is not working the way I have asked it to. First and foremost, I like to have a good handle of my horse and really understand its mentality. Is my horse stubborn and difficult to work with, or is my horse easy going, wants to work hard and wants to please? Next, I take into account how my horse performs when it is at the top of its game, and compare that to the newly developed, poor habit. Is my horse losing time in its runs, running past barrels, running up the fence or making unnecessary steps in its turns? If so, I have to ask. "Why?" At this point you can go back to thinking about mentality and training. If you have a horse that is typically an easy-pleaser, works hard and is very broke, then maybe your underlying issue is not training, but rather soundness. A horse that is not feeling well will tell you in a variety of ways, whether poor performance or avoiding work in general.
Many people think you have to be a vet to know what is wrong with your horse, but that's not the case. Simply acknowledging your horse's quirks and habits can go a long way. If your horse has changed behaviors and you have deciphered it must be a soundness issue, you can develop a check list to figure out exactly where the issue lies. It may be something as simple as needing to change a bit, a girth that rubs or a saddle that doesn't fit, or it could be something a little more complex like an injury or arthritis. While it can be difficult and very stressful and discouraging to have a horse not performing like it should, we have many resources to help identify and resolve these issues, and we owe it to our equine athletes to figure it out.
When you determine the issue is not a tack issue, but is related to injury or soundness, now is the time to get your vet involved.