Understanding Starch and Sugar Measurements on Your Hay Analysis.
Posted | Tags: Health, Nutrition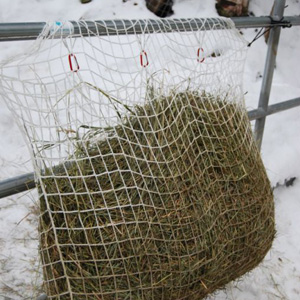 By: Sally Flis, Ph.D., CCA ‰-Feed and Crop Support Specialist ‰of Equi-analytical/Dairy One Laboratories
You have your forage test results back, but what does all this mean and what is it? In this final article about reading your hay analysis, we will take you through the parts of your starch and sugar measurements. This article will cover the measurements: water soluble carbohydrates (WSC), ethanol soluble carbohydrates (ESC), starch, and non-fiber carbohydrates (NFC).
Water Soluble Carbohydrates (WSC)
These are extracted from the feed with water and can include simple sugars, disaccharides, oligosaccharides, and some polysaccharides depending on the feed. Fructans are included in WSC. The roll of fructans in horse diets are not fully understood and WSC should be considered when looking at sample analysis. Interpreting and using this value depends on the proportions of sugars and fructans in the sample; simple sugars are digested and absorbed in the small intestine and have a significant impact on blood sugar (glycemic response), while fructans are fermented in the large intestine and induce a much smaller response. However, when eaten in large amounts, some fructans have been shown to cause laminitis due to the production of lactic acid and the disruption of the bacterial population in the large intestine.
Ethanol-Soluble Carbohydrates (ESC)
The assay extracts simple sugars, disaccharides, and oligosaccharides, including some fructans, but should minimize the extraction of polysaccharides. It is a subset of WSC. This fraction is generally used to evaluate one set of carbohydrates in a feed that will induce a high glycemic response.
Starch
Starch is an alpha-linked glucose carbohydrate that is digested in the small intestine. If starch is not digested in the small intestine (which occurs when large amounts of starches are fed at once), it passes through the digestive tract and is fermented in the large intestine.
Non Fiber Carbohydrates
This is a calculated estimate of all carbohydrates not in neutral detergent fiber (NDF).  NFC = 100 – crude protein% – NDF% – ash% – crude fat%. This is a commonly reported value, but will carry all the errors of the other measurements. Use WSC, ESC and starch when available to evaluate carbohydrate levels in the diet.
Balancing sugars and starch in your horse's diet is important to your horse's health. Horses on high sugar and starch diets can develop laminitis, colic and insulin resistance. High levels of WSC, ESC and Starch should be avoided for horses that are already diagnosed with any of the following clinical disorders; Insulin Resistance, Laminitis, PSSM, Cushings Disease, Gastric and Colonic Ulcers, hyperactivity/excitable behavior, just to name a few. Feeding hay and pasture as a large part of a horses diet can help balance the sugars and starches in the diet. Testing your hay and pasture for sugars and starches will help you balance your horses diet and maintain health.
You may also like these articles:
As Fed‰or Dry Matter‰: Understand Which to Read on Your Hay Analysis.
Hay Analysis Results: Protein and Digestibility Terms to Understand.
Carbohydrates: How Fibers and Starch and Sugars Affect Rations & Horse Health.