Upward Fixation of the Patella- Part 2
Posted | Tags: Health, News, Riding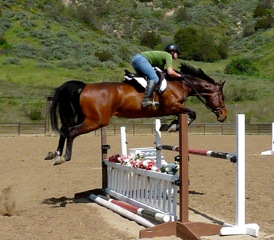 Upward Fixation of the Patella: Treatment, Prevention, and Testimony – Part 2
By Kaylee Van Winkle, Triple Crown Insider
In continuation of my previous blog discussing the structure of stifle joint and causes of upward fixation of the patella, I will now cover the treatment, prevention, and a brief testimony.
Treatment
While strengthening and stretching are important prevention strategies, the actual treatment of upward fixation of the patella varies according to the severity of the injury. If the injury is mild, rest and then strengthening and stretching will be adequate. If the injury is more severe, such as the ligament remains locked over the medial trochlear ridge of the patella, surgery may be required. Often in surgery, the medial patellar ligament is cut to release the lock and tension. While surgery releases the locked ligament, it also prevents normal function of the joints, sometimes leaving a horse unrideable for the remainder of its life. Surgery is typically the last resort and is not a common solution.
Prevention
One form of prevention is to strengthen the horse's hindquarter muscles. You can see the definition of these muscles in a fit horse. Hill work, cavaletti, proper collection, and lateral movement will help to strengthen these muscles. Stretching is also a form of prevention. Just as human athletes stretch before and after a workout to prevent injury, it is imperative for us to stretch our equine athletes. To stretch the hindquarter muscles, first gently pull the horse's hind leg directly up towards the sky to create a "crouched" appearance in the hind end. Second, gently pull the leg underneath the body. Next, push the leg towards the middle of the underbelly. Lastly, stretch the hind leg directly out behind the horse. Hold each stretching pose for 10-30 seconds. Your horse may be sensitive and try to resist the stretch. Increase the time and depth of the stretch slowly.
My event horse, a 17.0 hand Percheron/Thoroughbred cross sustained an intermittent upward fixation of the patella in June 2015. Thankfully, the patella did not remain fixed upon the medial trochlear ridge of the patella—it slid back into place. However, the medial patellar ligament was overstretched causing his stifle to become susceptible to re-injury. In May 2016, he tripped while being ridden in the field and re-injured his medial patellar ligament. The immediate treatment included cold hosing, DMSO salve to prevent swelling and increase blood flow to the injury, and Previcox to decrease pain. After four days of rest, we began a week of building up to an hour of walking. I integrated the previously stated prevention methods and he has gained strength and remained sound.
Upward fixation of the patella is an injury that has a variety of causes. However, the injury can typically be prevented by stretching and strengthening the stifle joint. Joint protection is essential to a horse's overall health and fitness. I am thankful for the opportunity to use the methods I read about and experience positive results. Press on and finish strong!