Disengaging The Hindquarters in Horses
Posted | Tags: barrel racing, Events, horse shows, Performance Horse, Riding, Training, Western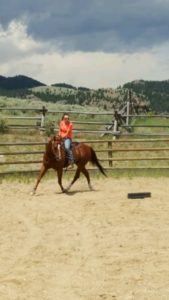 By: Triple Crown Insider- Amanda Russel
No Matter Your Discipline, Teaching Your Horse To Disengage Their Hindquarters Can Benefit Your Performance
Disengaging the hindquarters means queuing your horse to cross their inside hind leg in front of the outside hide leg, causing them to reach under their body. The hindquarters are where the power comes from. Having control of the main power producer will help you and your horse perform at the top.
Though disengaging your horse's hindquarters can benefit various disciplines, I'm going to focus on barrel racing. Disengaging your horse's hindquarters will help you have faster and rounder barrels. The natural way for a horse to turn is round. Disengaging the hindquarters reinforces the round shape. When turning a barrel, you want your horse to have a lot of power so they can be fast. You can help them use their power to full potential by disengaging their hindquarters. Like any new thing you are teaching,  you start with your slow work. When approaching a barrel, disengage the hindquarters one stride before the barrel. This causes them to reach underneath themselves, kick it into four-wheel-drive as I like to say, and frame up into a round shape.  When you add speed, it should be muscle memory for you to disengage your horse's hindquarters, and with that make a smokin' run.
With speed, issues can arise. A common problem with barrel horses is entering the alley or gate. Disengaging your horse's hindquarters when they get hot will take your mind and your horse's mind off the pressure (of the run that is about to happen). It gives both horse and rider something else to focus on and takes the nerves away. Teaching your horse to disengage their hindquarters will benefit your overall performance. We're disengaged!