Riding: When Less is More!
Posted | Tags: Dressage, English, Performance Horse, pony club, Riding, Tc Stories, Training, Western, Youth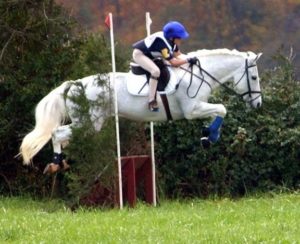 By: Triple Crown Insider- Sammi Majors
Almost 15 years ago, I was eventing my Connemara pony, Erin. She was the ideal pony for me at the time, and I learned so many lessons from her. Here is one of them.
I was in Pony Club, and like any pony clubber, I idolized the older and higher-rated members. I was at the Carolina Horse Park at my second USEA event at the Novice level, and I'm pretty sure every one of my PC idols was at this event. My pony had a "ditch problem" (read: I had a ditch problem and if I didn't ride confidently, she stopped). When my mom and I were walking the XC (cross country) course, the ditch had a trickle of water running through it. My nine-year-old self immediately freaked out and was convinced that my pony would see it, be scared, and refuse. Of course, my mom gave her top trainer/instructor advice and words of wisdom. Unfortunately, it didn't work. I worked myself up so much about the ditch that our beautiful XC round finished in the dreaded E at the ditch (cue the ultimate frustration and crying fit as I took the walk of shame back to the barn). Remember all those big PC idols I mentioned earlier? Yep, I passed a few of those on the way back, adding to my embarrassment of being eliminated. They, of course, were all very encouraging and supportive, but at the time that was the LAST thing I wanted them to see.
My mom convinced me to ask to show jump the next day, and the ground jury allowed me to do my show jumping round at the end of my division.  Erin and I came back and redeemed ourselves with a stunning jump round. A gentleman, who apparently saw the debacle the day before, praised for me coming back and riding the next day. He said one phrase that I will never forget and use often—"Remember that when riding, less is more."
I have never stopped telling myself that when I ride or students that when I teach. The less aids you use, the better. The subtler, the better. The less movement, the better. The less you use, the more you get from your horse.
Well, these words of wisdom came back to haunt me when I was in the Netherlands. My instructor was always telling me that I was "too sweet" to the horses. For instance, if they were behind my leg, I would ask, but not demand they get forward. He wanted me to give them a big kick and then not use any leg expecting them to stay there. If they fell behind, repeat (he wanted the "pony club kick;" you may no longer be a little D-1 riding a naughty pony having to kick, but you never truly outgrow the pony club kick! It comes in quite useful as an adult too!) Anyway, one day we were riding and I had one of those amazing breakthrough, ah-ha moments! He shouts across the arena, "See! Less IS more!" I think I almost fell off my horse! My whole world of riding came full circle in that moment. From riding my little pony at an event, being complimented on my tactful riding skills, to sitting on a Grand Prix horse in Europe the same basic phrase applied.
Moral of this story? Well, there are two.
Your horse can perform at its best and it makes for a great overall picture if you as a rider stay as quiet and tactful as possible. Big, dramatic movements tend to hinder your horse. Stay centered and balanced, and stay out of the way of your horse. They will always thank you for it! Certainly, there are times where corrections are needed, but do it tactfully and once the problem has been fixed, leave it be and continue as if it never happened. Think proactively and be mentally prepared if it happens again, but do not try to meddle with your horse and try to fix a problem that isn't there. If you do, I promise that you will end up creating one.
Sometimes effectively using less is more starts off seeming backwards. Such as the kick. Certainly, a big kick uses more than a gentle squeeze. But what if your horse isn't listening to that squeeze? Most people just end up using it endlessly and don't get results. So kick!  Then expect them to stay there. Repeat as necessary. Eventually, when your horse starts taking it seriously, you can refine the kickback to a single squeeze, while NOT squeezing every step. Then you're back to less is more. Your end result in this example is less leg, more forward! An easier to ride, more responsive horse is your reward, and who doesn't love that?