Why Are Trace Minerals Important in Equine Feed?
Posted | Tags: Health, horse care, horse feed, horse management, minerals, Nutrition
When looking for the best horse feed, one important thing to look for is the inclusion of minerals that are essential to the horse's diet. But not all minerals are created equally. Triple Crown partners with Micronutrients USA and we asked them to provide an overview of things to consider when choosing the best minerals.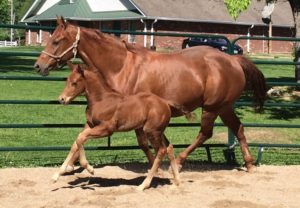 By Dr. Sara Kvidera, Technical Manager, Micronutrients USA LLC
Although trace minerals are one of the smallest components of the diet, they are one of the most important. Trace minerals like copper, zinc, and manganese are vital to your horse's health and well-being due to their involvement in immunity, fertility, metabolism, strong hooves, and a healthy hair coat.
Why Mineral Source Matters
Trace mineral source is an important consideration as it can affect mineral availability, palatability, and stability of other feed ingredients in the diet. Supplementation started with oxide forms in the 1930s and moved to the more available sulfate forms in the 1950s when World War II technology developed more efficient sulfate production. In the 1970s, organic trace minerals emerged as an even more predictable and available source than sulfates, but at a much higher cost. IntelliBond® hydroxy trace minerals were developed in the late 2000s as a more efficient choice with equal efficacy to organics.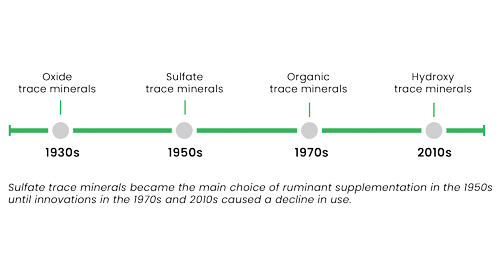 Found in nature as the naturally occurring crystals atacamite (copper), simonkolleite (zinc), and kempite (manganese), IntelliBond hydroxy trace minerals have strong covalent bonds and a unique crystalline structure which prevents free metal ions from being released at the pH of common feed mixes. Instead, these crystals release the mineral gradually after reaching the normal acidic environment of your horse's stomach, making the mineral available at the right time for absorption in the small intestine.
How Minerals Affect Your Horse
These important solubility characteristics of IntelliBond hydroxy trace minerals can affect your horse in three major ways:
1. Palatability:
• Studies across a variety of species have shown that animals prefer to consume IntelliBond rather than sulfate or organic sources of trace minerals. Why not give an animal what they prefer?
2. Feed Stability:
• IntelliBond trace minerals produce less dust and take on less moisture than sulfate trace minerals. This prevents trace mineral inhalation and clumping in the feed.
• IntelliBond protects the vitamins, lipids, enzymes, and probiotics in your feed from interacting with reactive free metal ions, ensuring the nutrients formulated for your horse retain their best quality.
3. Bioavailability:
• Dietary antagonists, such as fiber and sulfur, can tie up trace minerals and prevent them from being absorbed. The targeted release of mineral from IntelliBond prevents interactions between reactive free metals and antagonistic dietary components. This ensures the trace minerals in your horse's diet are available when they need them.
The primary goals of trace mineral supplementation are to meet the nutritional demands of today's hardworking animals and to provide a bioavailable mineral source that does its job without negatively interacting with other components of the diet. Providing a high-quality mineral like IntelliBond ensures that your horse gets proper trace mineral nutrition while protecting palatability and other vital nutrients in the feed.
Triple Crown's EquiMix blend includes minerals added at rates for proven efficacy. And you can be sure your horse is able to receive the benefits of these minerals in part because of the innovations from our partners at Micronutrients. If you want to talk with one of our representatives about minerals, or any of the other advancements in equine nutrition from Triple Crown, give us a call at 800-451-9916.