Triple Crown® Nutrition Returns as Official Partner of Adequan Global Dressage and the Winter Equestrian Festival
Posted | Tags: Adequan Global Dressage Festival, Dressage, English, Events, horse shows, Kasey Perry Glass, polo, Sponsored-rider, the Hermes U.S. Show Jumping Team, Training, Triple Crown Nutrition, U.S. Dressage Team, United States Equestrian Federation, Wellington, Winter Equestrian Festival
For Immediate Release
Contact: Kelly Payne
(800) 451-9916
Triple Crown® Nutrition Returns as Official Partner of  Adequan Global Dressage and the Winter Equestrian Festivals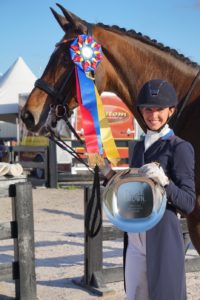 Wayzata, MN (January 4, 2019) Triple Crown® Nutrition knows that the real secret behind a successful equine athlete isn't just in its genetic potential, superior training, hard work and quality care: it starts with a superior feeding program. The leader in providing cutting edge equine nutrition for over 20 years, is pleased to announce its return as an Official Partner of both the Adequan Global Dressage Festival and Winter Equestrian Festival, January 9-March 31, at the Palm Beach International Equestrian Center (PBIEC) in Wellington, Florida.
The 2019 season will also kick off with a not-to-be-missed Triple Crown Season Kick Off Mixer, offering complimentary hors d'oeuvres, drinks and live music, a Who's Who of dressage, show jumping and polo, and star-studded lineup of US Equestrian Annual Meeting guests.  The annual bash will take place Tuesday, January 8, from 7-10 p.m. at the Wellington Club on the PBIEC show grounds at 3400 Equestrian Club Way. Learn more and RSVP with us, click here! 
As an Official Partner of the Adequan Global Dressage Festival, Triple Crown will present Dressage Excellence Awards recognizing horse-and-rider partners who exemplify exceptional commitment to their sport, and earn outstanding scores through athleticism and excellence in performance. Prior recipients include top-ranked U.S. dressage rider, Laura Graves.
During Winter Equestrian Festival Week 12, Triple Crown will host a panel of nutrition and feeding experts during the Lunch & Learn series (March 28).  Also throughout the festival, Triple Crown will present the Triple Crown Excellence Awards to horse and rider combinations with outstanding winning form for excellence in performance.  Winners will receive a tri-colored commemorative ribbon, a silver platter and a gift certificate for the Triple Crown feed of their choice.
New this year, Triple Crown will also sponsor the Triple Crown People's Choice Equestrian of the Season Award. Nominations are available in the show offices at Adequan Global Dressage Festival or Winter Equestrian Festival. The winner, will receive his/her own commemorative golf cart which will be presented during the AGDF Week 12 Lunch & Learn Triple Crown Nutrition Panel on March 28.
When it comes to meeting the nutritional needs of world-ranked horses during world-class competition, Triple Crown is a U.S.-based company with an internationally renowned reputation for high quality feed products and scientifically based nutritional formulas, using innovations such as fixed formulas and corn-free feeds to lower starches and sugars. But the one thing that makes all Triple Crown feeds unique is EquiMix®. It has been the foundation of Triple Crown super premium horse feeds from the very beginning. With a unique blend of yeast cultures, organic minerals, prebiotics, probiotics and digestive enzymes, the proven technology in EquiMix helps optimize intestinal function, improve the immune system and protect against mycotoxins and pathogenic bacteria.
Learn more about Triple Crown Nutrition, the Official Feed Sponsor of the US Equestrian Federation, at www.TripleCrownFeed.com, on Facebook or Instagram @triplecrownfeed.
-30-
Photo: Laura Graves and Verdades receiving their Triple Crown Excellence Award win last year at the Adequan Global Dressage Festival. (Photo courtesy of JRPR News, no photo credit necessary)