Winter Trends For Riders: Horse Tack and Equine Health Do's and Don'ts For Safe Winter Riding
Dr. Amy M Gill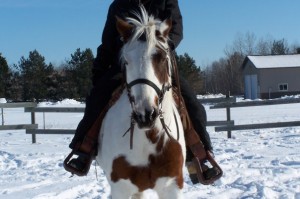 If you live in a geographic region that turns cold during the winter months, continuing to ride your horse can be a challenge. But with some planning and foresight, saddling up your equine partner and hitting the trail or arena is possible, regardless of how cold and blustery it gets. Here are some tips to keep you and your horse comfortable, safe and healthy.
Winter must-haves:
Proper shoes on your horse to prevent slipping‰ÛÓpads, borium or hoof boots with good tread to grab ice and snow are recommended. Many horses are barefoot in the winter, so use caution when trail riding.
Protective legwear for your horse if his legs are clipped.
Wool quarter sheet to cover your horse's back and loin area if clipped.
Sheepskin seat cover for your saddle to keep your bottom warm. J
Small saddle bag to carry a phone, water bottle and‰Û_hoof pick! Never ride without a phone or a hoof pick (to get snowballs out of your horse's hooves if needed!).
Before you ride:
Both you and your horse should be well hydrated. Drink at least 8 oz. of water and offer your horse some tepid water. Water is vital for the body to generate internal heat; chilling occurs quicker if not fully hydrated.
Offer your horse some forage for an hour or so before riding and have a small, high fiber meal yourself. The fermentation when fiber is digested gives off internal heat to help you both stay warm.
A small, concentrated meal is ok, but don't feed your horse a full meal before you ride. Doing so directs energy and blood flow to the digestive tract and away from the peripheral musculature, which can cause cramping and chills.
If your horse is clipped, ride with a wool quarter sheet to prevent chills. Wool helps prevents moisture accumulation under the saddle blanket.
Spray the sole of your horse's hooves with cooking spray or apply a layer of petroleum jelly to prevent snow and ice balls from forming.
Wear long underwear or insulated britches. Dress in layers consisting of natural fibers, such as cotton and wool, which breathe much better than synthetics. To keep your feet warm, wear some wool socks and insulated leather boots. Synthetic fibers hold in moisture, which will cause you to chill much faster.
Be sure to wear something on your ears and face to protect from the cold and wind.
While you ride:
A long warm up is an absolute must when exercising in cold weather. To prevent damage to the lungs, make sure your horse has walked for at least 10 minutes at a brisk pace before commencing strenuous exercise. At no time should an extremely hard workout be performed unless the horse is extremely fit and well acclimated to cold weather exercise. It is best to stick to walking and jogging, especially on hard frozen ground, to avoid injury to lungs and legs.
Cool down is equally necessary to prevent chilling for you and your horse. Never take off your jacket, no matter how hot you are until you have walked for at least 10 minutes. In all likelihood, you won't be hot after the warm down period. Same goes for your horse‰ÛÓkeep the quarter sheet on until you get back to the barn.
If you are riding on trails or near roads, wear something bright or fluorescent so you are easily seen by cars and hunters.
Use common sense, if it is just too cold to ride, don't do it. Consider actual temperature and wind chill when deciding to ride outside.
Back at the barn:
Remove your horse's tack and immediately cover him with wool cooler to keep him warm while the sweat dries and evaporates off.
Offer your horse tepid water and allow him to drink a good amount. If he is blowing or breathing hard, you will need to walk him in hand for about 20 minutes until his respiratory rate returns to normal ‰ÛÒ about 16 breaths per minute.
Once cooled, brush you horse thoroughly, paying special attention to areas under the girth, around bridle area and legs, pasterns and hoof.
Winter riding can be fun and safe if you and your horse are well prepared for the weather and poor footing you may encounter. If you and your horse are fit and ready, saddle up and have fun this winter!