Triple Crown® Closes Out the 2019 Winter Equestrian Festival in a Big Way
Posted | Tags: Adequan Global Dressage Festival, Dressage, English, horse shows, Kasey Perry Glass, Performance Horse, Show Jumping, Tc Stories, Training, United States Equestrian Federation, Wellington, Winter Equestrian Festival
For Immediate Release:
Contact: Kelly Payne
kpayne@triplecrownfeed.com
800-451-9916
www.triplecrownfeed.com
Triple Crown® Closes Out The 2019 Winter Equestrian Festival In A Big Way
Wellington, Florida (April 6, 2019) – As the 2019 Winter Equestrian Festival (WEF) draws to a close, Triple Crown® Nutrition, the official feed sponsor of the U.S. Equestrian Federation, is proud to continue celebrating the world-class equestrians and their incredible performance horses who have gathered in Florida for this prestigious series. Whether it's through exciting awards, informative learning events, show sponsorships or fun social events, Triple Crown's dedication to supporting all disciplines in equestrian sports is unquestionable. The final week of WEF provided perfect opportunities for the company to close out the wonderful winter in Wellington in a big way.
First, was with the presentation of the Triple Crown Excellence Award. Winning the Excellence Award for Week 12 was Gregory Crolick from Clarkston, Michigan. Crolick and his mount, Braavos, clinched the championship in the Green Hunter 3', sponsored by Triple Crown. With impressive scores like 88 and 86, the pair dominated the show ring. Making the win even more impressive is that Crolick's client, Renaud Farm, just got Braavos only four short weeks before, so WEF was the horse's first time showing in the country. Kelly Payne, Triple Crown Vice President of Sales, was on-hand at the Palm Beach International Equestrian Center to present the beautiful tricolored ribbon and engraved silver platter to Crolick after his amazing performance.
The celebration and learning continued when Triple Crown presented a lunch and learn opportunity entitled "EquiMix 'Pearls' of Wisdom: Feeding for Immunity, Performance, and Behavior." Equestrians from all disciplines were thrilled to join International Equine Veterinarian Hall of Fame Inductee, Robert Boswell, DVM, and Triple Crown Nutrition's CEO and visionary, Rob Daugherty, for this informative discussion on the most advanced feed additives and how they help boost horses' immune systems while enhancing their ability to perform at the highest levels. The benefit of feeding low starch feeds to horses with conditions such as laminitis and Cushing's was also discussed.
Everyone enjoyed the fun, food, and festivities that followed too. Especially when Triple Crown presented the commemorative golf cart to this year's Triple Crown People's Choice Equestrian of the Season, Maggie Gould of East Wind Farm. As assistant trainer and rider for East Wind, Gould proved her prowess in both the hunter and jumper rings and piloted East Wind horses to countless accolades, including three consecutive USHJA National Hunter Derbies at the Great Lakes Equestrian Festival with Taje Warrick's Drommels; a Winter Equestrian Festival Reserve Circuit Championship in the Pre Green Hunters with Christy Powell's Karoleena; and a GLEF Reserve Circuit Championship in the 1.30m Jumpers with Taje Warrick's E. Umomia. She was excited to win and was grateful to Triple Crown and to everyone who supported her for this wonderful recognition.
The excitement continued to build into the weekend with the fanfare of the Parade of Champions, which featured Overall Champion and five-time winner of the Green Hunter 3' Division sponsored by Triple Crown, Christopher Payne and his horse, Gratitude. "He is only five years old," Payne said about Gratitude, who is owned by Lisa Levine of Stillwater Farm in Cincinnati. "He was gelded last fall and came over in December. He just started showing down here for the first time ever!" Triple Crown was excited to congratulate Payne on this outstanding accomplishment.
The final day of the 2019 WEF was perhaps the most exciting of all, when two Triple Crown sponsored hunter jumper riders each won their respective $50,000 classes to finish off Week 12. The company offered hearty congratulations to Triple Crown rider, Victoria Colvin, for winning the $50,000 USHJA International Hunter Derby aboard El Primo, and to Triple Crown Rider, Laura Chapot, for winning the $50,000 Puissance America Grand Prix CSI 2* on Chandon Blue. With both riders committed to feeding their fabulous horses Triple Crown feed, these wins left little doubt about the benefits and difference that good, quality nutrition makes in high-level performance horses.
As the 2019 Winter Equestrian Festival comes to an end, Triple Crown would like to wish the best of luck to all the equestrians who are so passionate about their horses' health, wellbeing, and levels of excellence. Triple Crown's unwavering devotion to nutritional excellence is not only apparent in its superior feeds, but also in its commitment to supporting the dietary needs of horses across many disciplines and multiple training levels. In addition to sponsoring the 2019 Winter Equestrian Festival, Triple Crown Nutrition was also a proud sponsor of the 2019 Adequan® Global Dressage Festival. To learn more about Triple Crown feed, please visit the company's official Facebook page or Instagram @TripleCrownFeed, call 800-451-9916, or visit www.TripleCrownFeed.com.
Photos ( Courtesy of JRPR and ESP)
PHOTO: Christopher Payne and Gratitude Win Triple Crown Division Championship
PHOTO: Triple Crown's Kelly Payne present sGregory Crock and Braavos the Tripel Crown Excellence Award at WEF 12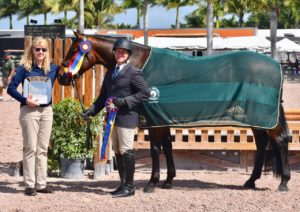 PHOTO: Triple Crown CEO, Rob Daugherty Speaks at the WEF WEEK 12 Lunch & Learn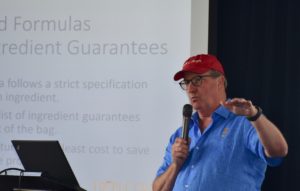 PHOTO:  Maggie Gould Wins the Tripel Crown People's Choice Equestrian of the Season Commemorative Gold Cart