Kassandra Sapia and Walt van Esfane Thunder to a Triple Crown Nutrition® Excellence Award
Posted | Tags: English, Events, horse care, horse shows, News, Performance Horse, Riding, Tc Stories, Training
For Immediate Release
Contact: Kelly Payne
kpayne@triplecrownfeed.com
(800) 451-9916
www.triplecrownfeed.com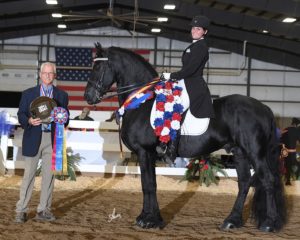 Kassandra Sapia and World Champion Walt van Esfane Thunder to a Triple Crown Nutrition® Excellence Award
Wayzata, Minn. (November 12, 2018)- Kassandra Sapia, of Friesian Thunder in Murietta, Calif., has been embodying excellence in horsemanship since 2008, when the talented daughter of Robin and Steve Young first rode to a National Champion Friesian English Pleasure Saddle Seat Amateur title. Ten years later, she's still bringing horses to winning form with more world titles and the Triple Crown Nutrition Excellence Award following a record-breaking 14th annual International Friesian Show Horse Association World & Grand National Championship Horse Show, October 2-7 in Springfield, Ohio.
The Triple Crown Nutrition Excellence Award winner cruised to a World Championship title in Friesian Dressage Hack and top four finish in Friesian English Pleasure Saddle Seat Amateur on the 11-year-old stallion, Walt van Esfane (lovingly nicknamed Bugatti), as well as the World title in Friesian Liberty Geldings on Sieger fan Ferwalde.
"We're really looking forward to trying out Triple Crown's premium horse feed and learning more about how its fixed formulas and quality ingredients promote a healthy digestive tract and, most importantly, a happy horse and athlete," Sapia said. "Our stallion has been attracting a lot of interest from mare owners, although we're concentrating on his show career first. He's got a good head on his shoulders and we'd like him to step up further in the dressage world before we consider standing him."
When Friesian Thunder is ready to take their stallion from the show ring to the breeding barn, Triple Crown will be ready to make the nutritional transition a smooth one with choices like Triple Crown Growth, a moderate soluble carbohydrate, high fat, high fiber, beet pulp-based feed that is ideal for breeding stallions, as well as broodmares, weanlings and yearlings.
For show horses, like Bugatti, who are still working on a competitive schedule, there's Triple Crown Training, an oat-based, corn-free, high fat feed fortified with fish oil that's ideal for performance horses requiring a higher caloric intake, or Total Lifetime Care®, a pelleted high fat feed ideal for horses of any age.
Based in Wayzata, Minn., Triple Crown Nutrition is the official feed sponsor of the US Dressage, Eventing and Show Jumping teams and, as the first company to incorporate prebiotic, probiotics and organic minerals into its horse feeds, remains committed to delivering the best in equine nutrition through premium quality ingredients and revolutionary formulations. Visit www.TripleCrownFeed.com to learn more, call us toll-free (800) 451-9916, or find us on Facebook and Instagram @TripleCrownFeed.
-30-
Photo: Kassandra Sapia and World Champion Friesian Stallion Walt van Esfane accepting their Triple Crown Excellence Award. (Photo courtesy of Avalon Photography)