Understanding Carbohydrates In Your Horse's Diet
Posted | Tags: Health, horse care, horse feed, horse management, Nutrition, Performance Horse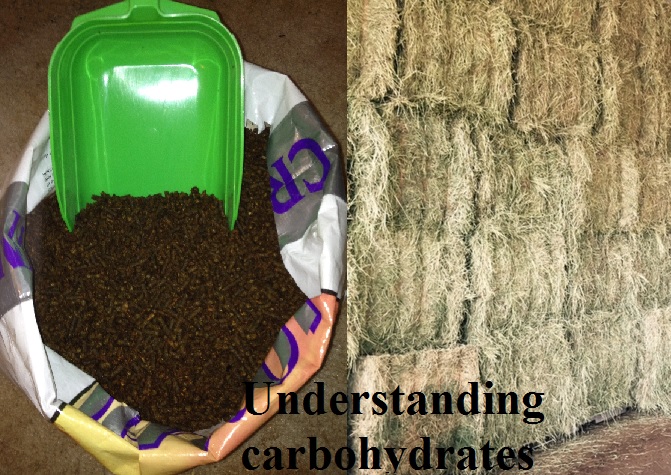 By: Triple Crown Insider- Kaylee Van Winkle
Carbohydrates, We All Hear About Them And Have A Basic Idea Of What They Are, But Why Are They Important?
We are constantly infiltrated with the need to decrease carbs in our diets, but are we supposed to decrease them in our horse's diets as well? Understanding the need for carbs in the horse's diet is necessary to choose a feed that best suits your horse. Let's talk about the purpose of carbs in your horse's diet and the two different forms.
The speed and duration of movements that we ask of our horses requires energy. The main source for quick energy is carbohydrates. Our horses receive their carbs from hays, grains, pasture grasses, and cereal grains. Not only do horses need bursts of energy during exercise, they also need carbs for their daily metabolic functions. Carbs help to regulate the horse's body temperature, which is highly beneficial in the winter months and is the reason we need to feed more hay in colder temperatures. Hay is largely made up of structural carbohydrates, which requires energy to breakdown, creating heat in the body. The two different types of carbohydrates are described below.
Structured Carbs
Structured carbohydrates have a complex chemical makeup and can be found in fiber-rich diets, such as grasses and hay. Components of the grass stems, such as cellulose, are broken down by bacteria in the large intestine. The break down produces fatty acids, which are used as a source of energy. Carb break down gives off heat, which as stated above, regulates body temperature. Due to the production of heat from structural carb break down, feeding extra hay in the winter has a great benefit to maintaining a horse's weight.
Non-structured Carbs
Non-structured carbohydrates (NSC) have a simple chemical makeup that provides the horse with sugar and starch. NSC can be found in cereal grains and are digested in the small intestine. NSC circulates in the blood stream as glucose. Glucose is used by all cells as a primary source of energy. Any extra glucose that is in the blood stream is turned into glycogen and stored in the liver and muscle tissues. Glycogen provides energy to a horse during anaerobic work. Horses that perform or train at sustained maximum speeds utilize anaerobic energy.
Certain horses in disciplines, such as race horses and eventers, may need a higher carb diet due to their need for quick bursts of energy. Feeds that have higher carbohydrate content will be beneficial to these horses. Pleasure horses, however, may do better with a moderate to low carb intake. There are certain horses that need less carbs. Horses with metabolic issues, such as Cushing's Disease, or other health issues require a minimal amount of carbohydrates. Every horse, and human, needs a specific amount of carbs to maintain their metabolic function. Each horse's breed, level of activity, and metabolic functions, must be taken into consideration when determining the necessary carbohydrate content they need.