Hoof Packing: Post-Exercise Care
If you missed our previous blogs in the Post-Exercise care series, check them out here:
Check out our tutorial videos at our YouTube Channel.
‰______________________________________________________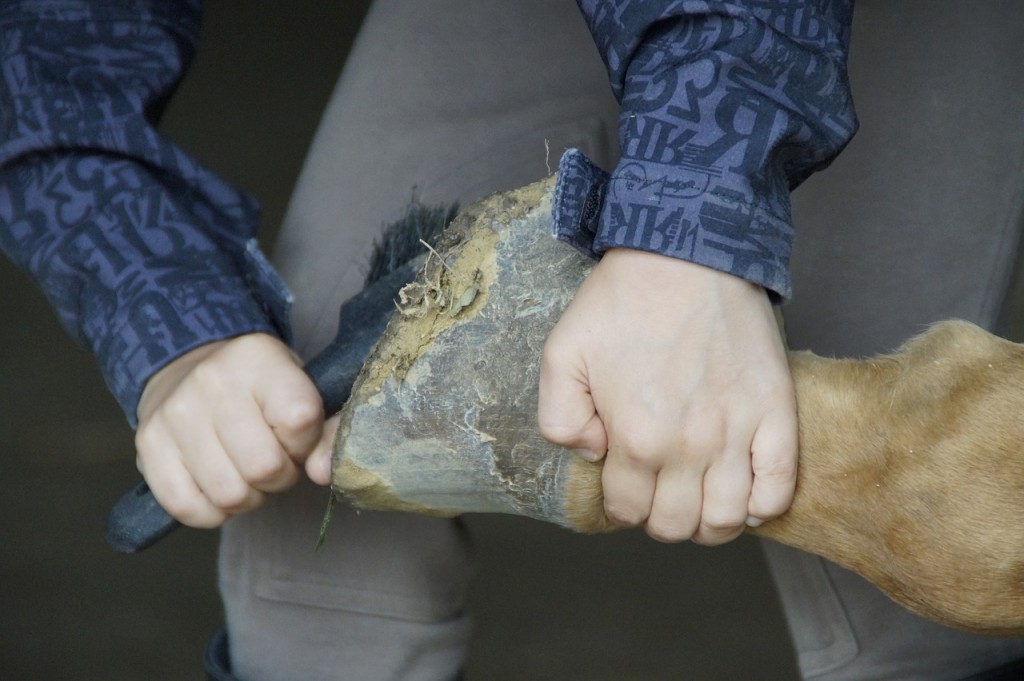 Hoof packing is a simple measure to take after a hard cross-country ride, a trail-ride or exercise on hard, rocky ground, or when your horse's hoof appears hot and sore.
Packing a foot is a less common action to take when trying to help a horse recover, but it is very versatile and can be helpful in many situations. Some of the most common reasons to apply a hoof pack would be when the hoof sole might be sensitive, such as after pulling a shoe or bruising a sole on stones/hard ground, or when the horse has an abscess. Hoof packs can be purchased commercially or you can create your own mixture with supplies you may already have. It will help to draw out any heat from the hoof and can help to calm inflammation that may occur in both the sole and frog.
Supplies you'll need:
Vet-wrap
A diaper (size 5) or sheet cotton
Duct tape
Latex/rubber gloves
Scissors
**Optional: a hoof boot (Old Mac's, Easyboot, Equine Slipper, etc.)
A hoof pack, examples of which include:

Absorbine Magic Cushion
Forshner's Medicated Hoof Pack
Rebound Hoof Pack
A homemade mixture of Epsom salts and gel liniment
Steps:
Collect all of your supplies and place them near the hoof that you will be treating for easy access.
If using sheet cotton, cut a circle out large enough to fit around the hoof sole and up to the coronary band.
Begin by picking out the affected hoof, making sure that it is dry and clear of dirt and debris.
Put on your glove and apply the hoof pack substance, packing it down into the entire sole and over the frog.
Apply the pack inside of the shoe if the horse is shod, or out to the edges of the sole if barefoot.
Take care to keep the hoof wall clean, as the packing material will make it harder to attach the tape and vet-wrap later.
Apply your diaper or sheet cotton over the sole, and up and around the hoof wall.
While holding the diaper or cotton in place, begin to wrap the hoof in vet-wrap, using a figure-eight pattern to cross from one side to the other, until the entire hoof is covered.
**If you have a hoof boot, put this on next, and you are done with your wrap.
If not, allow your horse to take a break and place his hoof back down while you prepare the duct tape.
Cut strips of duct tape to create an approximately 5‰" by 5‰" square patch, overlapping each piece of tape.
Lift your horse's hoof and apply this patch to the sole, ensuring that the duct tape wraps around the front and sides of the hoof wall.
Cut any excess duct tape so that it is not touching the coronary band or skin.
Apply a few extra strips of duct tape over the toe to prevent the shoe from poking through the wrap.
If the horse will be turned out, you may also want to run a strip from the heel across the front of the hoof wall and over the toe. Do this from both sides of the heel to help lock the wrap in place.