Essential Omega Blend
One Gallon (3.75 Liters)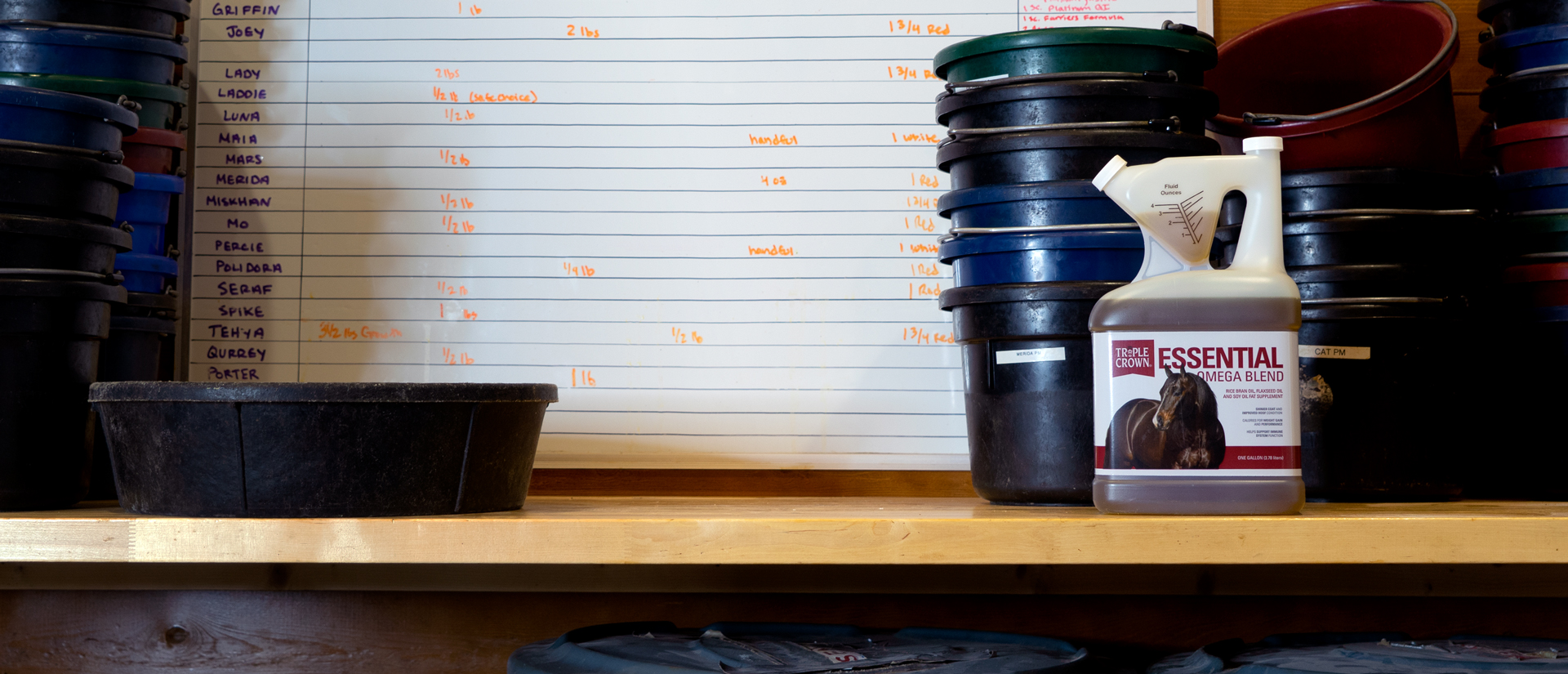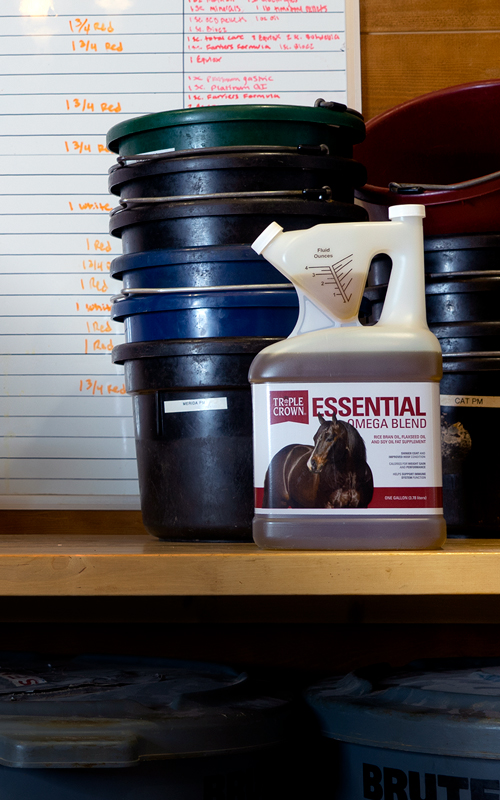 Ideal For:
All horses
Underweight horses
Performance horses
Features:
Easy to mix with grains
High fat
Omega-3 & 6 fatty acids
Helps Support:
Supplemental calories
Healthy skin & coat
Reducing inflammation
About Triple Crown Essential Omega Blend
Fat 98%
250 KCAL/oz.
A blend of rice bran oil, flaxseed oil and soy oil to provide Omega-3 fatty acids to help improve immune function and hair/hoof condition. Ideal for all ages of horses.
Guaranteed Analysis
Crude Fat (min.)

98.00%

Total Fatty Acids (min.)

90.00%

Omega-3 Fatty Acids (min.)

30.00%

Omega-6 Fatty Acids (min.)

29.00%

Unsaponifiable Matter (max.)

4.00%

Free Fatty Acids (as Oleic) (max.)

1.00%

Insoluble Impurities (max.)

0.10%

Moisture (max.)

0.10%
Ingredients
Rice Bran Oil, Flaxseed Oil, Soy Oil (Free from Restricted Ruminant Protein Products per Title 21, CFR 589.2000)
Feeding Directions
TO APPLY AS A TOP DRESS ON FEED
| | |
| --- | --- |
| Maintenance | 2 oz. daily |
| Performance Horses | 4 - 8 oz. daily |
| Stallions and Broodmares | 4 oz. daily |
| Weanlings/Yearling | 2 - 4 oz. daily |
| Sales Prep | 4 - 8 oz. daily |
OTHER CONSIDERATIONS
Essential Omega Blend can be fed to all horses.
Provide salt and plenty of fresh, clean water at all times. Keep product fresh in cool, dry storage. Examine product daily. DO NOT use if old, moldy or contaminated with insects.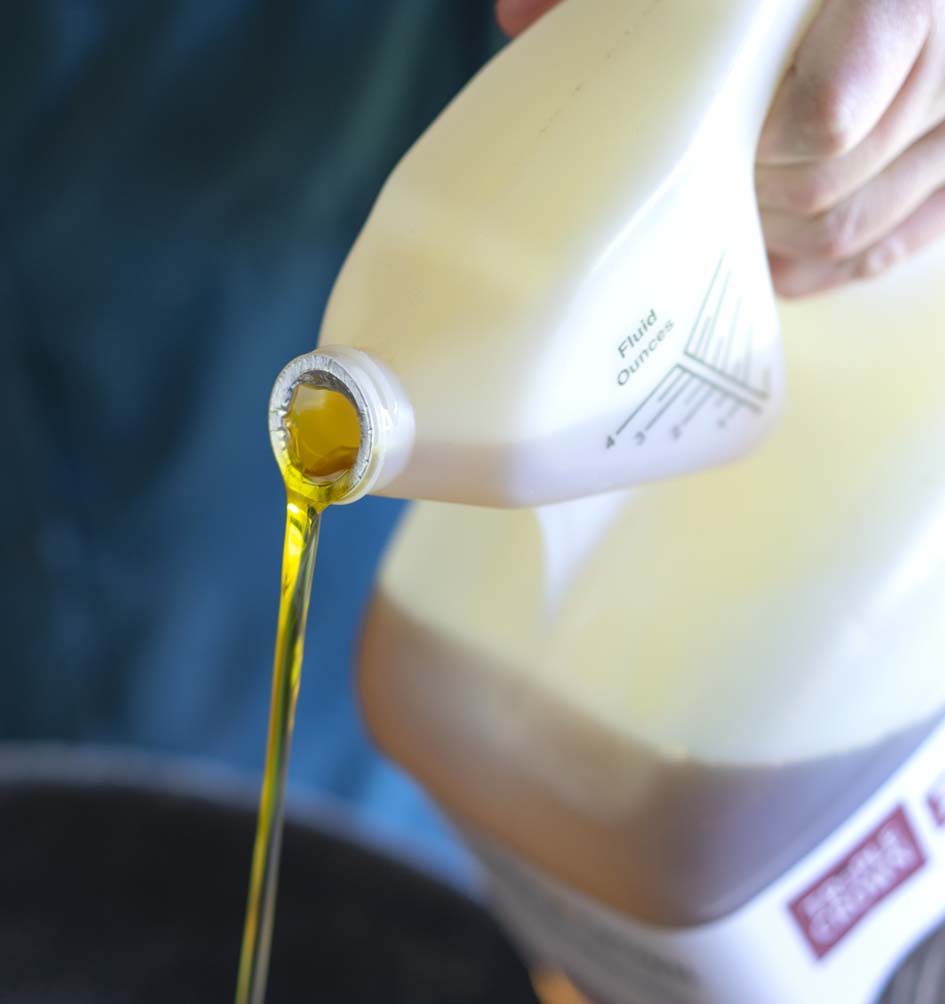 Learn about Essential Omega Blend
From a Triple Crown Expert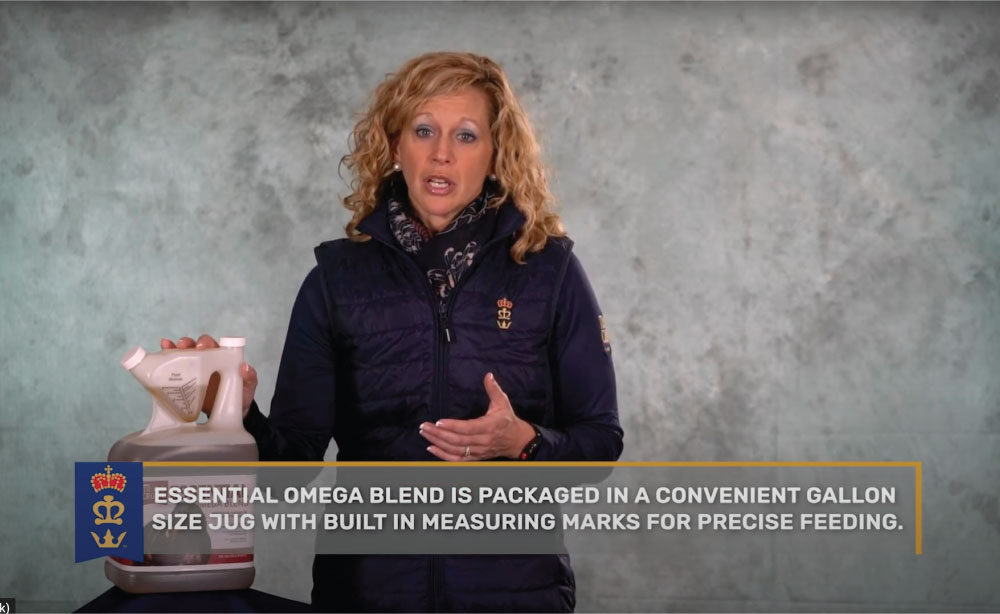 Essential Omega Blend
Average rating:
4 reviews
er Anderson, Equine Manager: Lothlorien Therapeutic Riding Center
May 11, 2016
You can tell just in the difference in his coat, with the rice bran oil in the feed.
I have owned Max for almost four years now and he was started on Triple Crown Complete two years ago. The PQHA picture is from when we first purchased Max, the WPQHA Picture was last Summer, and the NYS Breeders Picture is Max from Memorial Day Weekend. You can tell just in the difference in his coat, with the rice bran oil in the feed.




May 11, 2016
So amazing!!!!!
Before & After:

 
May 10, 2016
Triple Crown saved my horses life
Hello, Meet JD, He is a 10 yo rescue that I am the very proud new owner of. I have had JD for 72 days and he has made an amazing recovery. This horse has taught me more things in 72 days than i could ever imagine. When I got him he was 800 lbs under weight. After vet trips to test for parasites and tube workings I started him on Triple Crown oil. I was kind of hesitant at first because I have used other weight gainers in the past with no luck. Here is some proof of how amazing Triple Crown oil works. The first 30 days are kind of slow but you do have to work from the inside out. Thank you so much for this product. I really do believe it saved JD's life.

 
May 10, 2016
Glowing coat
My 12 year old Thoroughbred has been flourishing since receiveing a daily dose of your rice bran oil. No more flaky skin and brittle feet. His coat glows and the shoer is very pleased with the condition of his feet.
Help your horse thrive