A chopped forage fortified with vitamins and minerals. Ideal for horses with metabolic disease, founder/laminitis or poor dentition.
Great for managing sugar spikes often found in Spring and Fall pastures.
Triple Crown Safe Starch® Forage (a mixture of orchard and Timothy hays) provides horses with their entire diet – forage, as well as vitamins and minerals. Featuring Triple Crown's unique EquiMix®. Triple Crown Safe Starch forage is a  specially selected, low NSC grass hay forage that is molasses and grain free, and provides 6% fat.
Learn more about Safe Starch Forage:

GUARANTEED ANALYSIS
Crude Protein (min.)
11.00%
Lysine (min.)
0.35%
Methionine (min.)
0.10%
Threonine (min.)
0.30%
Tryptophan (min.)
0.07%
Leucine (min.)
0.38%
Crude Fat (min.)
6.00%
Crude Fiber (max.)
28.00%
Calcium (min.)
0.60%
Calcium (max.)
1.00%
Phosphorus (min.)
0.40%
Magnesium (min.)
0.50%
Potassium (min.)
2.00%
Selenium (min.)
0.30 ppm
Zinc (min.)
120 ppm
Manganese (min.)
120 ppm
Copper (min.)
35 ppm
Iron (min.)
180 ppm
Vitamin A (min.)
4,000 IU/lb
Vitamin D (min.)
750 IU/lb
Vitamin E (min.)
110 IU/lb
Ascorbic Acid (min.)
30 mg/lb
Biotin (min.)
0.15 mg/lb
Total Direct Fed Microbials (min.)
1.89 billion CFU/lb
Lactobacillus Acidophilus Fermentation Product (min.)
454 million CFU/lb
Enterococcus Faecium Fermentation Product (min.)
454 million CFU/lb
Bactillus Subtilis Dried Fermentation Product(min.)
80 million CFU/lb
Saccharomyces Cerevisiae Yeast Culture (min.)
908 million CFU/lb
Cellulase* (Trichoderma Longibrachiatum) (min.)
0.34 million CU/lb
Protease** (Bacillus Subtilis) (min.)
715 HUT/lb
NSC***
8.7%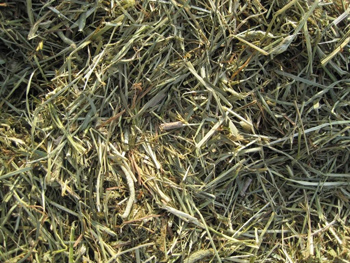 Ingredients
Orchard Grass Hay, Timothy Grass Hay, Soybean Oil, Wheat Middlings, Dehulled Soybean Meal, Rice Bran, Glycerin, Calcium Carbonate, Dicalcium Phosphate, Monocalcium-Dicalcium Phosphate, Monosodium Phosphate, Salt, Sodium Bicarbonate, Sodium Sesquicarbonate, Magnesium Oxide, Butyric Acid, Peppermint Oil, Zinc Oxide, Hydrated Sodium Calcium Aluminosilicate, Manganous Sulfate, Magnesium Proteinate, Manganese Amino Acid Complex, Zinc Sulfate, Zinc Amino Acid Complex, Ferrous Sulfate, Iron Amino Acid Complex, Copper Sulfate, Copper Amino Acid Complex, Cobalt Sulfate, Ethylenediamine Dihydriodide, Selenium Yeast, Vitamin A Supplement, Vitamin D3 Supplement, Vitamin E Supplement, Menadione Sodium Bisulfite Complex (Source of Vitamin K Activity), Ascorbic Acid (Vitamin C), Riboflavin Supplement, Niacin Supplement, Calcium Pantothenate, Vitamin B12 Supplement, Choline Chloride, d-Biotin, Thiamine Mononitrate, Pyridoxine Hydrochloride, Folic Acid, Beta Carotene, Calcium Lignin Sulfonate, Trichoderma Longibrachiatum Fermentation Extract, Brewers Dried Yeast, Dried Yeast Fermentation Solubles, Lactobacillus Acidophilus Fermentation Product, Enterococcus Faecium Fermentation Product, Bacillus Subtilis Fermentation Product, Dried Saccharomyces Cerevisiae Fermentation Solubles, Bacillus Subtilis Fermentation Extract, L-Lysine, DL-Methionine, L-Threonine, L-Leucine, Kelp Meal, Lecithin, Fenugreek Seed, Flaxseed, Anise Seed.(Free from restricted ruminant protein products per Title 21, CFR 589.2000/2001) Packaged in 40 lb. bags.
Feeding Directions
Triple Crown Safe Starch Forage is an all-in-one diet for mature horses. No other hay, pasture, or mineral and vitamin supplement is required to provide your horse a complete and balanced diet. Feed Triple Crown Safe Starch Forage to mature horses at a rate that maintains desired body condition. Begin with approximately 2% of body weight (20 pounds for a 1000 pound horse) and adjust up or down, depending upon the individual horse's body condition. You want to feed a minimum of 1% of body weight. Provide access to salt and fresh, clean water at all times.
NOTE: Provide plenty of fresh, clean water at all times. Keep product fresh in cool, dry storage. Examine product daily. DO NOT use product that is old, or contaminated with mold, insects or foreign material.
***The following coefficients of variation (cv) can be associated with the carbohydrate analyses. These should reasonably account for both sampling and analytical variation, though as you know, poor sampling can lead to much larger variation. The coefficients of variation (cv) for starch is 10%, WSC is 15% and ESC is 15%. For example, a feed with a WSC value of 10% should be expected to range from 8.5 – 11.5% and a WSC value of 20% to range from 17 – 23%. In addition, there are variables on ingredients between suppliers that could be as much as an additional 5% to 10% per ingredient. Therefore, products, such as TC 30% Supplement potentially would have a smaller variation than TC Lite due to the number of bulk ingredients making up the feed (2 vs. 4).
Watch the Forage Plant Processing Video!
REVIEWS
Safe Starch® Forage
Average rating:
11 reviews
Sep 9, 2021
We love this!
My aging mare loves this forage and has never looked better. I talked with the manager at my feed store to keep this in stock. It has been a game changer and I don't want to run out.
Feb 22, 2021
Safe Starch Forage
This forage is one of the best-kept secrets! We raise Shetland ponies and Miniature horses who can be more prone to laminitis/founder. We have used it on several, and saw fantastic results. It was recommended to us by our farrier. We have passed this great product info along to others in the same business so that they could have the relief of knowing that their ponies/horses are eating something that was helping improve their condition. We continue to use this product and hope to encourage our vet offices to recommend this product.
Sep 16, 2020
Help
My horse loves this feed and suffers from laminitis, so it is perfect for her.
Apr 7, 2020
We have been using Triple Crown products for our non profit rescue facility for 4 years. In our program we have 3 older horses with health issues and poor teeth. Also we have 6 minis with one being a dwarf. Three months ago we switched the older horses and all 6 minis to Safe Starch! Every one of them are thriving and loving the Safe Starch forage! Thank you Triple Crown, we love it.
Oct 29, 2019
Wow
I have a horse with a history of founder. Since he's boarded, I don't have access to whatever hay I can get my hands on. I give him soaked Timothy hay. I am not a huge fan of hard feeds as he also has chronic ulcers. I decided to try this out in hopes that he liked it and WOW! He went crazy over it. He gets less than 2 lbs of hard feed a day and I make up the rest in this stuff. For a 17 hand horse who isn't an easy keeper, this stuff has made all the difference for me!!