Safe Starch®
Fortified Forage
40 lbs (18.14 kg)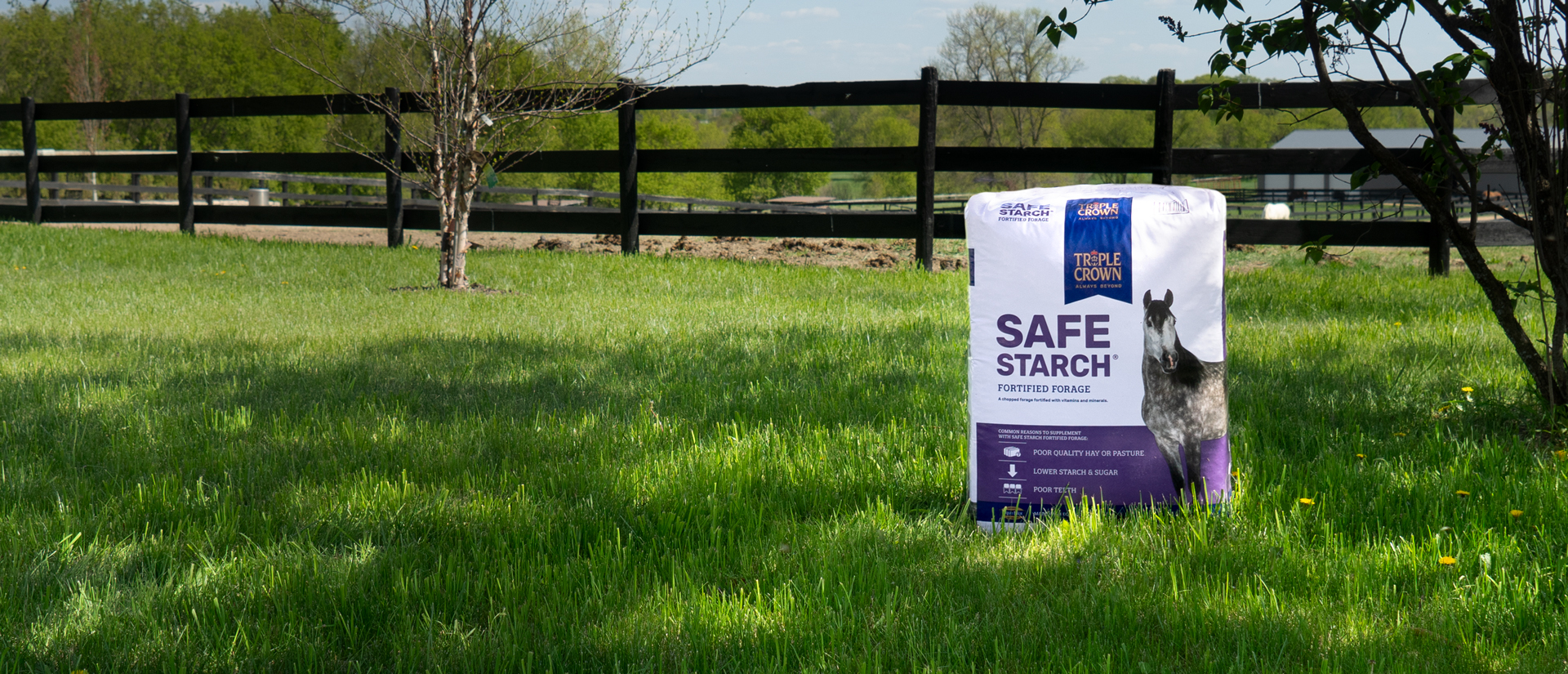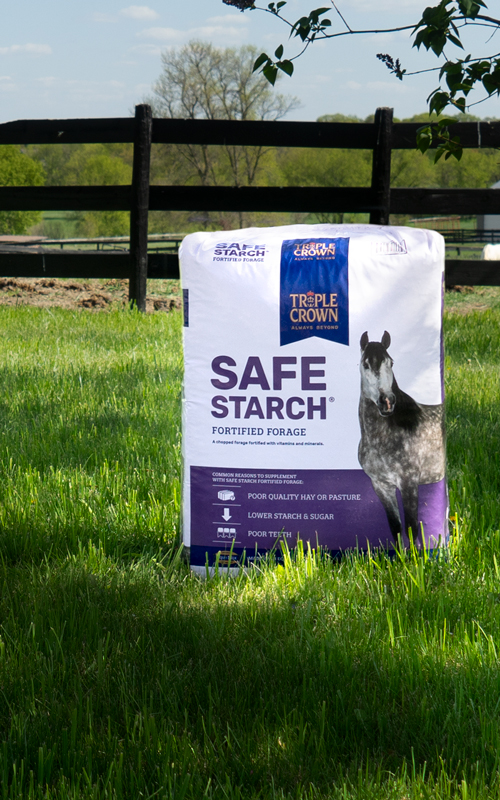 Ideal For:
Mature horses
Metabolic horses
Underweight horses
Features:
Whole grain & molasses free
Low starch & sugar
Balanced vitamin & mineral fortification
Helps Support:
Poor teeth
Hay shortages
Poor hay quality
About Triple Crown Safe Starch Fortified Forage
Protein 11%
Fat 6%
Fiber 28%
1,100 KCAL/LB.
Triple Crown Safe Starch® Fortified Forage is a complete forage-based diet for mature horses, providing an alternative to grain-based diets.
Guaranteed Analysis
Crude Protein (min.)

11.00%

Lysine (min.)

0.35%

Methionine (min.)

0.10%

Threonine (min.)

0.30%

Tryptophan (min.)

0.07%

Leucine (min.)

0.38%

Crude Fat (min.)

6.00%

Crude Fiber (max.)

28.00%

Calcium (min.)

0.60%

Calcium (max.)

1.00%

Phosphorus (min.)

0.40%

Magnesium (min.)

0.50%

Potassium (min.)

2.00%

Selenium (min.)

0.30 ppm

Zinc (min.)

120 ppm

Manganese (min.)

120 ppm

Copper (min.)

35 ppm

Iron (min.)

180 ppm

Vitamin A (min.)

4,000 IU/lb.

Vitamin D min.)

750 IU/lb.

Vitamin E (min.)

110 IU/lb.

Ascorbic Acid (min.)

30 mg/lb.

Biotin (min.)

0.15 mg/lb

Total Direct Fed Microbials (min.)

1.89 billion CFU/lb.

Lactobacillus Acidophilus Fermentation Product (min.)

454 million CFU/lb.

Enterococcus Faecium Fermentation Product (min.)

454 million CFU/lb.

Bacillus Subtilis Dried Fermentation Product (min.)

80 million CFU/lb.

Saccharomyces Cerevisiae Yeast Culture (min.)

908 million CFU/lb.

Cellulase¹ (Trichoderma Longibrachiatum Fermentation Extract) (min.)

0.34 million CU/lb.

Protease² (Bacillus Subtilis Fermentation Extract) (min.)

715 HUT/lb.
Ingredients
(Free from Restricted Ruminant Protein Products per Title 21, CFR 589.2000/2001)
Orchard Grass Hay, Timothy Grass Hay, Soybean Oil, Wheat Middlings, Dehulled Soybean Meal, Rice Bran, Glycerin, Calcium Carbonate, Dicalcium Phosphate, Monocalcium-Dicalcium Phosphate, Monosodium Phosphate, Salt, Sodium Bicarbonate, Sodium Sesquicarbonate, Magnesium Oxide, Butyric acid, Peppermint Oil, Zinc Oxide, Hydrated Sodium Calcium Aluminosilicate, Manganous Sulfate, Magnesium Proteinate, Manganese Amino Acid Complex, Zinc Sulfate, Zinc Amino Acid Complex, Ferrous Sulfate, Iron Amino Acid Complex, Copper Sulfate, Copper Amino Acid Complex, Cobalt Sulfate, Ethylenediamine Dihydriodide, Selenium Yeast, Vitamin A Supplement, Vitamin D3 Supplement, Vitamin E Supplement, Menadione Sodium Bisulfite Complex (Source of Vitamin K Activity), Ascorbic Acid (Vitamin C), Riboflavin Supplement, Niacin Supplement, Calcium Pantothenate, Vitamin B12 Supplement, Choline Chloride, d-Biotin, Thiamine Mononitrate, Pyridoxine Hydrochloride, Folic Acid, Beta Carotene, Calcium Lignin Sulfonate, Trichoderma Longibrachiatum Fermentation Extract, Brewers Dried Yeast, Dried Yeast Fermentation Solubles, Lactobacillus Acidophilus Fermentation Product, Enterococcus Faecium Fermentation Product, Bacillus Subtilis Fermentation Product, Dried Saccharomyces Cerevisiae Fermentation Solubles, Bacillus Subtilis Fermentation Extract, L-Lysine, DL-Methionine, L-Threonine, L-Leucine, Kelp Meal, Lecithin, Fenugreek Seed, Flaxseed, Anise Seed.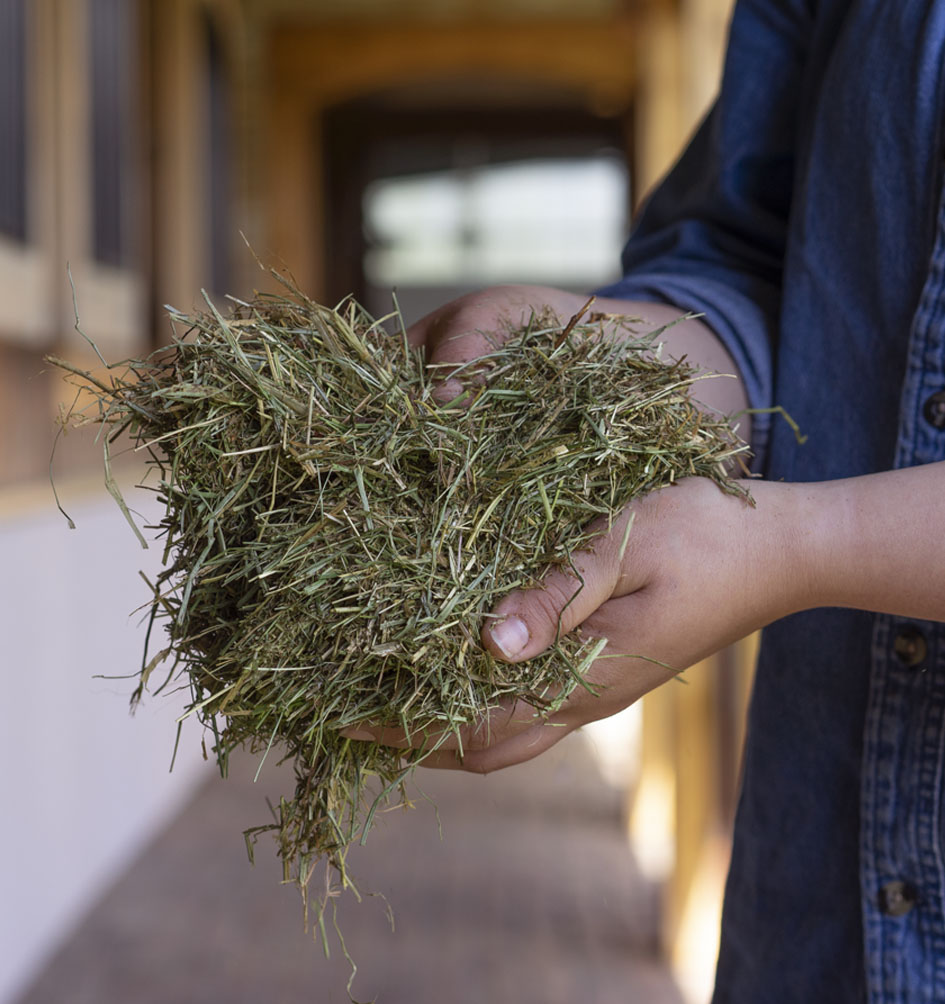 Learn About Safe Starch® Fortified Forage
From a Triple Crown Expert
Safe Starch Fortified Forage
Average rating:
16 reviews
May 18, 2023
EMS Peruvian
My 21 y.o. Peruvian mare had a history of laminitis prior to my adopting her. Now she's on Safe Starch, plus some hay and is doing great! Even the dogs like it & clean up what she misses.
Mar 24, 2023
Safe Starch Forage
Love this stuff. It has helped my IR horse tremendously. I feed this along with her hay and the 30% Balancer . She is on a limited diet and this stuff helps give her the extra nutrition she needs. I also use it as a forage mat before riding and exercise.
Nov 30, 2022
Love it for travel
Even though I don't have a horse with metabolic concerns, I love using this product when I travel for competitions. The horses don't waste any of it, and it's so easy to stack and move. And I can put it in the truck bed without worrying about it getting rained on while driving there!
Nov 28, 2022
Love this for the whole herd!
This forage is such a game-changer. Using it for two PSSM horses, a few of the "chunkier" ponies and a super picky eater! Fantastic to mix with grain and water for a nice warm mash and to increase chewing during meals, but also great on the road or as a sole forage source!
Sep 20, 2022
Game Changer
My 16 year old Lipizzan gelding was diagnosed with PPID and EMS. It has been a frustrating and emotional roller coaster ride trying to get both conditions under control, made more complicated by laminitis with rotation in both his front feet. Switching him over to a diet comprised exclusively of Safe Starch has changed everything -- It provides him the forage and nutrition he needs without any guess work. I no longer have to coordinate soaking hay and balancing what nutrients are lost in the process. It saves me time, keeps his gut healthy, and he likes it a whole lot too.
1. One cellulase unit (CU) is defined as the amount of activity that will produce a relative fluidity change of 1 (determined with a calibrated viscometer) in 5 minutes in a defined carboxymethylcellulose substrate at pH 4.5 and 40°C.
2. One hemoglobin unit (HUT) of proteolytic (protease) activity is defined as that amount of enzyme that produces, in one minute under the specified conditions, a hydrolysate whose absorbance at 275nm is the same as that of a solution containing 1.10g per mL of tyrosine in 0.006N hydrochloric acid.
3. All Triple Crown feeds have fixed ingredient formulas. Values reflect an estimated analysis of multiple feed samples from across the U.S. with the understanding that geographic differences can impact the results. Estimated values determined by Equi-Analytical, Ithaca, NY.
Help your horse thrive