StressFree™
Fortified Forage
40 lbs (18.14 kg)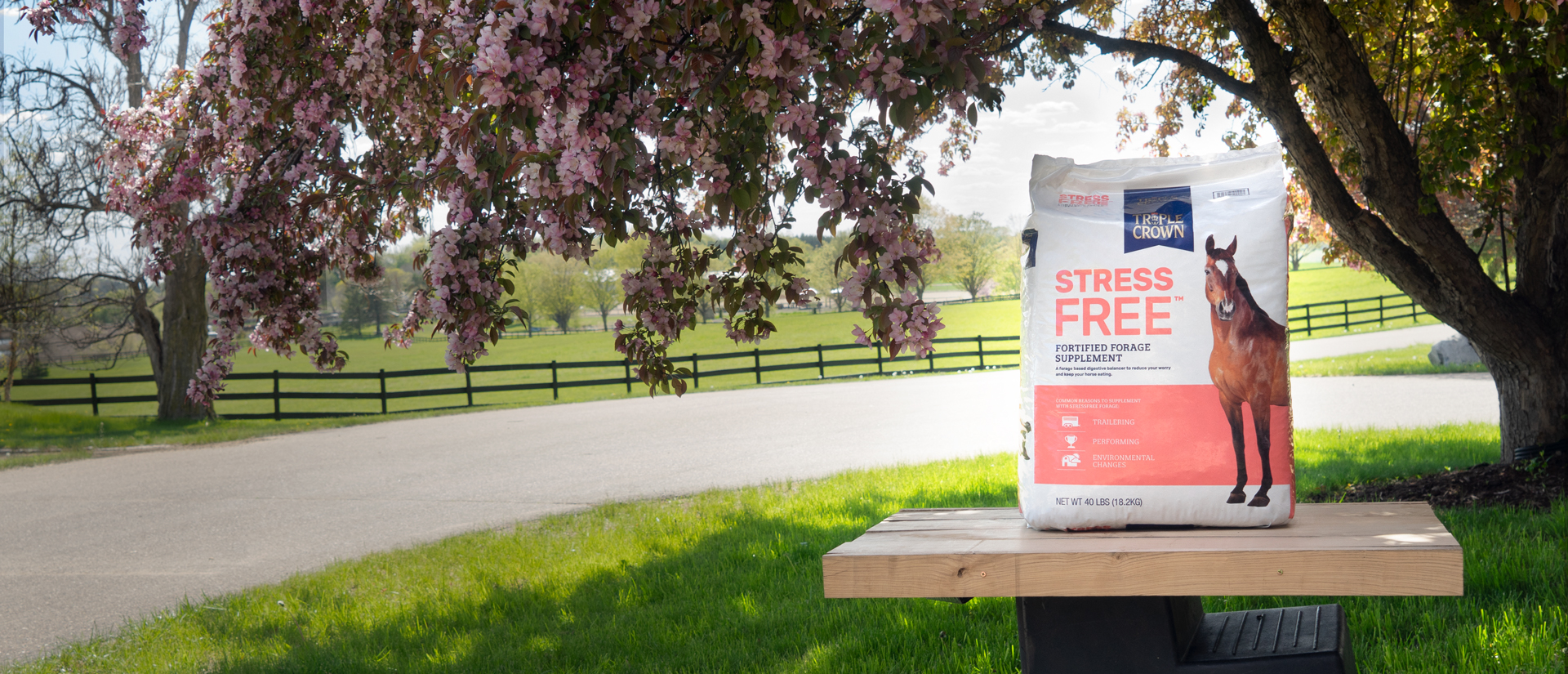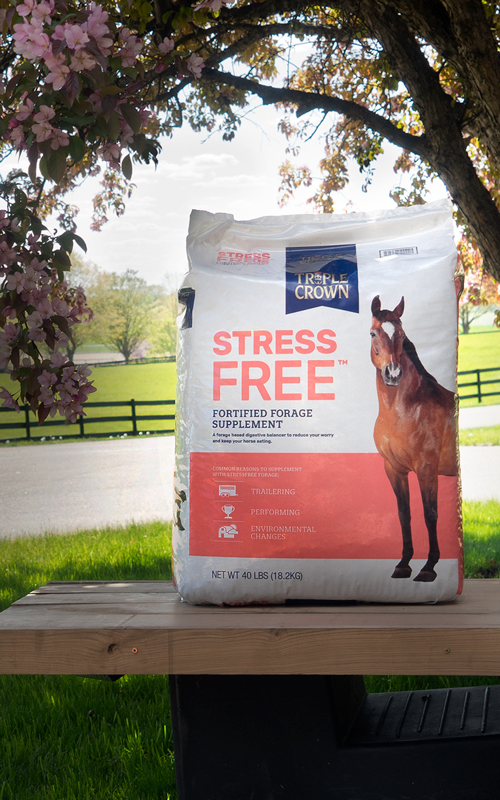 Ideal For:
Performance horses
Stressed horses
Underweight horses
Features:
Alfalfa-based
Gastric buffering
Omega-3 fatty acids
Helps Support:
Ulcers
Leaky Gut Syndrome
Horses that go off feed
Trailering
About Triple Crown StressFree™ Fortified Forage
Protein 14%
Fat 7%
Fiber 25%
1,150 KCAL/LB.
Triple Crown StressFree™ Fortified Forage is a highly palatable alfalfa-based digestive supplement to reduce your worry and keep your horse eating.
Ingredients
(Free from Restricted Ruminant Protein Products per Title 21, CFR 589.2000/2001)
Sun-Cured Alfalfa, Yeast Culture, Yeast Extract, L-Carnitine, Alfalfa Meal, Wheat Middlings, Distillers Dried Grains, Cane Molasses, Flaxseed Oil, Soybean Oil, Butyric Acid, Zinc Oxide, Silicon Dioxide, Peppermint Essential Oil, Propylene Glycol, Glycerin, (Propionic Acid, Sodium Benzoate, Potassium Sorbate (Preservatives))
Feeding Directions
OTHER CONSIDERATIONS
Product can be mixed with water to aid in hydration. Product may be mixed with the grain portion of the diet to slow rate of intake.
Provide salt and plenty of fresh, clean water at all times. Keep product fresh in cool, dry storage. Examine product daily. DO NOT use if old, moldy or contaminated with insects.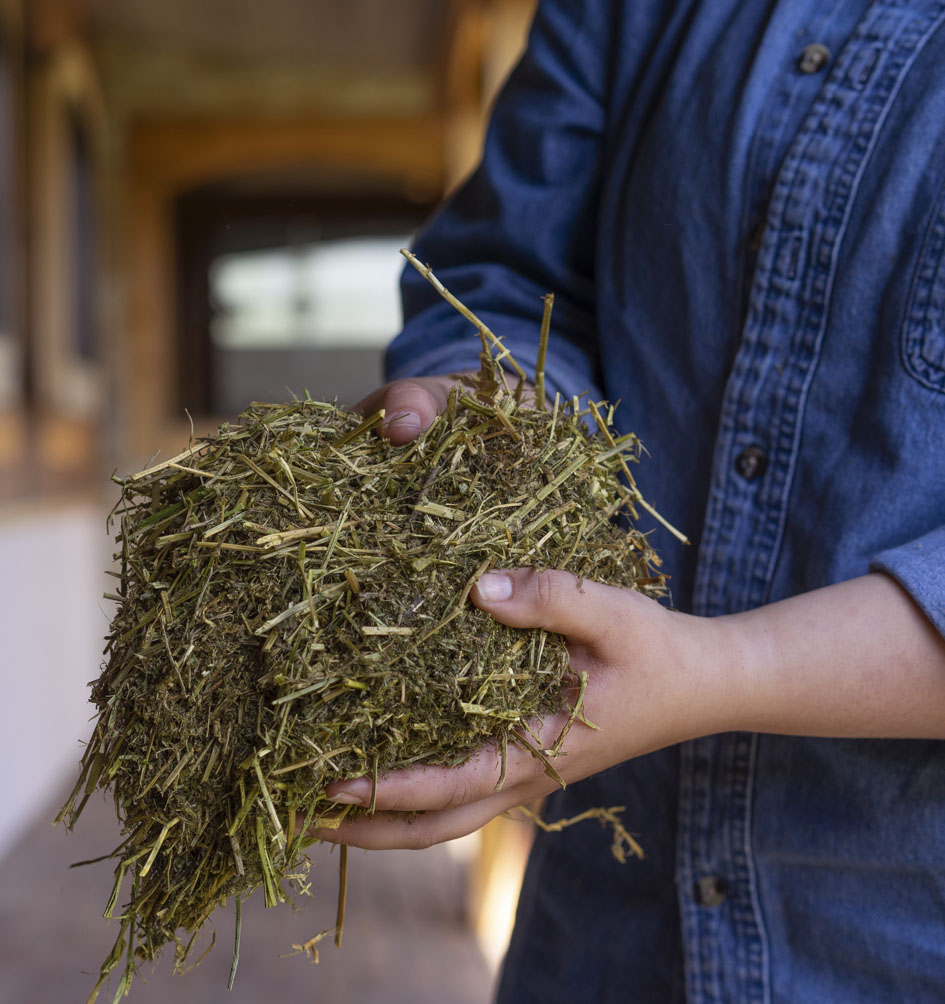 Learn about StressFree™ Fortified Forage
From a Triple Crown Expert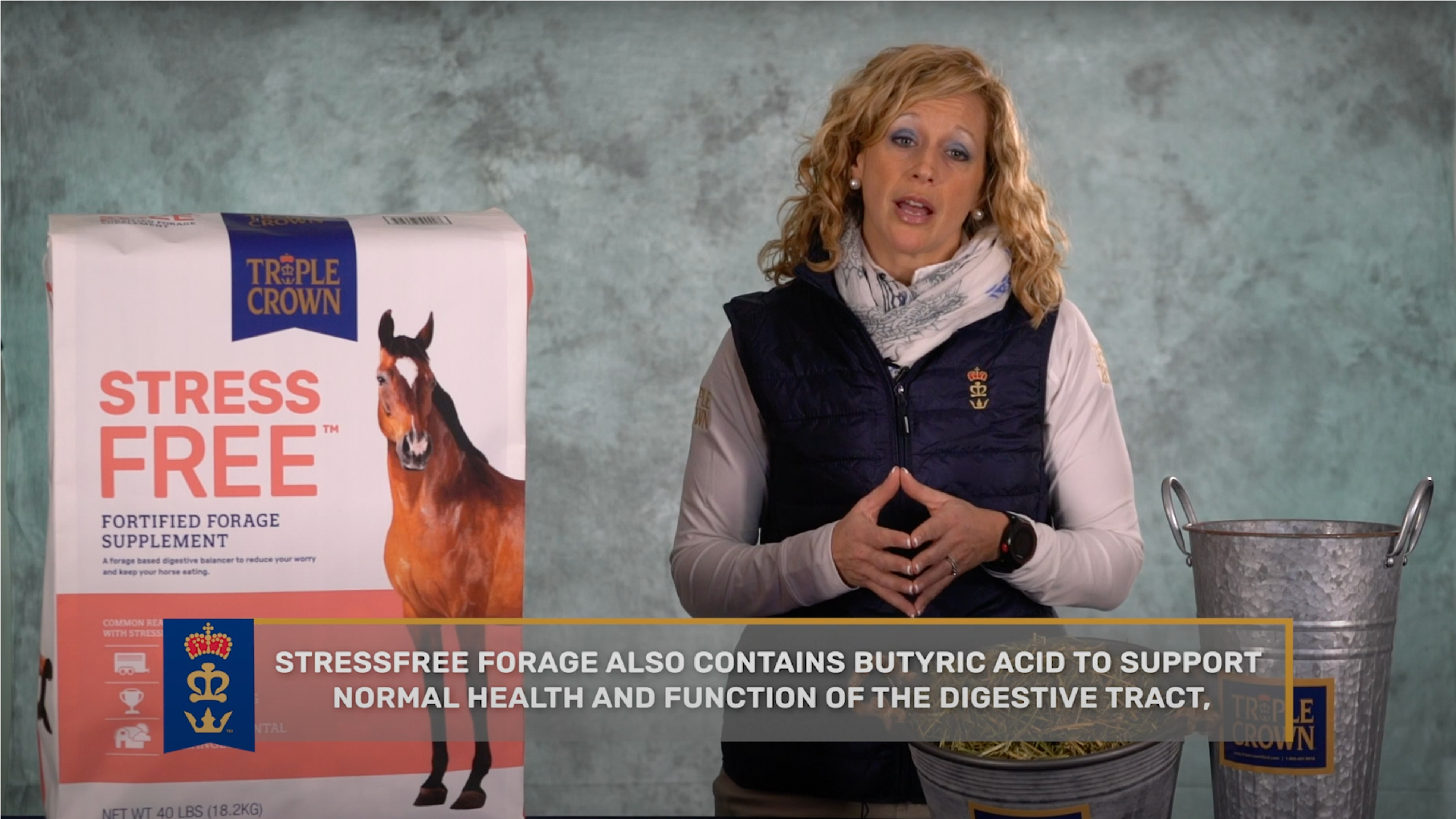 StressFree™ Fortified Forage
Average rating:
6 reviews
Oct 25, 2021
World's Fussiest Eater Approved!
This stuff has changed my horse for the better. My guy won't touch many different feeds, textures, and smells- but he goes insane for this forage! He loves it. It's made him start eating all his grain consistently and helped to put pounds (and muscle) on him after having been 200 lb underweight… I'll never go back!
Jun 18, 2021
Senior Shetland Approved
My old as dirt Shetland loves this and actually eats it before his sweet feed! Im highly impressed so far and will be switching him to TC senior.
Nov 16, 2020
Love this feed
I have a 3 year old TB/Percheron who was an orphan, so raised on formula. We've had a hard time with ulcers, colic, and choke. When I switched to this feed he completely stabilized. I mix this with Purina's Strategy and smartpak gastric support and make it soupy with water. He LOVES it and he is perfectly happy and healthy now. Highly recommend.
Nov 10, 2020
Great Product!
Got this for a horse with some hindgut ulcer issues, constant "leaky gut"/"fecal water syndrome" issues. Had him on it for 2 months and completely cleared everything up! Started with 4 lbs per day for 2 weeks, then down to 2lbs for 4 weeks, and then down to 1lbs for 4 weeks. It has worked better than anything else on the market (been working for 3 years to solve this issue for this horse). This horse will be on this product for as long as it is available/horse is alive!
ELIZABETH RIETESEL-KARLEN
Oct 30, 2020
StressFree is great!
I tried Triple Crown StressFree Forage.  I trailered into Ledges today and showed off the trailer for the first time with Icarus Blue.  I had a good experience while on it and will definitely be using it more.  He was super chill and relaxed traveling, which is not the usual.  He is usually more on the nervous side traveling alone (especially), calling, pawing and seems nervous when we first get to the show.  While on the SressFree, there was a noticeable difference.  He stood well while waiting for his class, had a calm eye, drank a while bucket of water, munched his hay net and performed well when it was show time.  We won one of the classes! Revolution Series is thankful to have Triple Crown as a sponsor for our September Finals.  I look forward to using StressFree on my other horses! It is a must try!
Thank you for your feedback!!
Help your horse thrive