StressFree™
Fortified Forage
40 lbs (18.14 kg)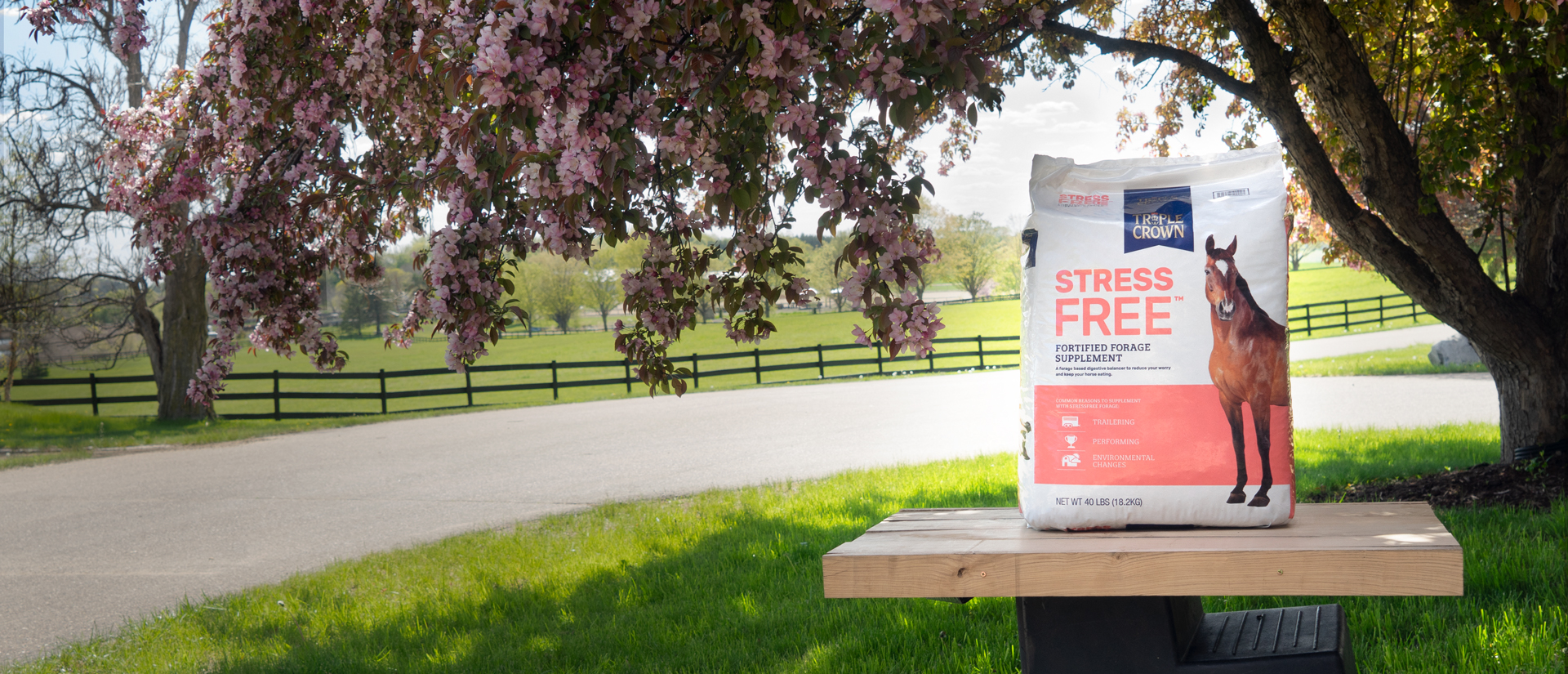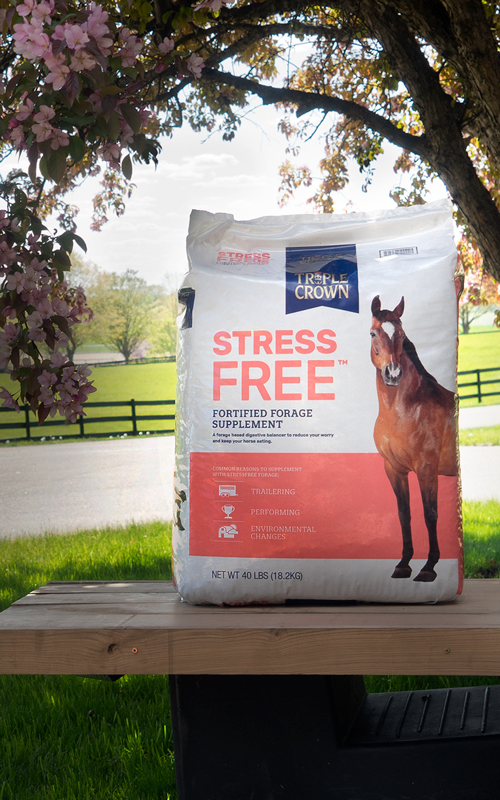 Ideal For:
Performance horses
Stressed horses
Underweight horses
Features:
Alfalfa-based
Gastric buffering
Omega-3 fatty acids
Helps Support:
Ulcers
Leaky Gut Syndrome
Horses that go off feed
Trailering
About Triple Crown StressFree™ Fortified Forage
Protein 14%
Fat 7%
Fiber 25%
1,150 KCAL/LB.
Triple Crown StressFree™ Fortified Forage is a highly palatable alfalfa-based digestive supplement to reduce your worry and keep your horse eating.
Ingredients
(Free from Restricted Ruminant Protein Products per Title 21, CFR 589.2000/2001)
Sun-Cured Alfalfa, Yeast Culture, Yeast Extract, L-Carnitine, Alfalfa Meal, Wheat Middlings, Distillers Dried Grains, Cane Molasses, Flaxseed Oil, Soybean Oil, Butyric Acid, Zinc Oxide, Silicon Dioxide, Peppermint Essential Oil, Propylene Glycol, Glycerin, (Propionic Acid, Sodium Benzoate, Potassium Sorbate (Preservatives))
Feeding Directions
OTHER CONSIDERATIONS
Product can be mixed with water to aid in hydration. Product may be mixed with the grain portion of the diet to slow rate of intake.
Provide salt and plenty of fresh, clean water at all times. Keep product fresh in cool, dry storage. Examine product daily. DO NOT use if old, moldy or contaminated with insects.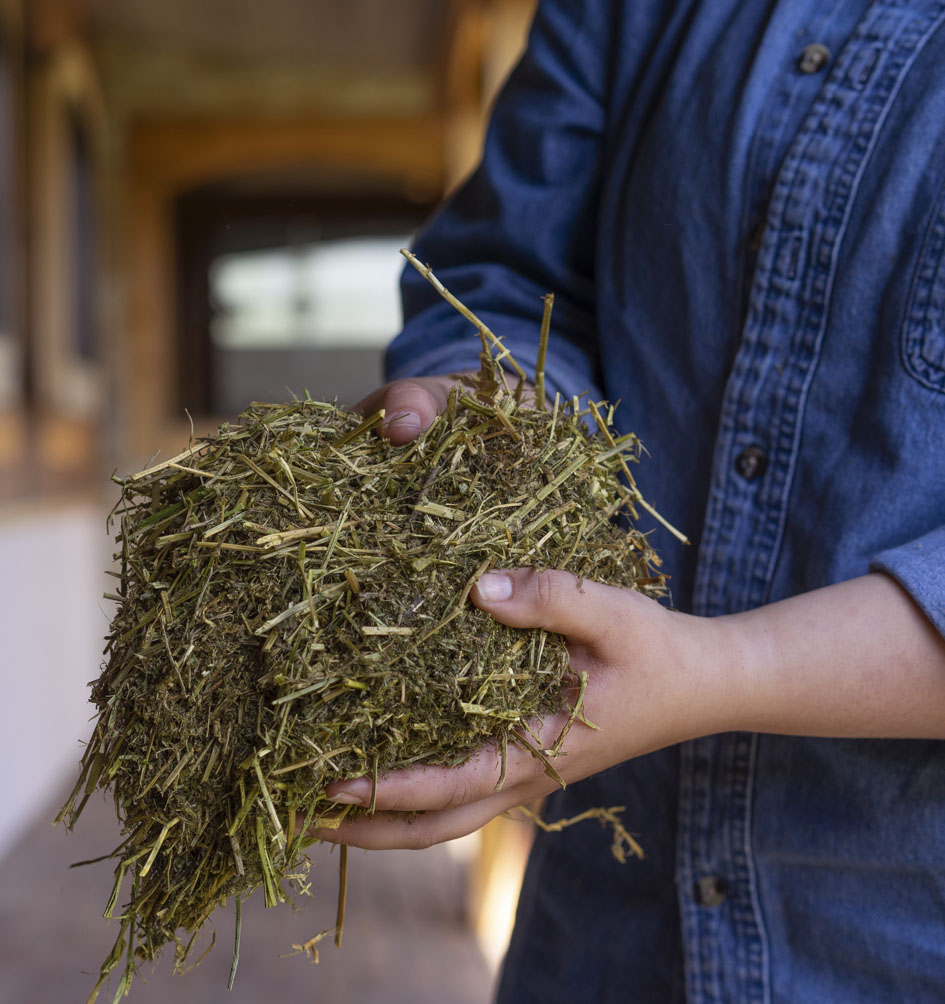 Learn about StressFree™ Fortified Forage
From a Triple Crown Expert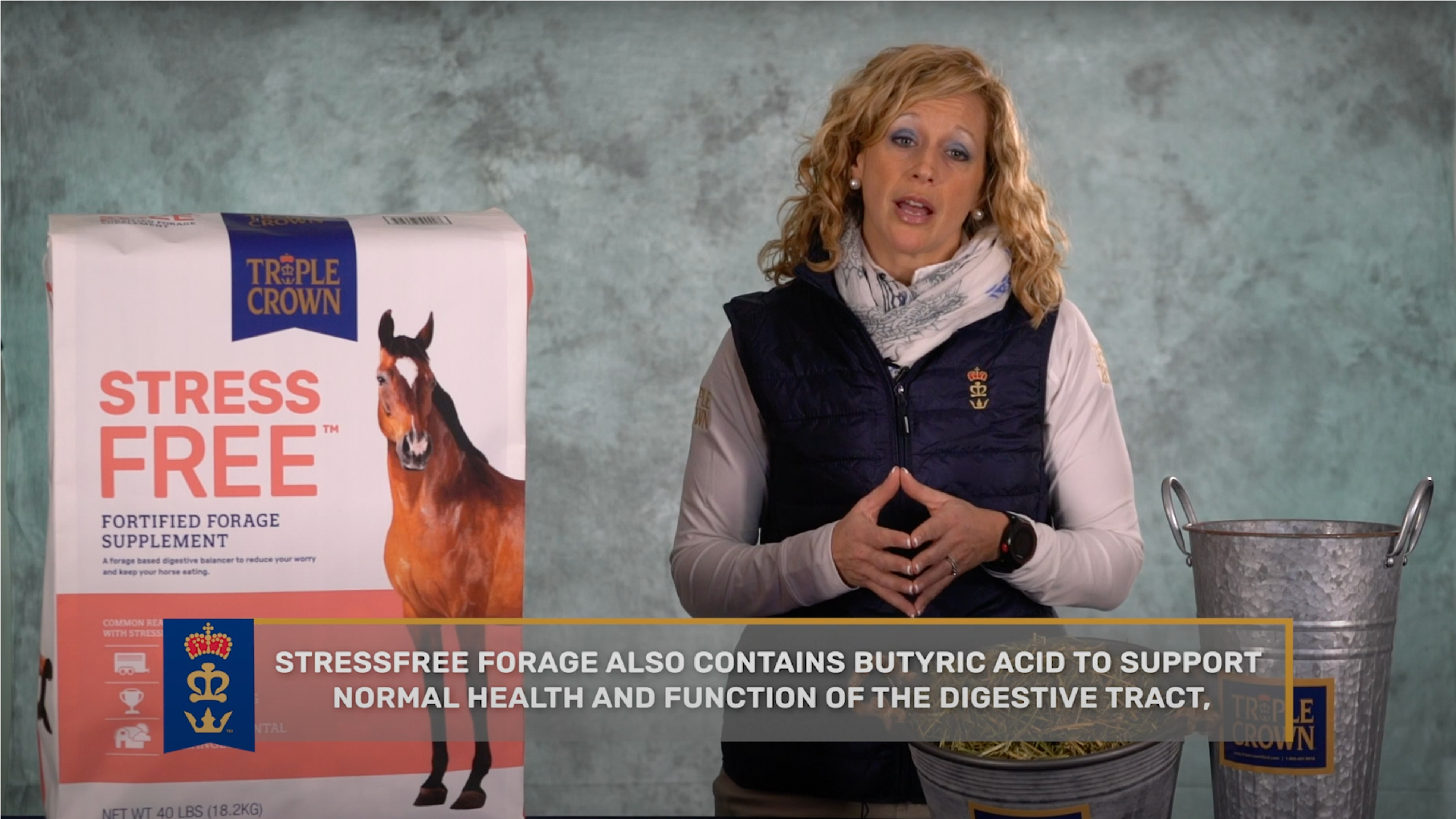 StressFree™ Fortified Forage
Average rating:
9 reviews
Mar 31, 2023
Stress Free Forage
This is the only thing that has worked for my horse's fecal water syndrome. I have tried all sorts of other very expensive supplements, chia seeds, probiotics all of which didn't work, he still had fecal water stains down his back legs and rump. I have been using this TC Stress Free Forage for 2 weeks now, only at 1 packed scoop, which is below the recommended rate, and he has a dry behind!!! No more DAILY washing his butt and hind legs. He is finally dry. We also feed TC Gold Balancer which gives this paint horse a really shiny coat, even the white shines!
Mar 24, 2023
Everyone should be feeding this!
The StressFree forage is such a wonderful product. I feed it before I ride so it can create a mat to protect the stomach lining from acid sloshing and mix it in with my mare's grain (TC Senior!) to increase chewing and slow down consumption. A fantastic addition to any feed program!
Nov 30, 2022
Awesome Product!
We had Trish Ackerman come out to talk to our high school equestrian team. Our 4 year-old Mustang was already on Triple Crown Balancer as she's an easy keeper. After Trish's talk, we ordered the Stress Free Forage to take to the next district meet. We fed 2-4 lbs per day, starting 3 days prior to the meet. First off, Sweet Pea loved it! Secondly, we were glad to know her gut was being protected while being hauled, while at the meet, and while adjusting to a new barn immediately after the meet. Thank you, Triple Crown! We just special ordered another bag for the state meet in 2 weeks.
Oct 25, 2021
World's Fussiest Eater Approved!
This stuff has changed my horse for the better. My guy won't touch many different feeds, textures, and smells- but he goes insane for this forage! He loves it. It's made him start eating all his grain consistently and helped to put pounds (and muscle) on him after having been 200 lb underweight… I'll never go back!
Jun 18, 2021
Senior Shetland Approved
My old as dirt Shetland loves this and actually eats it before his sweet feed! Im highly impressed so far and will be switching him to TC senior.
Help your horse thrive