StressFree® Forage is available in limited markets at this time, contact Triple Crown for assistance, 800-451-9916.
StressFree Forage is an updated product and has replaced Alfa-Lox™ Forage.
Triple Crown StressFree® Forage is a highly palatable forage balancer that will keep your horse eating.
Additional beneficial ingredients include:
• ButiPEARL™ Z EQ — butyric acid in an encapsulated slow release form helps guard against Leaky Gut and supports normal health and function of the digestive tract
• Prebiotics and probiotics to help maintain a healthy gut and promote the growth of beneficial microorganisms in the intestine
• Flaxseed oil, which is high in Omega-3 fatty acids and helps reduce intestinal cell inflammation
• L-carnitine amino acids and MOS prebiotic to help with regeneration and repair while aiding in immunity
• Essential peppermint oils, which offers enhanced aroma and palatability to the forage
• Chopped alfalfa hay provides a buffering effect
• Feed 2-4 lbs. per day — a little goes a long way
Learn more about StressFree Forage:

GUARANTEED ANALYSIS
Crude Protein (min.)
14.00%
Crude Fat (min.)
7.00%
Crude Fiber (max.)
25.00%
NSC***
9.2%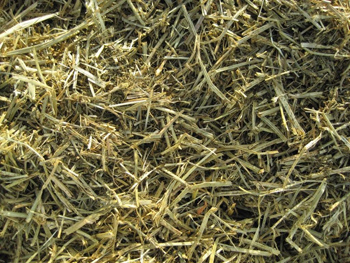 Ingredients
Sun-Cured Alfalfa, Yeast Culture, Yeast Extract, L-Carnitine, Alfalfa Meal, Wheat Middlings, Distillers Dried Grains, Cane Molasses, Flaxseed Oil, Soybean Oil, Butyric Acid, Zinc Oxide, Silicon Dioxide, Peppermint Essential Oil, Propylene Glycol, Glycerin, (Propionic Acid, Sodium Benzoate, Potassium Sorbate (Preservatives)) (Free from Restricted Ruminant Protein Products per Title 21, CFR 589.2000/2001) Packaged in 40 lb. bags.
FEEDING DIRECTION
Feed 2 – 4 pounds of StressFree® Forage per horse per day. StressFree Forage can be mixed with horse's grain or fed separately.
NOTE: Provide plenty of fresh, clean water at all times. Keep product fresh in cool, dry storage. Examine product daily. DO NOT use product that is old, or contaminated with mold, insects or foreign material.
Watch the Forage Plant Processing Video.
REVIEWS
StressFree® Forage
Average rating:
1 reviews