Colonic and Gastric Ulcers in Horses: Treatment and Prevention
Posted | Tags: Health, horse care, horse feed, horse management, Nutrition, Performance Horse, ulcers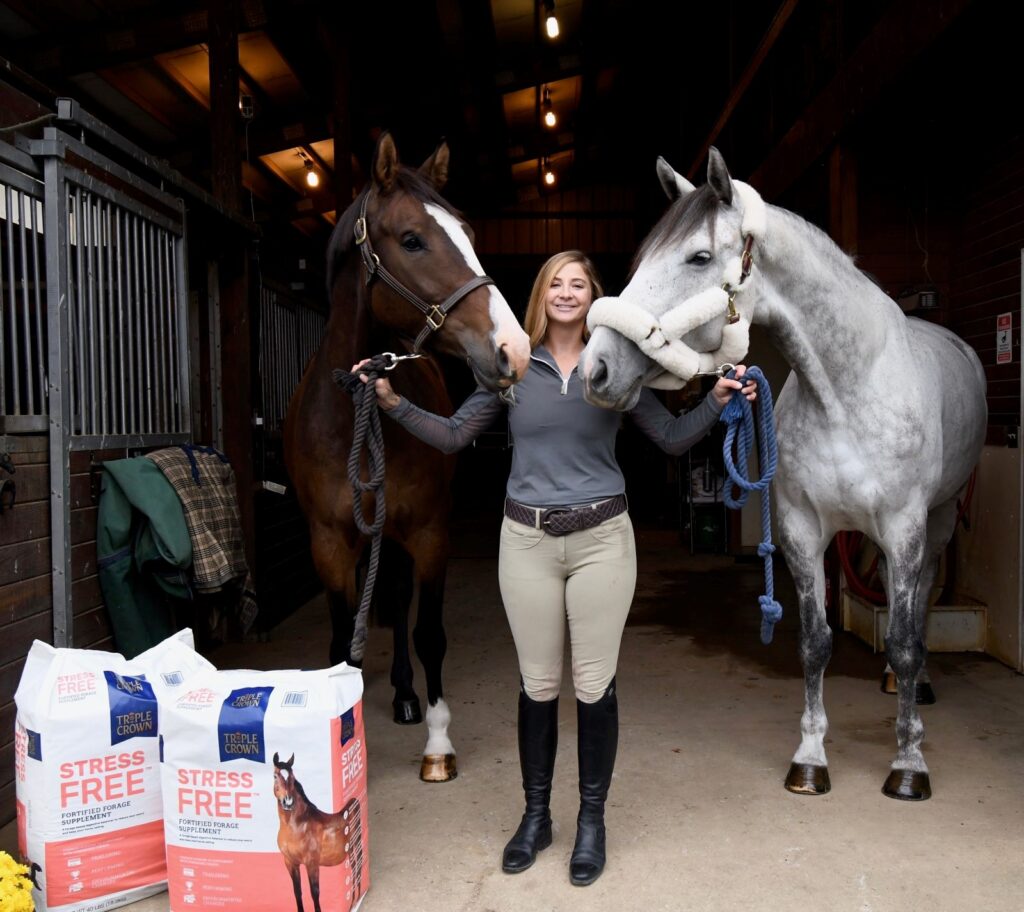 Triple Crown Nutrition consultants often receive emails and calls from customers that sound like this "My horse is on plenty of feed and hay but never seems to bloom, he lacks topline, sometimes doesn't eat all his feed, and is cranky in general and especially under saddle."  These behaviors and appearance-related issues are often classic characteristics of ulcers.
Equine Gastric Ulcer Syndrome
The topic of Equine Gastric Ulcer Syndrome (EGUS) has been prominent lately, but the problem has existed for years. Dr. Frank Andrews, of the Louisiana State University, studied the cause and effect of EGUS for 23 years. In a paper he prepared for the American Association of Equine Practitioners, he said, "Prevalence (for EGUS) estimates have been reported to range from 25 to 50 percent in foals and 60 to 90 percent in adult horses, depending on age, performance, and evaluated populations."
There are numerous causes for this syndrome, but the three most common are:
Fasting or going too long between meals
Exercise levels while fasting
Type of feed.
Fasting
As it relates to fasting, a horse is designed to eat small amounts of fiber throughout the day. As a result, the stomach naturally secretes approximately 1.5 liters of gastric juice per hour. The saliva produced from chewing grass and consuming foodstuff buffers the gastric juices. However, a long gap between meals does not inhibit gastric juice flow, so the acid eventually overwhelms the protective glandular structure of the stomach, causing gastric ulcers.
Exercise
Exercise-induced ulcers are often tied to fasting, as many performance horses are not fed prior to work. In addition, splashing and abdominal pressure contribute to exposing acids to the non-protected portion of the stomach. For horses at maximum levels of work, like racehorses and three-day event horses, exercise can contribute to delayed gastric release, adding to the acid load in the stomach.
Type of Feed
Finally, the type of feed fed can have an influence. While the stomach is not normally considered a fermentation site, there is enough microbial activity to convert high starch and sugar diets into volatile fatty acids (VFAs). In a large enough concentration, these VFAs can easily penetrate stomach tissue and cause damage and gastric ulcers.
Colonic Ulcers
In addition to stomach ulceration, it is estimated that 40 to 60 percent of horses suffering from EGUS also have colonic ulcers. While gastric ulcers can be confirmed with an endoscopic examination, colonic ulcers cannot. Furthermore, current treatment methods for gastric ulcers have no effect on recovery from colonic ulcers. In addition, many horses have colonic ulcers without any signs of gastric ulcers.
Typical signs of ulcers can be vague, but can include mild colic, poor coat, weight loss, poor behavior, and poor performance. With colonic ulcers, most commonly found in the right dorsal region of the colon, the signs are similar, but there may also be a noticeable reluctance to leg pressure on the right.  Unfortunately, horses may not show any of these symptoms but still have ulcer activity.
Treatment with Omeprazole products, like GastroGard®, is the only way to cure gastric ulcers. After or during treatment, other products are available to continue to buffer the stomach and enhance healing of the damaged area. However, these products have little to no effect on the colonic ulcer problem experienced by many horses, which usually go undiagnosed. We now have decades of research to help us learn more about managing and treating ulcers and advancements in these areas will help us make improvements in equine wellbeing and performance now and into the future.
StressFree™ Forage
Being a leader of equine nutrition and health, Triple Crown has developed and improved the first fiber-based supplement for horses to address both gastric and colonic ulcers,  Triple Crown StressFree™ Forage. This product is a chopped alfalfa hay supplement with prebiotics, probiotics, amino acids, and Omega-3 fatty acids. Research has proven, alfalfa helps buffer the stomach better than other forages due to higher levels of protein and calcium naturally present in this type of hay. The added prebiotics and probiotics in StressFree are designed to help increase the microbial population and health throughout the gut. Amino acids help stimulate cell regeneration and speed repair of the stomach tissue. And, Omega-3 fatty acids help reduce inflammation caused by ulcer damage.  Finally, StressFree includes  ButiPEARL™ Z EQ, with butyric acid and zinc that helps strengthen the intestinal tract.
In addition to feeding StressFree, switching to a high fiber, beet pulp-based feed, like Triple Crown Senior, Complete or Triple Crown Senior Gold, can reduce grain-based problems in the stomach. The pectin found in beet pulp help promote a healthier hindgut and help heal and prevent colonic ulcers.
Benefits of StressFree Forage
Helps speed recovery when used with an ulcer treatment product like GastroGard®
Helps eliminate or delay the need for future ulcer treatments
Helps improve feed consumption when in training or on the road
Helps improve manageability by allowing the horse to feel better
Helps treat potential colonic ulcers that are hard to detect (40-50% of gastric ulcer horses also have colonic ulcers)
Helps improve immunity in stressed horses (Seventy percent of a horse's immunity cells are found in the gut.)
Because there is more to horse feed than just fat, protein and fiber… We invite you to compare your feed brand to Triple Crown with our comparison website!  Or contact us for personalized nutrition advice and assistance.
* ButiPEARL™ is a trademark of Kemin Industries, INC., USA