A GMO and soybean free diet offering consistent, convenient, low protein forage replacement or supplementing. Ideal when excessive soluble carbohydrates are a concern.
Triple Crown Timothy Balance® Cubes are a consistent, convenient, low protein forage replacement or supplement formulated with Timothy hay, beet pulp and specific minerals. Designed for horses with Cushing's disease, insulin resistance, laminitis and other conditions when a nutritious, low non-structural carbohydrate diet is recommended.
GUARANTEED ANALYSIS
Crude Protein (min.)
15.00%
Crude Fat (min.)
1.50%
Crude Fiber (max.)
30.0%
Moisture (max.)
12.0%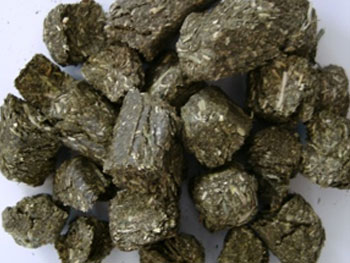 Ingredients
Pre-bloom, dehydrated alfalfa cubed to 1 1/4 inches in diameter. Provides improved digestible energy with a high protein content. Packaged in 50 lb. bags. Free from Restricted Ruminant Protein Products per Title 21, CFR 589.2000/2001)
REVIEWS
Average rating:
1 reviews
May 11, 2016
I have been a dedicated Triple Crown fan since 2004!
I have been a dedicated Triple Crown fan since 2004 when my horse was diagnosed with Cushing's. Currently I have a Morab and Shetland/Welsh cross that not only are breed predisposed, but have been diagnosed with normal but on high side ACTH number and Equine Metabolic Syndrome respectively. Your products are the only ones on the market that I trust for consistency and quality that are absolutely necessary to help control their special diet so they can live longer, healthier, happier lives. I love my boys and try to give them everything I can and your products are not only affordable, easy to obtain at grain stores but my boys like the taste which is very important. I currently use Triple Crown Lite, Safe Starch Forage, Timothy Grass Forage, Omega Max flaxseed, and the beet pulp Timothy cubes soaked in warm water. You always provide the information necessary for me to make the low sugar, low starch choices. I wish I could buy tested baled hay from you too! My local Triple Crown representative is Michelle Mulcahy and has been the most kind and helpful person I have come across in the whole tri-state area of CT, MA and NY.