New StressFree™ Forage now available from Triple Crown
Posted | Tags: forage, leaky gut, stress, ulcers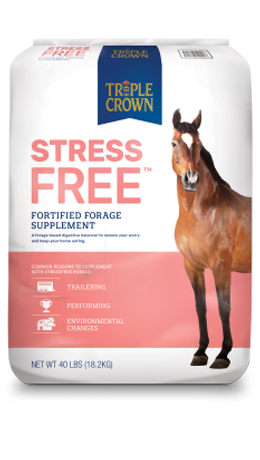 If you've ever been worried about your horse not eating, it's a real concern — and now Triple Crown has a solution. We are excited to announce our new Triple Crown StressFree™ Forage Supplement. StressFree Forage is formulated to support normal digestive health and keep your horse eating, especially during times of discomfort or changes in routine. A little goes a long way — you need to feed only 2–4 lbs. per day for your horse to experience the benefits of StressFree Forage.
Why isn't my horse eating?
Some horses have a hard time eating when they are uncomfortable or experiencing a change in routine. Some common reasons your horse might decide not to eat include:
• Trailering
• Performing
• Change in weather
• Separation
• Medications
• Co-mingling
• General anxiety
• Change in diet
• New environment
Horses should forage constantly
As a grazer, a horse's GI tract is designed to digest small amounts of forage throughout most of the day.
A horse's stomach is constantly producing acid whether they are eating or not, that excess acid in an empty stomach can cause ulcers in as little as a few days.
So if your horse stops eating, it's an issue you want to address right away.
StressFree Forage helps keep horses eating
With a delightful aroma, StressFree Forage is highly palatable and will keep your horse eating. Made with chopped alfalfa, which is high in calcium and has a natural buffering effect, it is ideal for horses with gastric or colonic ulcers and those who tend to go off feed.
Additional beneficial ingredients in StressFree Forage include:
• Flaxseed oil, which is high in Omega-3 fatty acids and helps reduce inflammation
• L-carnitine amino acids and MOS prebiotic to help with regeneration and repair while aiding in immunity
• ButiPEARL™ Z EQ — butyric acid in an encapsulated slow release form helps guard against Leaky Gut and supports normal health and function of the digestive tract
• Prebiotics and probiotics to help maintain a healthy gut and promote the growth of beneficial microorganisms in the intestine
Look for new Triple Crown StressFree Forage at participating dealers. To see how Triple Crown feed compares with your feed, check out our Compare page.