Alfalfa
Forage Cubes — Naturals
50 lbs (22.7 kg)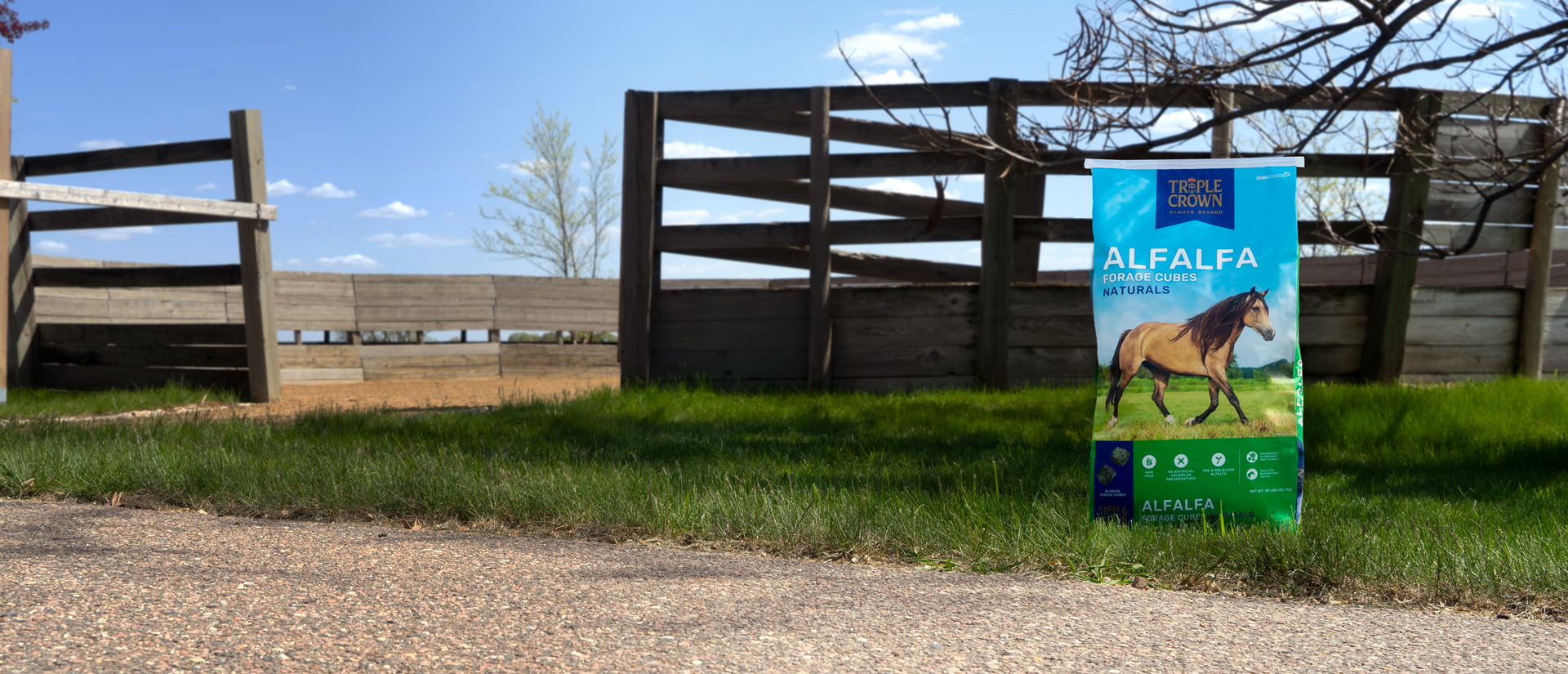 Ideal For:
Mature horses
Performance horses
Features:
GMO free
Molasses & soy free
Virtually dust free
Helps Support:
Hay shortages
Poor hay quality
Respiratory issues
About Alfalfa Forage Cubes — Naturals
Protein 15%
Fat 1.5%
Fiber 30%
980 KCAL/lb.
Triple Crown Naturals Alfalfa Forage Cubes, made with pre and mid bloom, non-GMO alfalfa, are recommended to use during hay shortages or to supplement poor quality hay or pasture. Dehydrated to reduce dust, Triple Crown Naturals Alfalfa Forage Cubes are ideal for horses with respiratory issues.
Guaranteed Analysis
Crude Protein (min.)

15.00%

Crude Fat (min.)

1.50%

Crude Fiber (max.)

30.00%

Moisture (max.)

12.00%
Feeding Directions
OTHER CONSIDERATIONS
For older horses, horses with poor teeth or for horses prone to choke, cubes can be soaked in warm water to loosen and make a mash. It is recommended
to offer in a feed tub, preferably at ground level.
Provide salt and plenty of fresh, clean water at all times. Keep product fresh in cool, dry storage. Examine product daily. DO NOT use if old, moldy or contaminated with insects.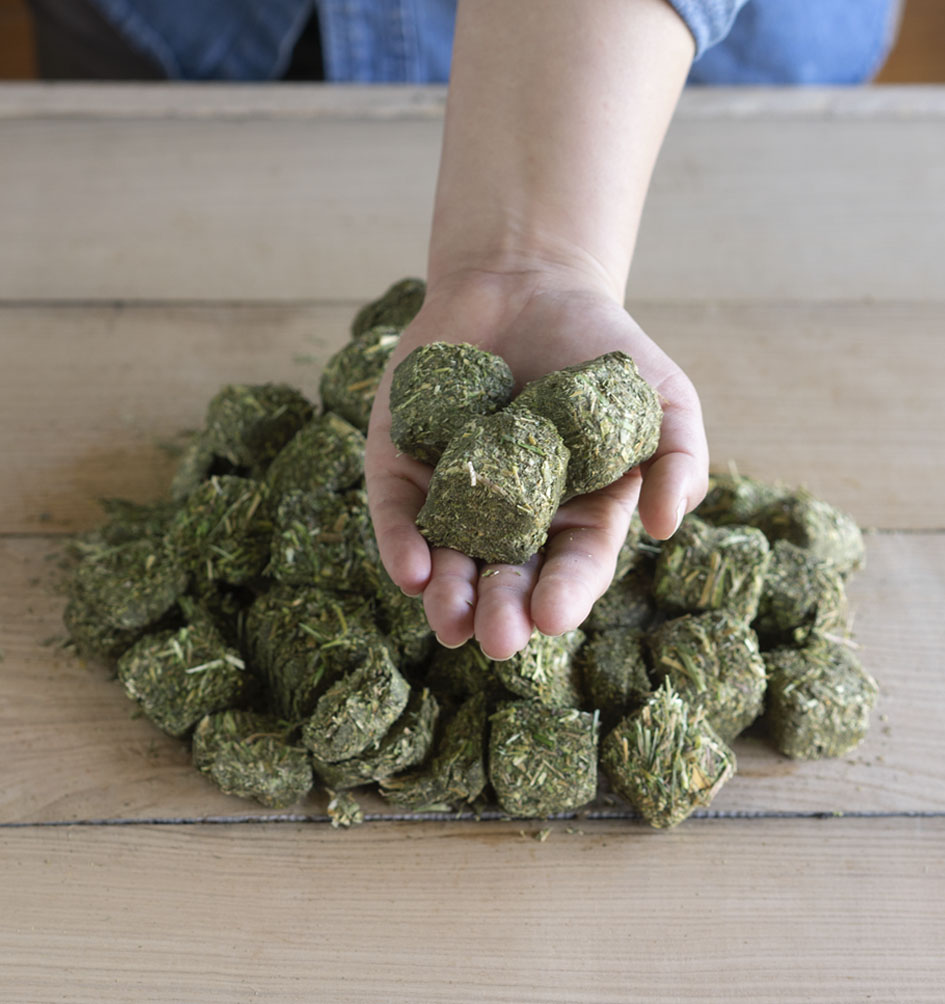 Learn about Alfalfa Forage Cubes
From a Triple Crown Expert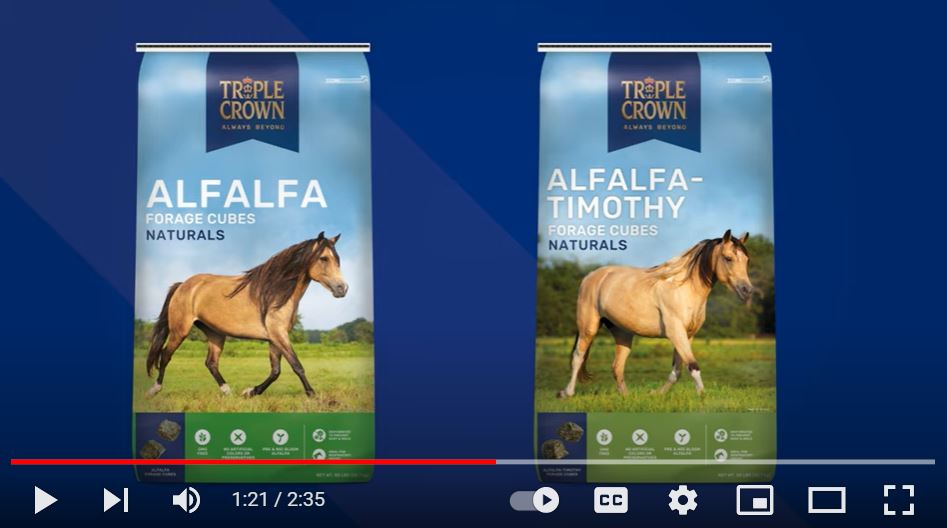 Alfalfa Forage Cubes — Naturals
Average rating:
5 reviews
May 18, 2023
Keeping My 26 Yr Old Arabian/Pinto in Top Shape Thru Winter
After speaking with the nutritionist at Triple Crown, I added the Naturals Alfalfa Cubes to her feed for the winter. She eats Triple Crown Senior Gold as her regular grain, but I wanted extra top quality forage for her to sustain her weight over the long New England winter. The Naturals Alfalfa Cubes by Ontario Dehy were recommended by my vet. Spring is here (finally!) and she looks great.... maintained weight, coat is shiny, despite Cushings she shed out beautifully. Can't recommend Triple Crown highly enough!
May 11, 2016
Too many good things to say
"I love triple crown feeds and my horse does too! He is an extremely hard keeper and your feeds keep him looking great!"

Before and after:

 
Cowgirl Spirit Rescue Drill Team
May 11, 2016
Great products!

May 10, 2016
The Little Horse That Could

Without Triple Crown Feeds; Blue Ridge Equine and Up & Over Farm I would not have my 15.1hh grey OTTB mare Airianna's Secret today she is definitely the little horse that could, she is off track. The day she moved to Up & Over she weighted around 639 lbs. she was practically emaciated she was weak with bowed tendons and couldn't even fight off flies. She had a dull, scruffy coat and was scarred all over -she looked like a coat rack. Within one week we saw results, we took a picture and her weight every week. She is now a vibrant young TB mare who can't get enough of jumping. Credit goes out to Triple Crown as their food and nutrition specialist Rachel gave this mare a second chance or what I call her last race to a wonderful show mare. She is on Triple Crown Complete and Triple Crown Alfalfa with Foxden's TracGuard; Linpro; & Quiescence. I trusted my mare to Triple Crown, they have a grain for everyone. All the horses & ponies in my training program are all on Triple Crown. These photos show her before Triple Crown and 8 short weeks later.


 


May 10, 2016
The Right Feed Does Wonders
30+ year old Sherman is a true before and after example of a horse given the right feed. The sanctuary, Traveller's Rest Equine Elders Sanctuary feeds exclusively Triple Crown Senior and TC Alfalfa cubes for the "toothless wonders." Here you can see the change in 8 months.


Help your horse thrive