A GMO free product. Ideal for horses with respiratory issues, poor dentition, hay shortages or poor quality hay.
Replace all or part of your hay with Triple Crown Naturals Premium Alfalfa Forage Cubes. Comprised of pre- bloom alfalfa, the heat produced during the cubing process virtually eliminates dust, mold and fungus.
Learn more about the Naturals Alfalfa Cubes:

GUARANTEED ANALYSIS
Crude Protein (min.)
15.0%
Crude Fat (min.)
1.5%
Crude Fiber (max.)
30.0%
Moisture (max.)
12.0%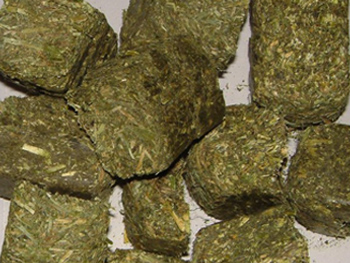 Ingredients
ALFALFA CUBES Pre-bloom, dehydrated alfalfa – cubed to 1 1/4 inches in diameter. Packaged in 50 lb. bags. (Free from Restricted Ruminant Protein Products per Title 21, CFR 589.2000/2001)
REVIEWS
Naturals Premium Alfalfa Forage Cubes
Average rating:
5 reviews
May 11, 2016
Too many good things to say
"I love triple crown feeds and my horse does too! He is an extremely hard keeper and your feeds keep him looking great!"

Before and after:

 
May 11, 2016
Great products!

May 10, 2016
Alfa-Lox Works Wonders
My 20 year old thoroughbred horse, Izzy, has always been a fussy eater and very difficult to put and keep weight on.  Two years ago he was scoped and diagnosed with a mild case of ulcers and was treated with Ulcergard.  He has, however, always had an on-and-off  approach to eating the various high quality feeds I have tried over the years.

Last month Izzy decided to go on a complete hunger strike.  (We are talking no feed or hay.)  Of course, I suspected he was ulcery and put him on medication.  At this point I did not care about nutrition; I just wanted him to start eating and to start feeling good again.

I met with Jessica Drexler, Triple Crown Representative, after seeing her ad on TCCT regarding Alfa-Lox for horses who are picky eaters and have ulcer-like symptoms.  I feel like this meeting has saved Izzy's life.

I started with just a handful of the Alfa-Lox and 6 weeks later he is up to the maximum amount of 4 pounds per day.  As a huge added benefit, I also slowly introduced the Triple Crown Senior Feed, which he unbelievably loves.  He has NEVER licked his bowl clean until now.

Izzy's coat is starting to shine, he's feeling good and is eating well.  I've got real hope here.  I know what works for one horse may not work for another, but this product is definitely worth a try.
May 10, 2016
The Little Horse That Could

Without Triple Crown Feeds; Blue Ridge Equine and Up & Over Farm I would not have my 15.1hh grey OTTB mare Airianna's Secret today she is definitely the little horse that could, she is off track. The day she moved to Up & Over she weighted around 639 lbs. she was practically emaciated she was weak with bowed tendons and couldn't even fight off flies. She had a dull, scruffy coat and was scarred all over -she looked like a coat rack. Within one week we saw results, we took a picture and her weight every week. She is now a vibrant young TB mare who can't get enough of jumping. Credit goes out to Triple Crown as their food and nutrition specialist Rachel gave this mare a second chance or what I call her last race to a wonderful show mare. She is on Triple Crown Complete and Triple Crown Alfalfa with Foxden's TracGuard; Linpro; & Quiescence. I trusted my mare to Triple Crown, they have a grain for everyone. All the horses & ponies in my training program are all on Triple Crown. These photos show her before Triple Crown and 8 short weeks later.


 


May 10, 2016
The Right Feed Does Wonders
30+ year old Sherman is a true before and after example of a horse given the right feed. The sanctuary, Traveller's Rest Equine Elders Sanctuary feeds exclusively Triple Crown Senior and TC Alfalfa cubes for the "toothless wonders." Here you can see the change in 8 months.