Premium Alfalfa Forage Blend
40 lbs (18.14 kg)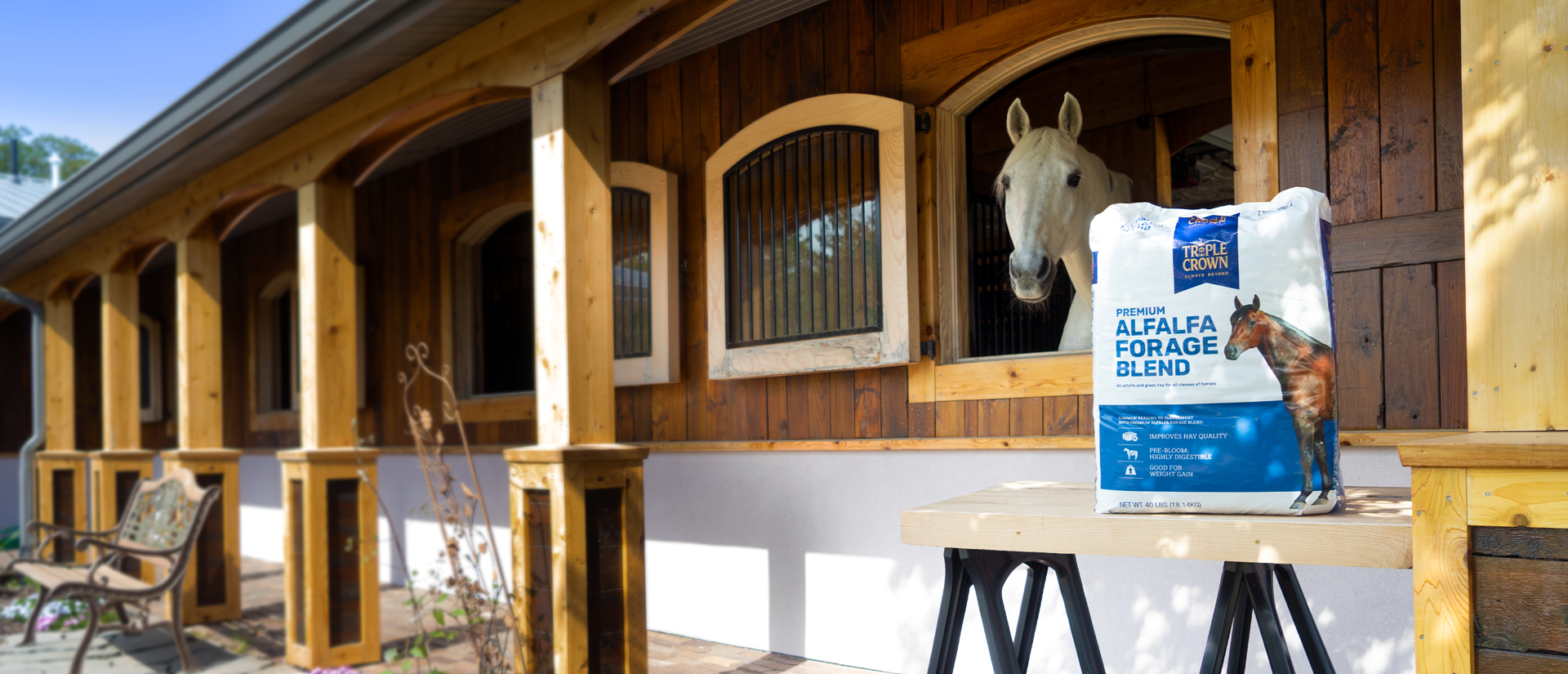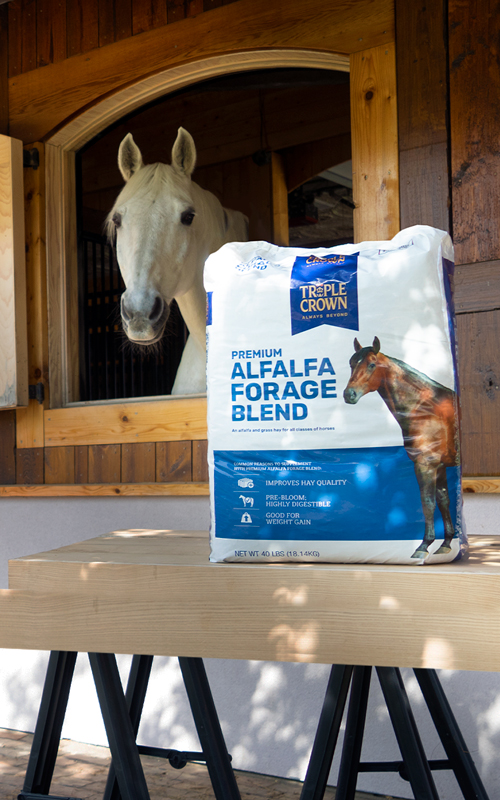 Ideal For:
All horses
Underweight horses
Performance horses
Features:
Alfalfa & grass hay
Easy to mix with grains
Consistent quality
Helps Support:
Hay shortages
Poor hay quality
Reducing rapid consumption (bolting)
About Triple Crown Premium Alfalfa Forage Blend
Protein 15%
Fat 2.5%
Fiber 30%
960 KCAL/LB.
Triple Crown Alfalfa Forage Blend is an alfalfa and grass hay for all classes of horses.
Ingredients
(Free from Restricted Ruminant Protein Products per Title 21, CFR 589.2000/2001)
Sun-Cured Alfalfa, Timothy Hay, Orchard Grass, Cane Molasses, Glycerin, Proprionic Acid, Sodium Benzoate, Potassium Sorbate (Preservatives)).
Feeding Directions
OTHER CONSIDERATIONS
Product can be mixed with water to aid in hydration. Product may be mixed with the grain portion of the diet to slow rate of intake.
Provide salt and plenty of fresh, clean water at all times. Keep product fresh in cool, dry storage. Examine product daily. DO NOT use if old, moldy or contaminated with insects.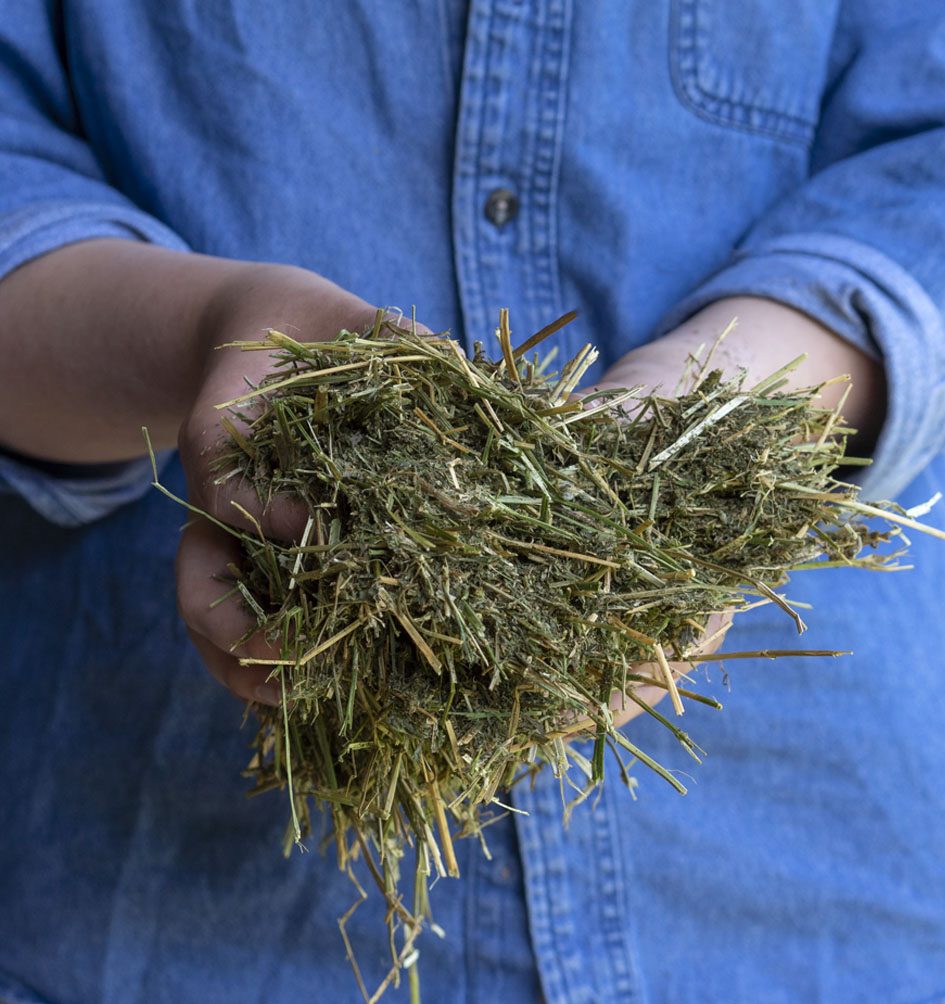 Learn About Premium Alfalfa Forage Blend
From a Triple Crown Expert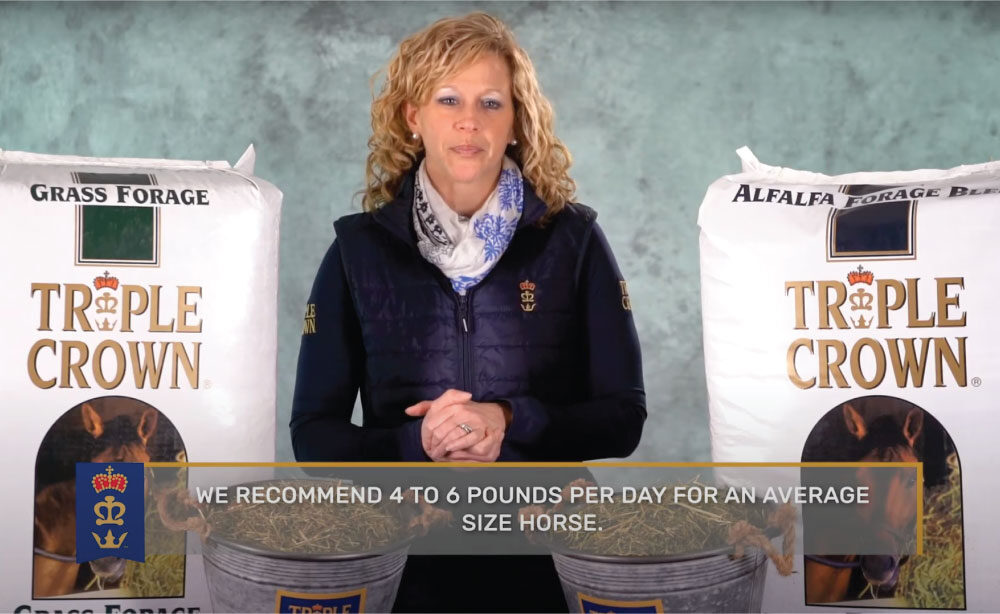 Premium Alfalfa Forage Blend
Average rating:
1 reviews
Jun 10, 2019
My horses love the Alfalfa Forage Blend!
This is the only chopped forage product my older horses with bad teeth will eat! I was looking for a forage product to supplement their soaked pellets and cubes. I buy a lot of Triple Crown products and the quality is consistently high and always gresh. Thank you for being such a great company with your attention to detail and high quality products!!
Help your horse thrive