A premium chopped alfalfa forage blend diet. Ideal for all classes of horses as well as those with shortages or poor hay quality.
Our new bag design is hitting the market now. 
Made primarily with the best pre-bloom alfalfa and a small amount of Timothy hay and orchard grass, Triple Crown Premium Alfalfa Forage Blend is intended to replace all or part of the hay portion of any horse's diet. Triple Crown Premium Alfalfa Forage Blend is chopped to an average length of two inches and blended with a small amount of molasses and glycerin to maintain product consistency and leaf integrity.
Learn more about our forages:

GUARANTEED ANALYSIS
Crude Protein (min.)
15.00%
Crude Fat (min.)
2.50%
Crude Fiber (max.)
30.00%
NSC***
14.6%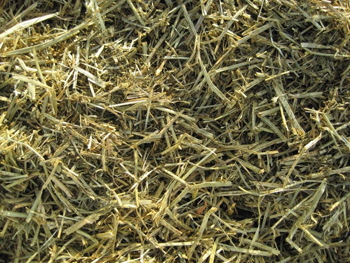 Ingredients
Sun Cured Alfalfa, Timothy Hay, Orchard Grass, Cane Molasses, Glycerin, (Proprionic Acid, Sodium Benzoate, Potassium Sorbate (Preservatives)). (Free from Restricted Ruminant Protein Products per Title 21, CFR 589.2000/2001)
Feeding directions
Triple Crown Premium forages should be fed at a minimum rate of 1% to 1.5% of body weight (10 lbs. to 15 lbs. on a 1000 lb. horse) per day if using as a complete hay replacement. Feed 4 lbs. to 6 lbs. per day if using as a supplement to normal long stem hay. Feed separately in a feed bin or bucket, or mix with your grain ration. Mixing may help reduce rapid consumption (bolting) and slow the digestive passage through the gut to maximize digestion.
NOTE: Provide plenty of fresh, clean water at all times. Keep product fresh in cool, dry storage. Examine product daily. DO NOT use product that is old, or contaminated with mold, insects or foreign material.
Watch the Forage Plant Processing Video.
***The following coefficients of variation (cv) can be associated with the carbohydrate analyses. These should reasonably account for both sampling and analytical variation, though as you know, poor sampling can lead to much larger variation. The coefficients of variation (cv) for starch is 10%, WSC is 15% and ESC is 15%. For example, a feed with a WSC value of 10% should be expected to range from 8.5 – 11.5% and a WSC value of 20% to range from 17 – 23%. In addition, there are variables on ingredients between suppliers that could be as much as an additional 5% to 10% per ingredient. Therefore, products, such as TC 30% Supplement potentially would have a smaller variation than TC Lite due to the number of bulk ingredients making up the feed (2 vs. 4).
REVIEWS
Premium Alfalfa Forage Blend
Average rating:
1 reviews
Jun 10, 2019
My horses love the Alfalfa Forage Blend!
This is the only chopped forage product my older horses with bad teeth will eat! I was looking for a forage product to supplement their soaked pellets and cubes. I buy a lot of Triple Crown products and the quality is consistently high and always gresh. Thank you for being such a great company with your attention to detail and high quality products!!