Balancer Gold
Pellet
50 lbs (22.7 kg)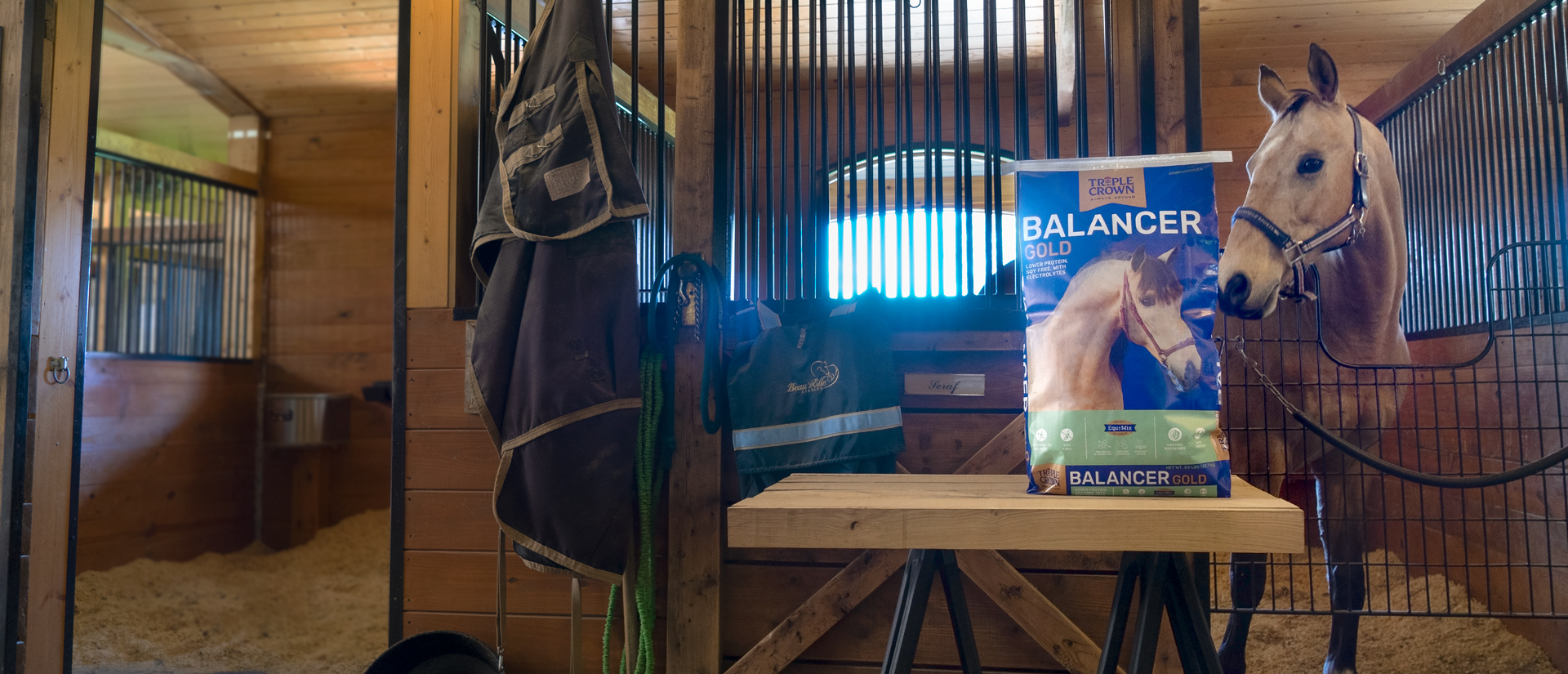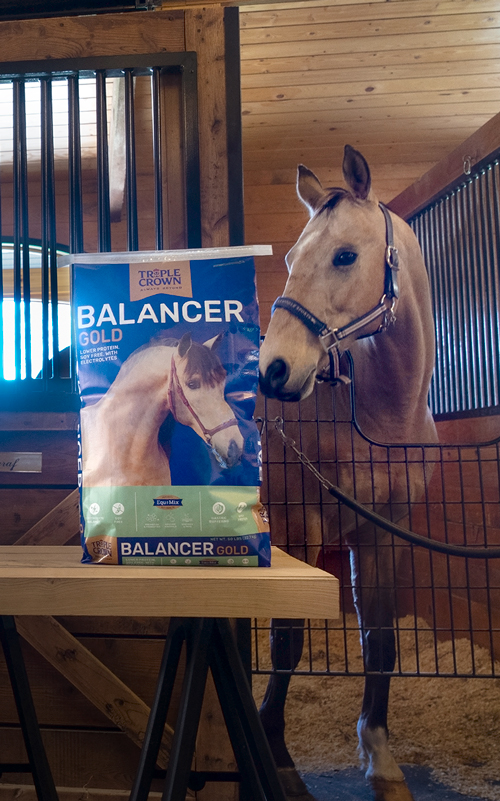 Ideal For:
Overweight horses
Ponies
Miniature horses
Features:
Whole grain, soy & molasses free
Whey protein/amino acid balance
Gastric buffering
Helps Support:
Balancing hay & pasture
When feeding grains below recommended feeding rate
Strong top line
About Triple Crown Balancer Gold
Protein 13.5%
Fat 4.5%
Fiber 15%
1,300 KCAL/LB.
Triple Crown Balancer Gold is a highly fortified vitamin/mineral supplement with no soy and no molasses for horses of any age. Ideal for easy keepers, Balancer Gold can be used to balance pasture and/or hay, improve nutrition in diets when feeding below the recommended feeding rate or when mixing with whole grains (corn, oats, barley).
Guaranteed Analysis
Crude Protein (min.)

13.50%

Lysine (min.)

0.90%

Methionine (min.)

0.29%

Threonine (min.)

0.60%

Tryptophan (min.)

0.25%

Leucine (min.)

1.00%

Crude Fat (min.)

4.50%

Crude Fiber (max.)

15.00%

ADF (max.)

20.00%

NDF (max.)

32.00%

Calcium (min.)

3.00%

Calcium (max.)

3.50%

Phosphorus (min.)

1.50%

Magnesium (min.)

2.50%

Potassium (min.)

1.50%

Sodium (min.)

0.65%

Sodium (max.)

1.00%

Chloride (min.)

0.65%

Salt (min.)

0.25%

Salt (max.)

1.00%

Omega-3 Fatty Acids (min.)

1.20%

Omega-6 Fatty Acids (min.)

1.00%

Selenium (min.)

3.50 ppm

Selenium (max.)

4.50 ppm

Zinc (min.)

1,000 ppm

Manganese (min.)

575 ppm

Cobalt (min.)

2.10 ppm

Copper (min.)

300 ppm

Iron (min.)

500 ppm

Vitamin A (min.)

36,000 IU/lb.

Vitamin D min.)

6,000 IU/lb.

Vitamin E (min.)

1,000 IU/lb.

Riboflavin-B2 (min.)

15.00 mg/lb.

Thiamin-B1 (min.)

42.00 mg/lb.

Ascorbic Acid (min.)

275 mg/lb

Biotin (min.)

1.40 mg/lb.

Total Direct Fed Microbials (min.)

16.85 billion CFU/lb.

Lactobacillus Acidophilus Fermentation Product (min.)

4.54 billion CFU/lb.

Enterococcus Faecium Fermentation Product (min.)

4.54 billion CFU/lb.

Bacillus Subtilis Dried Fermentation Product (min.)

125 million CFU/lb.

Saccharomyces Cerevisiae Yeast Culture (min.)

7.65 billion CFU/lb.

Cellulase¹ (Trichoderma Longibrachiatum Fermentation Extract) (min.)

2.95 million CU/lb.

Protease² (Bacillus Subtilis Fermentation Extract) (min.)

6,200 HUT/lb.
Ingredients
(Free from Restricted Ruminant Protein Products per Title 21, CFR 589.2000/2001)
Dehydrated Alfalfa Meal, Wheat Middlings, Dried Whey, Ground Flaxseed, Calcite, Calcium Carbonate, Monocalcium Phosphate, Dicalcium Phosphate, Magnesium Oxide, Yeast Culture, Hydrolyzed Yeast, Dried Enterococcus Faecium Fermentation Product, Dried Lactobacillus Acidophilus Fermentation Product, Dried Bacillus Subtilis Fermentation Product, Dried Trichoderma Longibrachiatum Fermentation Extract, Dried Bacillus Subtilis Fermentation Extract, Zinc Hydroxy Chloride, Manganese Hydroxy Chloride, Copper Hydroxy Chloride, Butyric Acid, Zinc Oxide, Peppermint Essential Oil, Kelp Meal, Lecithin, Magnesium Proteinate, Selenium Yeast, L-Lysine, DL-methionine, L-Threonine, L-Tryptophan, L-Leucine, Salt, Sodium Bicarbonate, Fenugreek Seed, Anise, Ascorbic Acid (Source of Vitamin C), Niacin Supplement, Biotin, Vitamin A Supplement, Vitamin E Supplement, Thiamine Mononitrate, Beta Carotene, Calcium Pantothenate, Riboflavin Supplement, Pyridoxine Hydrochloride, Vitamin B12 Supplement, Vitamin D3 Supplement, Choline Chloride, Menadione Sodium Bisulfite Complex (Source of Vitamin K Activity), Folic Acid, Hydrated Sodium Calcium Aluminosilicate, Brewers Dried Yeast, Manganese Sulfate, Zinc Sulfate, Copper Sulfate, Cobalt Proteinate, Iron Amino Acid Complex, Ethylenediamine Dihydroiodide, (Propionic Acid, Sodium Benzoate, Potassium Sorbate (Preservatives)).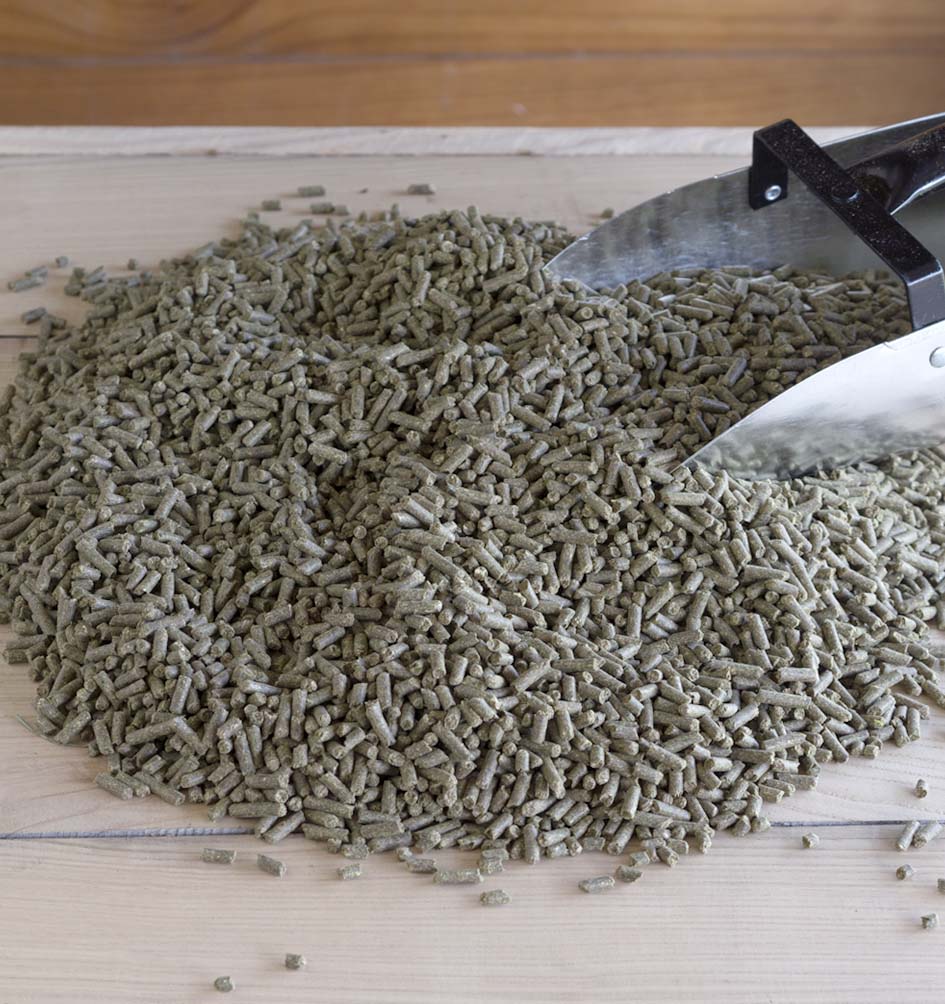 Learn About Triple Crown Balancer Gold
From a Triple Crown Expert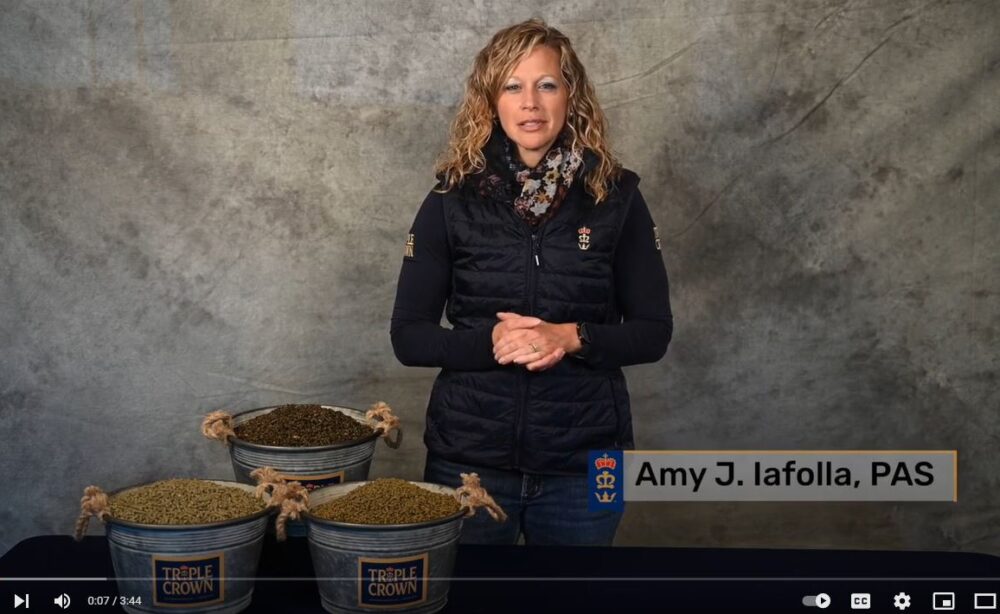 Balancer Gold
Average rating:
8 reviews
Mar 26, 2023
I have my 6-year-old Devils Garden Mustang mare on the balancer and she looks and feels amazing on it! I use her for basically any event you can think of, and the balancer keeps her in great shape and shiny! She is thick and happy! The balancer is also a great way for her to get all her vitamins, without making her fat.
Nov 28, 2022
Love!
After years of bouncing around with different feeds and talking to different reps, I finally decided to try TC balancer. I loved how my guy did on it...he leaned up, built muscle and was looking great on about 1.25lbs a day. He's a pretty picky eater and doesn't like to eat a lot of volume so it was perfect. However we still had some weird random bubbles, What I called bra fat...that little pocket of something just behind the shoulder blades. Talked to a TC rep and after reviewing everything it was suggested we try the gold line. And voila!! Bra fat gone. My guy still looks amazing and does fantastic on just 1.25 lbs a day. We travel all over the US so finding it can sometimes be a challenge but otherwise and I am very pleased!
Feb 8, 2022
Love love absolutely love!
I cannot say enough good about the gold balancer. I also used the senior gold as well. I absolutely cannot believe after much failure with one of my horses health needs and almost was to be put down due to chronic abscess/lameness. I tried everything and countless vets tried to figure out what was happening, we couldn't find anything or get answers. He constantly had chronic lameness/abscess  issues. I did my research after vets recommendations have failed and I put him on just about everything possible. I switched him to the gold line and absolutely he's been sound, happy and healthy, not an abscess in sight for the last 6/7 months. Thank the lord and triple crown! I knew it had to be a sensitivity to something I'vv seen it before in race horses and Tb's. I just ordered him GutX today for a extra measure now that we have him stable and sound, he looks great, he put on weight, he's back into work and he's never been so happy! Sometimes all it takes it CHANGING YOUR FEED...think basic! You'll be quite surprised to what the outcome can be. Thank you so much Triple Crown and your Gold Line!!!!
Nov 10, 2021
Great for mini's!
I feed this to my 5 year old American Miniature mare who is an extremely easy keeper (like most mini's), I love that it gives her everything she needs without too many extra calories, I also love that this has electrolytes in the feed already since my mini doesn't like to drink her water.
Nov 4, 2021
Love this product!
Love it, wish it was easier to find..
1. One cellulase unit (CU) is defined as the amount of activity that will produce a relative fluidity change of 1 (determined with a calibrated viscometer) in 5 minutes in a defined carboxymethylcellulose substrate at pH 4.5 and 40°C.
2. One hemoglobin unit (HUT) of proteolytic (protease) activity is defined as that amount of enzyme that produces, in one minute under the specified conditions, a hydrolysate whose absorbance at 275nm is the same as that of a solution containing 1.10g per mL of tyrosine in 0.006N hydrochloric acid.
3. All Triple Crown feeds have fixed ingredient formulas. Values reflect an estimated analysis of multiple feed samples from across the U.S. with the understanding that geographic differences can impact the results. Estimated values determined by Equi-Analytical, Ithaca, NY.
Help your horse thrive