A high fiber, beet pulp-based feed. Ideal for hard keepers, performance horses and horses with COPD/heaves or gastric ulcers. May also be used as a complete diet.
A textured feed designed to provide mature performance horses with a complete diet that includes fiber, Triple Crown Complete features a beet pulp-based formula that provides 12% protein, 12% fat, and all the calories, vitamins and minerals of a grain-based feed without the potentially harmful soluble carbohydrates. Complete is the perfect choice for horses with limited access to hay or poor quality hay.
Learn more about the Complete formula:

The guarantees on our website are the most current.  You will notice, we have increased a number of nutrient guarantees below and added a few new ingredients to reflect our updates to EquiMix. The ingredients listed on the website are in your bag of feed now. New feed bags will match these improvements over time.
GUARANTEED ANALYSIS
Crude Protein (min.)
12.00%
Lysine (min.)
0.65%
Methionine (min.)
0.20%
Threonine (min.)
0.52%
Tryptophan (min.)
0.15%
Leucine (min.)
0.80%
Crude Fat (min.)
12.00%
Crude Fiber (max.)
15.00%
ADF (max.)
16.00%
NDF (max.)
30.00%
Calcium (min.)
0.75%
Calcium (max.)
1.25%
Phosphorus (min.)
0.55%
Magnesium (min.)
0.30%
Potassium (min.)
1.00%
Sodium (min.)
0.30%
Sodium (max.)
0.60%
Salt (min.)
0.20%
Salt(max.)
0.50%
Omega-3 Fatty Acids (min.)
0.70%
Omega-6 Fatty Acids (min.)
5.00%
Selenium (min.)
0.40 ppm
Selenium (max.)
0.75 ppm
Zinc (min.)
170 ppm
Manganese (min.)
85 ppm
Cobalt (min.)
0.25 ppm
Copper (min.)
35 ppm
Iron (min.)
170 ppm
Vitamin A (min.)
4,000 IU/lb
Vitamin D3 (min.)
750 IU/lb
Vitamin E (min.)
115 IU/lb
Riboflavin (min.)
1.90 mg/lb
Thiamin (min.)
5.20 mg/lb
Ascorbic Acid (min.)
30 mg/lb
Biotin (min.)
0.20 mg/lb
Total Direct Fed Microbials (min.)
2.53 billion CFU/lb
Lactobacillus Acidophilus Fermentation Product (min.)
636 million CFU/lb
Enterococcus Faecium Fermentation Product (min.)
636 million CFU/lb
Bacillus Subtillus Dried Fermentation Product (min.)
16.25 million CFU/lb
Saccharomyces Cerevisiae Yeast Culture (min.)
1.25 billion CFU/lb
Cellulase* (Trichoderma Longibrachiatum Fermentation Extract) (min.)
0.47 million CU/lb
Protease** (Bacillus Subtilis Fermentation Extract) (min.)
1,000 HUT/lb
NSC***
20.6%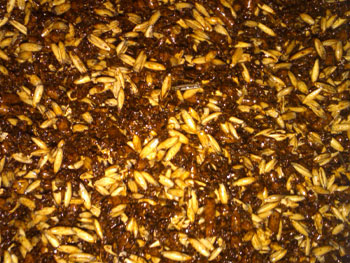 Ingredients
(Free from Restricted Ruminant Protein Products per Title 21, CFR 589.2000/2001)
Dehydrated Alfalfa Meal, Cane Molasses,  Shredded Beet pulp, Whole Oats, Soybean Hulls,  Wheat Middlings, Dehulled Soybean Meal, Soybean Oil, Distillers Dried Grains, Ground Flaxseed, Stabilized Rice Bran, Calcium Carbonate, Monocalcium Phosphate, Dicalcium Phosphate, Magnesium Oxide, Yeast Culture, Hydrolyzed Yeast, Dried Enterococcus Faecium Fermentation Product, Dried Lactobacillus Acidophilus Fermentation Product, Dried Bacillus Subtilis Fermentation Product, Dried Trichoderma Longibrachiatum Fermentation Extract, Dried Bacillus Subtilis Fermentation Extract, Zinc Hydroxy Chloride, Manganese Hydroxy Chloride, Copper Hydroxy Chloride, Vegetable Oil, Butyric Acid, Zinc Oxide, Peppermint Essential Oil, Kelp Meal, Lecithin, Magnesium Proteinate, Selenium Yeast, L-Lysine, DL-methionine, L-Threonine, L-Leucine, Salt, Sodium Bicarbonate, Fenugreek Seed, Anise, Ascorbic Acid (Source of Vitamin C), Niacin Supplement, Biotin, Vitamin A Supplement, Vitamin E Supplement, Thiamine Mononitrate, Beta Carotene, Calcium Pantothenate, Riboflavin Supplement, Pyridoxine Hydrochloride, Vitamin B12 Supplement, Vitamin D3 Supplement, Choline Chloride, Menadione Sodium Bisulfite Complex (Source of Vitamin K Activity), Folic Acid, Hydrated Sodium Calcium Aluminosilicate, Brewers Dried Yeast, Manganese Sulfate, Zinc Sulfate, Copper Sulfate, Cobalt Proteinate, Iron Amino Acid Complex, Ethylenediamine Dihydroiodide, (Propionic Acid, Sodium Benzoate, Potassium Sorbate (Preservatives)).
Feeding Directions
Triple Crown Complete is designed for mature horses. If feeding as a grain concentrate with hay, feed a minimum of 5 to 15 pounds per day for desired body condition. If replacing all the hay in the diet, feed 1% to 1.5% of body weight daily. Triple Crown Complete can be soaked with warm water for older horses with poor teeth, with respiratory problems, or for horses prone to choking.
NOTE: Provide plenty of fresh, clean water at all times. Keep product fresh in cool, dry storage. Examine product daily for mold or insect contamination. DO NOT use product that is old, molded or insect contaminated.
***The following coefficients of variation (cv) can be associated with the carbohydrate analyses. These should reasonably account for both sampling and analytical variation, though as you know, poor sampling can lead to much larger variation. The coefficients of variation (cv) for starch is 10%, WSC is 15% and ESC is 15%. For example, a feed with a WSC value of 10% should be expected to range from 8.5 – 11.5% and a WSC value of 20% to range from 17 – 23%. In addition, there are variables on ingredients between suppliers that could be as much as an additional 5% to 10% per ingredient. Therefore, products, such as TC 30% Supplement potentially would have a smaller variation than TC Lite due to the number of bulk ingredients making up the feed (2 vs. 4).
REVIEWS
Complete
Average rating:
31 reviews
Sep 21, 2021
Amazing feed!
I am absolutely astonished by this feed! My Ottb gelding is a super hard keeper and this feed has done wonders for his health and happiness. I'll never be able to thank the Triple Crown brand enough for what their feed has done for my horse!
Aug 31, 2021
Best feed I could've found
I've had my gelding on this feed for the last 4 months and I have to say he is by far looking the best he ever has! He tends to be a hard keeper and this has really been great for his sensitive stomach while also providing him with the extra calories he needs. It doesn't make him hot either which can be difficult to find when having to feed a hard keeper. My favorite thing is the probiotics/ prebiotics in this feed, it's nice knowing he is getting an extra dose of gut help in his feed alone.  It's helped us replace some of his past supplements as well because of how great the formula is.
Would highly recommend!
Apr 13, 2021
Triple crown complete
I started feeding my horses Triple Crown Complete, their coat started changing and they look amazing- very shiny and fat. Definitely a feed worth trying! I, along with my horses, love this feed.
Aug 25, 2020
best feed
When I got my mare she was pasture fit - no top line, but decent enough weight wise. I started riding her and her weight deteriorated quickly. We tried a few other feeds before giving TC Complete a try (paired with subpar hay quality). Triple Crown Complete changed the game for us. She is healthy, happy, and FIT. I'll never switch her off Complete, no matter what. The transformation photos are absolutely incredible!!
Jul 28, 2020
Dressage Transformation
My horse loves this feed. I would like to submit photos of his transformation. You won't believe it's the same horse.