Golden Ground Flax
Naturals
25 LBS (11.3 KG)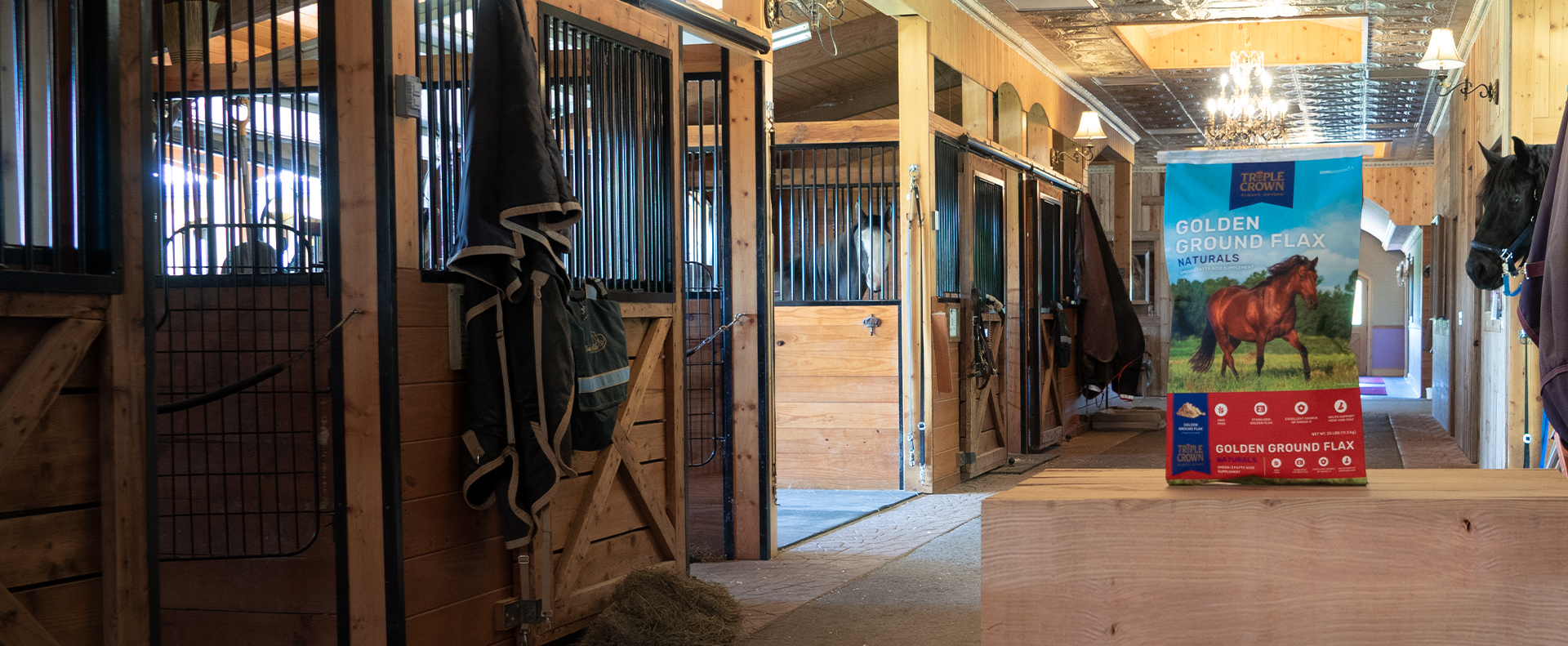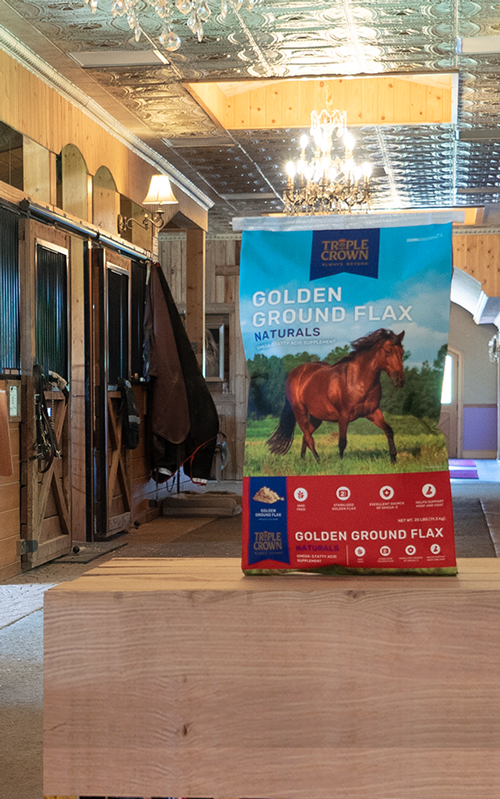 Ideal For:
Underweight horses
Performance horses
Active, older horses
Features:
GMO free
High fat
Omega-3 & 6 fatty acids
Helps Support:
Healthy skin & coat
Helping reduce inflammation
Immune function support
About Triple Crown Golden Ground Flax — Naturals
Protein 23%
Fat 36%
Fiber 12%
2,050 KCAL/LB.
Triple Crown Naturals Golden Ground Flax is an excellent source of Omega-3 fatty acids to help improve immune function and hair/hoof condition while helping to reduce inflammation in exercised and older horses.
Guaranteed Analysis
Crude Protein (min.)

23.00%

Crude Fat (min.)

36.00%

Crude Fiber (max.)

12.00%

Calcium (min.)

0.10%

Calcium (max.)

0.60%

Phosphorus (min.)

0.42%

Omega-3 Fatty Acids (min.)

16.96%

Omega-6 Fatty Acids (min.)

4.85%
Feeding Directions
OTHER CONSIDERATIONS
Gradually introduce flax by using as a top dressing or mixing with horse's diet over the course of 5 to 7 days.
Not intended as a vitamin and mineral supplement and should be fed in conjunction with a Triple Crown feed.
Provide salt and plenty of fresh, clean water at all times. Keep product fresh in cool, dry storage. Examine product daily. DO NOT use if old, moldy or contaminated with insects.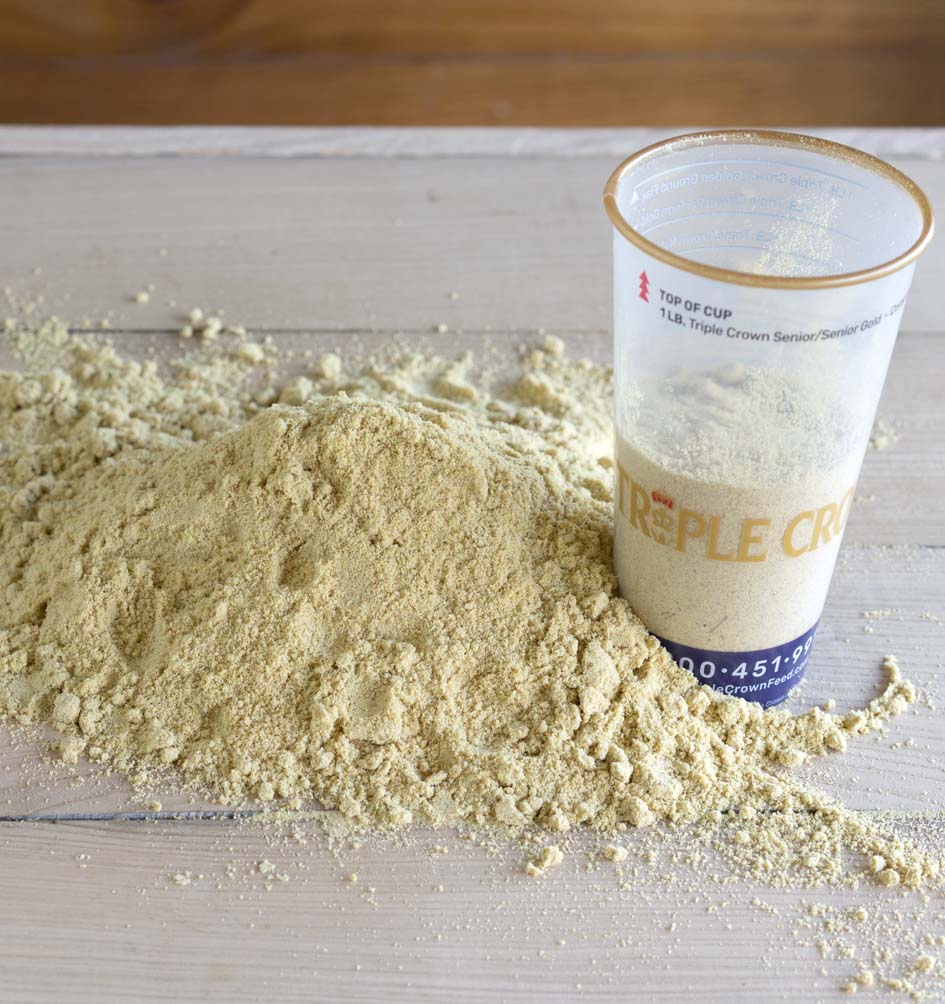 Learn about Golden Ground Flax
From a Triple Crown Expert
Golden Ground Flax — Naturals
Average rating:
9 reviews
Mar 24, 2023
❤ Golden Flax is serious GOLD
My horses are loving the golden ground flax! Our 25 year old gelding looks and feels great!
Jun 29, 2021
Good for the inside and out!
I have fed flaxseed (both whole and ground myself) and flaxseed oil in the past, with so-so results. I decided to pick up a bag of the Golden Flax about a month ago after determining that it was cheaper than the oil. Wowza, I am so glad I did. Within a couple days of starting, I could tell that my 33 year-old with advanced arthritis was much more comfortable and limber as he ambled around the pasture. A couple weeks later, he shed out the rest of his winter coat and is now sleek and dappling out. All these amazing changes from a mere cup of flax. I am amazed!
Dec 16, 2020
Love
I been giving this product for over two years, for all the benefits to my horses. I am taking care of my mom's elderly horse over winter at my own home. He needs a little extra care in the winter only.He is about 28 years old. He is on daily pain medication every day. This year I noticed he was a little more stiff then last year. I started him on the Triple Crown Flax. OMG, what an amazing difference. No longer stiff coming out of the stall and more running around. Amazing!
Oct 7, 2020
Totally new coat
My gelding has had a somewhat dull coat since buying him 2 1/2 years ago. I started him on a different omega supplement shortly after bringing him home and it was better, but never great. A year ago I switched him to Naturals golden ground flax...this summer his coat GLOWED . Even after rolling in the dirt and not having been brushed for a few days he was so shiny and had beautiful dapples. His mane and tail are also growing nicely. He likes the taste, and I'm spending less than I was prior. I recommend this to anyone looking to supplement their feed.
Apr 28, 2020
You gotta try this!
I started my horses on the ground flax a month ago and I am loving the results so far! I have grey horses whose coats are glistening white, my gelding's mane is so sleek and soft that it doesn't tangle anymore, and my mare with skin allergies is already less itchy. All of their hooves are shiny, their coats are soft and shed dirt easier, and their manes all have new growth. I am so satisfied with this product; it's very affordable, easy to feed and all of my horses gobble it up, even my picky eater!
Help your horse thrive