A processed blend of timothy and orchard grass hay diet. Ideal for all classes of horses as well as though with poor dentition, hay shortages or poor hay quality.
*Our Grass Forage bag is getting a new look. New bags will transition over the next few months.
Triple Crown Premium Grass Forage offers horse owners the perfect remedy for poor-to-average quality equine hay. Comprised of pre-bloom stage hay, chopped and blended Timothy hay and orchard grass, Triple Crown Premium Grass Forage is a highly digestible, consistently superior forage that's ideal for any feeding need.
Learn more about our forages:

GUARANTEED ANALYSIS
Crude Protein (min.)
8.00%
Crude Fat (min.)
2.50%
Crude Fiber (max.)
30.00%
NSC***
9.7%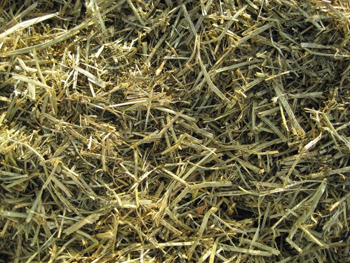 Ingredients
Timothy Hay, Orchard Grass and Glycerin. (Free from Restricted Ruminant Protein Products per Title 21, CFR 589.2000/2001)
FEEDING DIRECTIONS
Triple Crown Premium forages should be fed at a minimum rate of 1% to 1.5% of body weight (10 lbs. to 15 lbs. on a 1000 lb. horse) per day if using as a complete hay replacement. Feed 4 lbs. to 6 lbs. per day if using as a supplement to normal long stem hay. Feed separately in a feed bin or bucket, or mix with your grain ration. Mixing may help reduce rapid consumption (bolting) and slow the digestive passage through the gut to maximize digestion.
NOTE: Provide plenty of fresh, clean water at all times. Keep product fresh in cool, dry storage. Examine product daily. DO NOT use product that is old, or contaminated with mold, insects or foreign material.
Watch the Forage Processing Plant Video.
***The following coefficients of variation (cv) can be associated with the carbohydrate analyses. These should reasonably account for both sampling and analytical variation, though as you know, poor sampling can lead to much larger variation. The coefficients of variation (cv) for starch is 10%, WSC is 15% and ESC is 15%. For example, a feed with a WSC value of 10% should be expected to range from 8.5 – 11.5% and a WSC value of 20% to range from 17 – 23%. In addition, there are variables on ingredients between suppliers that could be as much as an additional 5% to 10% per ingredient. Therefore, products, such as TC 30% Supplement potentially would have a smaller variation than TC Lite due to the number of bulk ingredients making up the feed (2 vs. 4).
REVIEWS
Premium Grass Forage
Average rating:
1 reviews
Jun 27, 2017
Older mare loves this!
I tried this for 1 of my boarder's horses, a 30 year old mare with poor dentition. She quids most of her regular orchard grass, increasing her colic risk and reducing the nutrition received. We soak this in water for a few hours prior to feeding it, add a bit of senior feed and her supplements. She loves her soup and looks better than she has in years.