Growth
Textured
50 lbs (22.7 kg)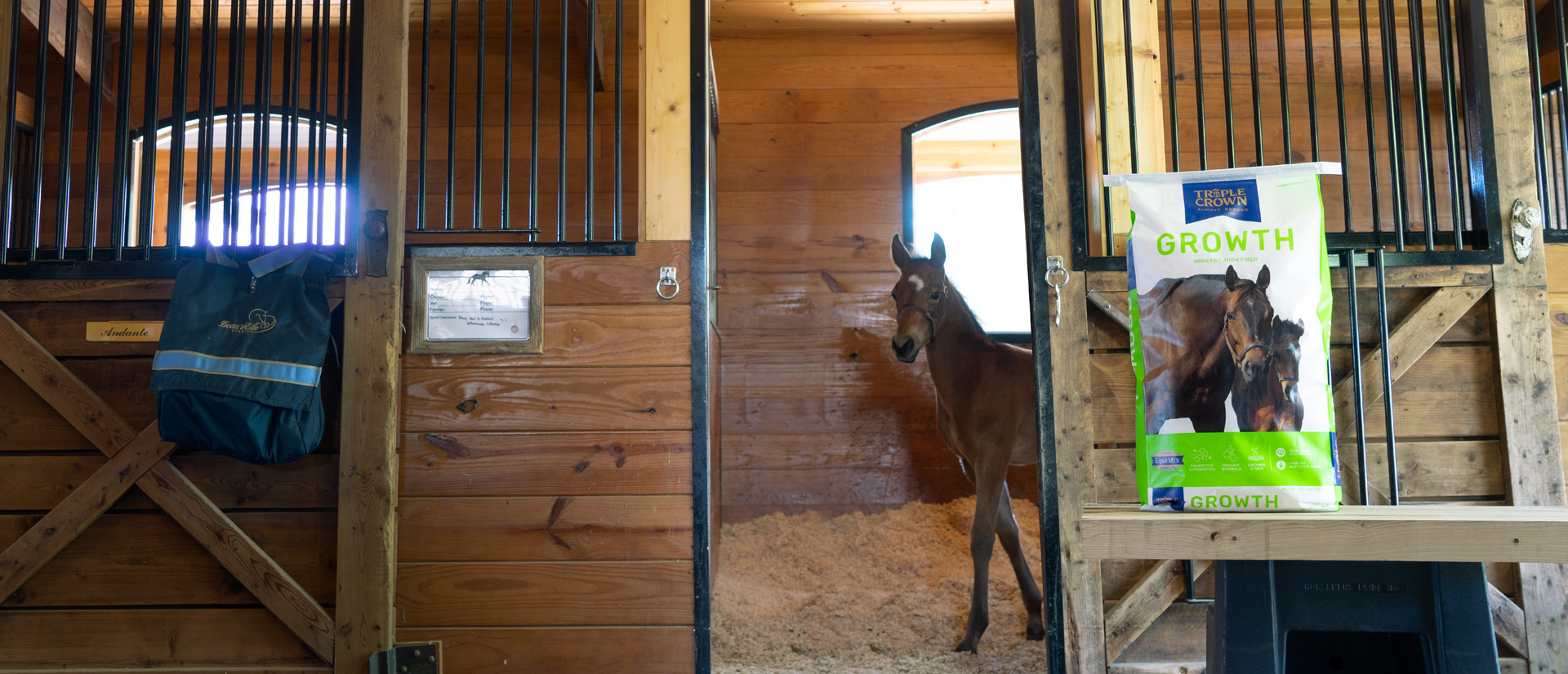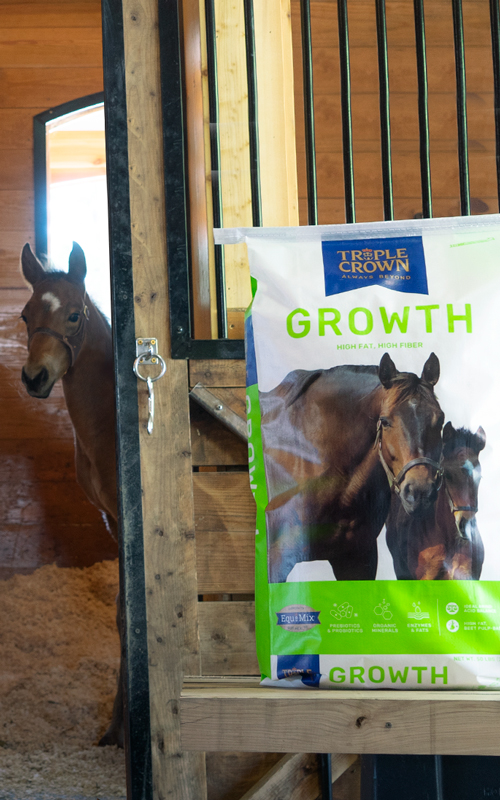 Ideal For:
Weanlings
Yearlings
Broodmares & breeding stallions
Features:
High fat & fiber
Extended amino acid profile
Helps Support:
Consistent growth
Hay shortages
Poor hay quality
About Triple Crown Growth
Protein 15%
Fat 10%
Fiber 15%
1,620 KCAL/LB.
Triple Crown Growth is fortified to provide young horses, broodmares and breeding stallions more calories through high quality fiber sources, like beet pulp, along with high fat to reduce the need for elevated levels of carbohydrates. This provides a more consistent rate of growth to help alleviate joint problems in growing horses.
Guaranteed Analysis
Crude Protein (min.)

15.00%

Lysine (min.)

0.90%

Methionine (min.)

0.27%

Threonine (min.)

0.69%

Tryptophan (min.)

0.21%

Leucine (min.)

1.10%

Crude Fat (min.)

10.00%

Crude Fiber (max.)

15.00%

ADF (max.)

17.00%

NDF (max.)

29.00%

Calcium (min.)

1.10%

Calcium (max.)

1.60%

Phosphorus (min.)

0.70%

Magnesium (min.)

0.50%

Potassium (min.)

1.10%

Sodium (min.)

0.40%

Sodium (max.)

0.75%

Salt (min.)

0.30%

Salt (max.)

0.70%

Omega-3 Fatty Acids (min.)

0.60%

Omega-6 Fatty Acids (min.)

3.50%

Selenium (min.)

0.60 ppm

Selenium (max.)

1.50 ppm

Zinc (min.)

250 ppm

Manganese (min.)

150 ppm

Cobalt (min.)

0.50 ppm

Copper (min.)

70 ppm

Iron (min.)

175 ppm

Vitamin A (min.)

8,000 IU/lb.

Vitamin D min.)

1,500 IU/lb.

Vitamin E (min.)

245 IU/lb.

Riboflavin-B2 (min.)

4.00 mg/lb.

Thiamin-B1 (min.)

10.50 mg/lb.

Ascorbic Acid (min.)

65 mg/lb.

Biotin (min.)

0.35 mg/lb.

Total Direct Fed Microbials (min.)

3.64 billion CFU/lb.

Lactobacillus Acidophilus Fermentation Product (min.)

908 million CFU/lb.

Enterococcus Faecium Fermentation Product (min.)

908 million CFU/lb.

Bacillus Subtilis Dried Fermentation Product (min.)

26 million CFU/lb.

Saccharomyces Cerevisiae Yeast Culture (min.)

1.80 billion CFU/lb.

Cellulase¹ (Trichoderma Longibrachiatum Fermentation Extract) (min.)

0.68 million CU/lb.

Protease² (Bacillus Subtilis Fermentation Extract) (min.)

1,430 HUT/lb.
Ingredients
(Free from Restricted Ruminant Protein Products per Title 21, CFR 589.2000/2001)
Dehydrated Alfalfa Meal, Whole Oats, Shredded Beet Pulp, Soybean Hulls, Wheat Middlings, Cane Molasses, Dehulled Soybean Meal, Distillers Dried Grains, Soybean Oil, Whole Roasted Soybeans, Ground Flaxseed, Stabilized Rice Bran, Calcium Carbonate, Monocalcium Phosphate, Dicalcium Phosphate, Magnesium Oxide, Yeast Extract, Yeast Culture, Hydrolyzed Yeast, Dried Enterococcus Faecium Fermentation Product, Dried Lactobacillus Acidophilus Fermentation Product, Dried Bacillus Subtilis Fermentation Product, Dried Trichoderma Longibrachiatum Fermentation Extract, Dried Bacillus Subtilis Fermentation Extract, Zinc Hydroxy Chloride, Manganese Hydroxy Chloride, Copper Hydroxy Chloride, Vegetable Oil, Butyric Acid, Zinc Oxide, Peppermint Essential Oil, Kelp Meal, Lecithin, Magnesium Proteinate, Selenium Yeast, L-Lysine, DL-methionine, L-Threonine, L-Leucine, Salt, Sodium Bicarbonate, Fenugreek Seed, Anise, Ascorbic Acid (Source of Vitamin C), Niacin Supplement, Biotin, Vitamin A Supplement, Vitamin E Supplement, Thiamine Mononitrate, Beta Carotene, Calcium Pantothenate, Riboflavin Supplement, Pyridoxine Hydrochloride, Vitamin B12 Supplement, Vitamin D3 Supplement, Choline Chloride, Menadione Sodium Bisulfite Complex (Source of Vitamin K Activity), Folic Acid, Hydrated Sodium Calcium Aluminosilicate, Brewers Dried Yeast, Manganese Sulfate, Zinc Sulfate, Copper Sulfate, Cobalt Proteinate, Iron Amino Acid Complex, Ethylenediamine Dihydroiodide,(Propionic Acid, Sodium Benzoate, Potassium Sorbate (Preservatives)).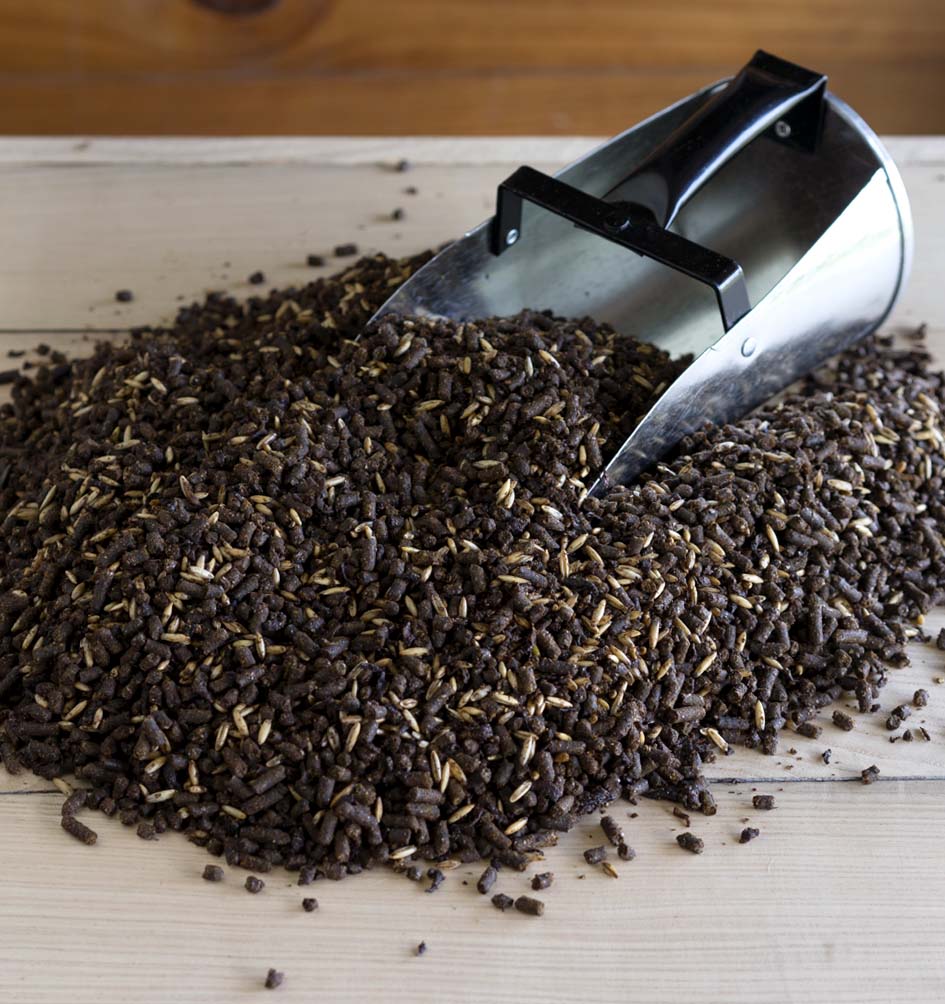 Learn about Growth
From a Triple Crown expert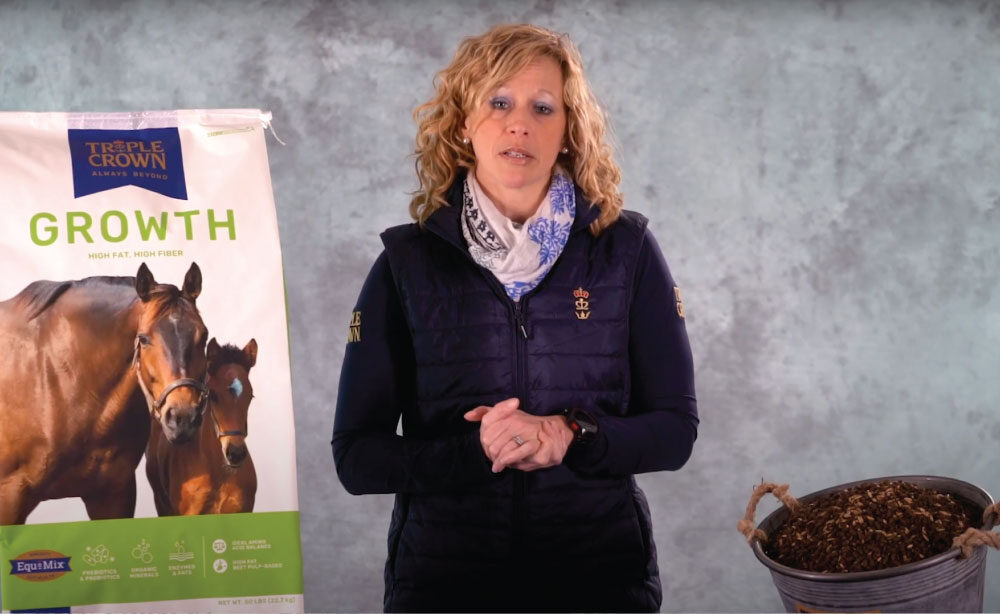 Growth
Average rating:
6 reviews
Nov 28, 2022
Just what I need!
This is my first choice for young horses I love it for my young Mustang, it makes her coat look great and she always loves it as a little treat!
Aug 29, 2018
We Love TC Growth!
We have been using TC Growth for our Missouri Fox Trotter broodmares and foals for the past 5 years. It has been an amazing product for us. TC Growth is a great feed with everything the mares and foals need already in it so we don't have to supplement. For us, it makes a huge difference. I can't say enough good things about this feed and what it has done for our horses.
May 10, 2016
Just terrific choice all around!
"We have been feeding Triple Crown for the past year and love it.  We took our yearlings to a recent show (we don't normally show babies because they have got to compete against older horses and rarely win) well…both our yearling colt and yearling filly beat their competition in the yearling futurity classes, 2 and under halter classes and 3 and under dressage Sporthorse classes.  I know a lot of it has to do with genetics/breeding but I have been so happy with the quality of feed we get with Triple Crown…the horses love it (not surprising) but they seem to maintain their weight much better on the Triple Crown than when we were feeding another brandJ  last year, I felt the horses were not getting their nutritional needs met on another brand and I was feeding them a TON and their weight was all over the place.  So we switched to Triple Crown and we don't have any weight issues and we actually feed less.  So even though the PER BAG price is more expensive, we don't use as much as we did with the previous brand we were using.  We took two of our babies to Pin Oak this year down in Katy, TX…here are the results…


Nick Phillips- Fainero ADP
May 10, 2016
We all couldn't be happier and I just want to say thank you to TCN!
I have been using Triple Crown Feed products for the last 4 years.  I am beyond happy with the results and my horses always look the best in the training barn.  I own and show PRE horses, also know in this country as Andalusians.  Currently I have a Stallion, two mares and a 3 month old stud colt.  My Stallion is on Triple Crown Training, and the mares and foal are currently on Triple Crown Growth. We all couldn't be happier and I just want to say thank you!

 
May 10, 2016
Can't wait to try even more TCN feeds!
My name is Laura Rocchino.  I have a four year old Mare, Tess.   I've uploaded her before and after pictures (pictures with saddles on would be "after" pictures).  I took Tess in one year ago this month.  She was thin, small, no energy and did not have good nourishment and was full of worms when I got her.  The vet came out, farrier and of course, Cindy Grove Bryant with Ephrata Feed and Supply came out to tell me her body score was about a 2.  Ephrata Feed sells Triple Crown products which is why I chose to buy feed from them, I knew I wanted a Triple Crown Product.  Cindy recommended Triple Crown Growth which she has been on for exactly one year and she guided me on how to feed her for the full benefit.

When I picked Tess up she was approx 14'3 (barely) and weighed 700+ lbs.  She is now almost 15'1 and 900+ lbs.  She is bright, energetic, full of life, although very calm and sweet.  She has big bright eyes now, her coat is amazing, I get compliments on her very often.  She is just beautiful and I can feel her appreciation!

Thank you for the amazing transformation in this very sweet well deserving girl!!! Not to mention, she LOVES her grain!  I'm looking forward to transitioning over to Triple Crown Complete next.


1. One cellulase unit (CU) is defined as the amount of activity that will produce a relative fluidity change of 1 (determined with a calibrated viscometer) in 5 minutes in a defined carboxymethylcellulose substrate at pH 4.5 and 40°C.
2. One hemoglobin unit (HUT) of proteolytic (protease) activity is defined as that amount of enzyme that produces, in one minute under the specified conditions, a hydrolysate whose absorbance at 275nm is the same as that of a solution containing 1.10g per mL of tyrosine in 0.006N hydrochloric acid.
3. All Triple Crown feeds have fixed ingredient formulas. Values reflect an estimated analysis of multiple feed samples from across the U.S. with the understanding that geographic differences can impact the results. Estimated values determined by Equi-Analytical, Ithaca, NY.
Help your horse thrive