A MODERATE SOLUBLE CARBOHYDRATE, HIGH FAT, HIGH FIBER, BEET PULP-BASED FEED. IDEAL FOR WEANLINGS, YEARLINGS, BROODMARES, AND BREEDING STALLIONS.
Triple Crown Growth is fortified to provide essential amino acids, vitamins, minerals, probiotics, enzymes and proteins essential to equine growth. Utilizing the latest research regarding nutritional support for growing horses, Triple Crown Growth provides more calories through quality fiber and fat, reducing the need for elevated levels of carbohydrates, which helps your horse experience a more consistent growth pattern and healthier joints throughout its life.
Learn more about Triple Crown Growth:

The guarantees on our website are the most current.  You will notice, we have increased a number of nutrient guarantees below and added a few new ingredients to reflect our updates to EquiMix. The ingredients listed on the website are in your bag of feed now. New feed bags will match these improvements over time.
GUARANTEED ANALYSIS
Crude Protein (min.)
15.00%
Lysine (min.)
0.90%
Methionine (min.)
0.27%
Threonine (min.)
0.69%
Tryptophan (min.)
0.21%
Leucine (min.)
1.10%
Crude Fat (min.)
10.00%
Crude Fiber (max.)
15.00%
ADF (max.)
17.00%
NDF (max.)
29.00%
Calcium (min.)
1.10%
Calcium (max.)
1.60%
Phosphorus (min.)
0.70%
Magnesium (min.)
0.50%
Potassium (min.)
1.10%
Sodium (min.)
0.40%
Sodium (max.)
0.75%
Salt (min.)
0.30%
Salt (max.)
0.70%
Omega-3 Fatty Acids (min.)
0.60%
Omega-6 Fatty Acids (min.)
3.50%
Selenium (min.)
0.60 ppm
Selenium (max.)
1.50 ppm
Zinc (min.)
250 ppm
Manganese (min.)
150 ppm
Cobalt (min.)
0.50 ppm
Copper (min.)
70 ppm
Iron (min.)
175 ppm
Vitamin A (min.)
8,000 IU/lb
Vitamin D3 (min.)
1,500 IU/lb
Vitamin E (min.)
245 IU/lb
Riboflavin (min.)
4.00 mg/lb
Thiamin (min.)
10.50 mg/lb.
Ascorbic Acid (min.)
65 mg/lb
Biotin (min.)
0.35 mg/lb
Total Direct Fed Microbials(min.)
3.64 billion CFU/lb
Lactobacillus Acidophilus Fermentation Product (min.)
908 million CFU/lb
Enterococcus Faecium Fermentation Product (min.)
908 million CFU/lb
Bacillus Subtillus Dried Fermenttion Product(min.)
26 million CFU/lb
Saccharomyces Cerevisiae Yeast Culture (min.)
1.8 billion CFU/lb
Cellulase* (Trichoderma Longibrachiatum Fermentation Extract) (min.)
0.68 million CU/lb
Protease** (Bacillus Subtilis Fermentation Extract) (min.)
1,430 HUT/lb
NSC***
19.2%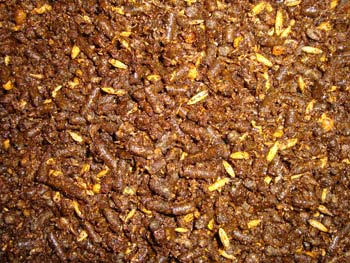 Ingredients
(Free from Restricted Ruminant Protein Products per Title 21, CFR 589.2000/2001)
Dehydrated Alfalfa Meal, Whole Oats, Shredded Beet Pulp, Soybean Hulls, Wheat Middlings, Cane Molasses, Dehulled soybean meal, Distillers Dried Grains, Soybean Oil, Whole roasted soybeans, Ground flaxseed, Stabilized Rice Bran, Calcium Carbonate, Monocalcium Phosphate, Dicalcium Phosphate, Magnesium Oxide, Yeast Culture, Hydrolyzed Yeast, Dried Enterococcus Faecium Fermentation Product, Dried Lactobacillus Acidophilus Fermentation Product, Dried Bacillus Subtilis Fermentation Product, Dried Trichoderma Longibrachiatum Fermentation Extract, Dried Bacillus Subtilis Fermentation Extract, Zinc Hydroxy Chloride, Manganese Hydroxy Chloride, Copper Hydroxy Chloride, Vegetable Oil, Butyric Acid, Zinc Oxide, Peppermint Essential Oil, Kelp Meal, Lecithin, Magnesium Proteinate, Selenium Yeast, L-Lysine, DL-methionine, L-Threonine, L-Leucine, Salt, Sodium Bicarbonate, Fenugreek Seed, Anise, Ascorbic Acid (Source of Vitamin C), Niacin Supplement, Biotin, Vitamin A Supplement, Vitamin E Supplement, Thiamine Mononitrate, Beta Carotene, Calcium Pantothenate, Riboflavin Supplement, Pyridoxine Hydrochloride, Vitamin B12 Supplement, Vitamin D3 Supplement, Choline Chloride, Menadione Sodium Bisulfite Complex (Source of Vitamin K Activity), Folic Acid, Hydrated Sodium Calcium Aluminosilicate, Brewers Dried Yeast, Manganese Sulfate, Zinc Sulfate, Copper Sulfate, Cobalt Proteinate, Iron Amino Acid Complex, Ethylenediamine Dihydroiodide, (Propionic Acid, Sodium Benzoate, Potassium Sorbate (Preservatives)).
Feeding Directions
Triple Crown Growth should be fed to growing horses along with free access to good quality pasture and/or hay, fresh clean water and plenty of free exercise. For nursing foals, feed 1% of body weight up to 400 lbs. For weanlings and older, the amount of Triple Crown Growth fed daily should be adjusted to maintain a moderate body condition level. If not sure how much to feed, begin with 6 – 8 pounds per day divided into as many feedings as feasible and then adjust up or down depending upon the needs of the individual horse. If feeding less than 5 pounds of Triple Crown Growth on a regular basis due to easy maintenance of desired body condition then 1/2 to 1 pound per day of Triple Crown 30 Supplement should also be fed in combination with Triple Crown Growth as means to insure adequate mineral and vitamin intakes to support sound growth. For Ponies, feed half of the recommendations listed above for horses.
NOTE: Provide plenty of fresh, clean water at all times. Keep product fresh in cool, dry storage. Examine product daily for mold or insect contamination. DO NOT use product that is old, molded or insect contaminated.
***The following coefficients of variation (cv) can be associated with the carbohydrate analyses. These should reasonably account for both sampling and analytical variation, though as you know, poor sampling can lead to much larger variation. The coefficients of variation (cv) for starch is 10%, WSC is 15% and ESC is 15%. For example, a feed with a WSC value of 10% should be expected to range from 8.5 – 11.5% and a WSC value of 20% to range from 17 – 23%. In addition, there are variables on ingredients between suppliers that could be as much as an additional 5% to 10% per ingredient. Therefore, products, such as TC 30% Supplement potentially would have a smaller variation than TC Lite due to the number of bulk ingredients making up the feed (2 vs. 4).
REVIEWS
Growth
Average rating:
5 reviews
Aug 29, 2018
We Love TC Growth!
We have been using TC Growth for our Missouri Fox Trotter broodmares and foals for the past 5 years. It has been an amazing product for us. TC Growth is a great feed with everything the mares and foals need already in it so we don't have to supplement. For us, it makes a huge difference. I can't say enough good things about this feed and what it has done for our horses.
May 10, 2016
Just terrific choice all around!
"We have been feeding Triple Crown for the past year and love it.  We took our yearlings to a recent show (we don't normally show babies because they have got to compete against older horses and rarely win) well…both our yearling colt and yearling filly beat their competition in the yearling futurity classes, 2 and under halter classes and 3 and under dressage Sporthorse classes.  I know a lot of it has to do with genetics/breeding but I have been so happy with the quality of feed we get with Triple Crown…the horses love it (not surprising) but they seem to maintain their weight much better on the Triple Crown than when we were feeding another brandJ  last year, I felt the horses were not getting their nutritional needs met on another brand and I was feeding them a TON and their weight was all over the place.  So we switched to Triple Crown and we don't have any weight issues and we actually feed less.  So even though the PER BAG price is more expensive, we don't use as much as we did with the previous brand we were using.  We took two of our babies to Pin Oak this year down in Katy, TX…here are the results…


May 10, 2016
We all couldn't be happier and I just want to say thank you to TCN!
I have been using Triple Crown Feed products for the last 4 years.  I am beyond happy with the results and my horses always look the best in the training barn.  I own and show PRE horses, also know in this country as Andalusians.  Currently I have a Stallion, two mares and a 3 month old stud colt.  My Stallion is on Triple Crown Training, and the mares and foal are currently on Triple Crown Growth. We all couldn't be happier and I just want to say thank you!

 
May 10, 2016
Can't wait to try even more TCN feeds!
My name is Laura Rocchino.  I have a four year old Mare, Tess.   I've uploaded her before and after pictures (pictures with saddles on would be "after" pictures).  I took Tess in one year ago this month.  She was thin, small, no energy and did not have good nourishment and was full of worms when I got her.  The vet came out, farrier and of course, Cindy Grove Bryant with Ephrata Feed and Supply came out to tell me her body score was about a 2.  Ephrata Feed sells Triple Crown products which is why I chose to buy feed from them, I knew I wanted a Triple Crown Product.  Cindy recommended Triple Crown Growth which she has been on for exactly one year and she guided me on how to feed her for the full benefit.

When I picked Tess up she was approx 14'3 (barely) and weighed 700+ lbs.  She is now almost 15'1 and 900+ lbs.  She is bright, energetic, full of life, although very calm and sweet.  She has big bright eyes now, her coat is amazing, I get compliments on her very often.  She is just beautiful and I can feel her appreciation!

Thank you for the amazing transformation in this very sweet well deserving girl!!! Not to mention, she LOVES her grain!  I'm looking forward to transitioning over to Triple Crown Complete next.


May 10, 2016
Senior & Growth Feeds Have Horses Flourishing
I have a full service facility here in NH and I have everything from weanlings to older horses topping 33+ years, I have several clients horses that have cushings and have come to me very malnourished. I have been feeding TC Senior and TC Growth and they have all flourished on it! I even have some of my show horses that are no more than 9 yrs old eating TC Senior and I have had numerous comments on these horses when they come out of the show pen as reserve and world champions. Most of my horses have come to us as abused and starved horses and all have gone on to be very competitive.