Lite
Pellet
50 lbs (22.7 kg)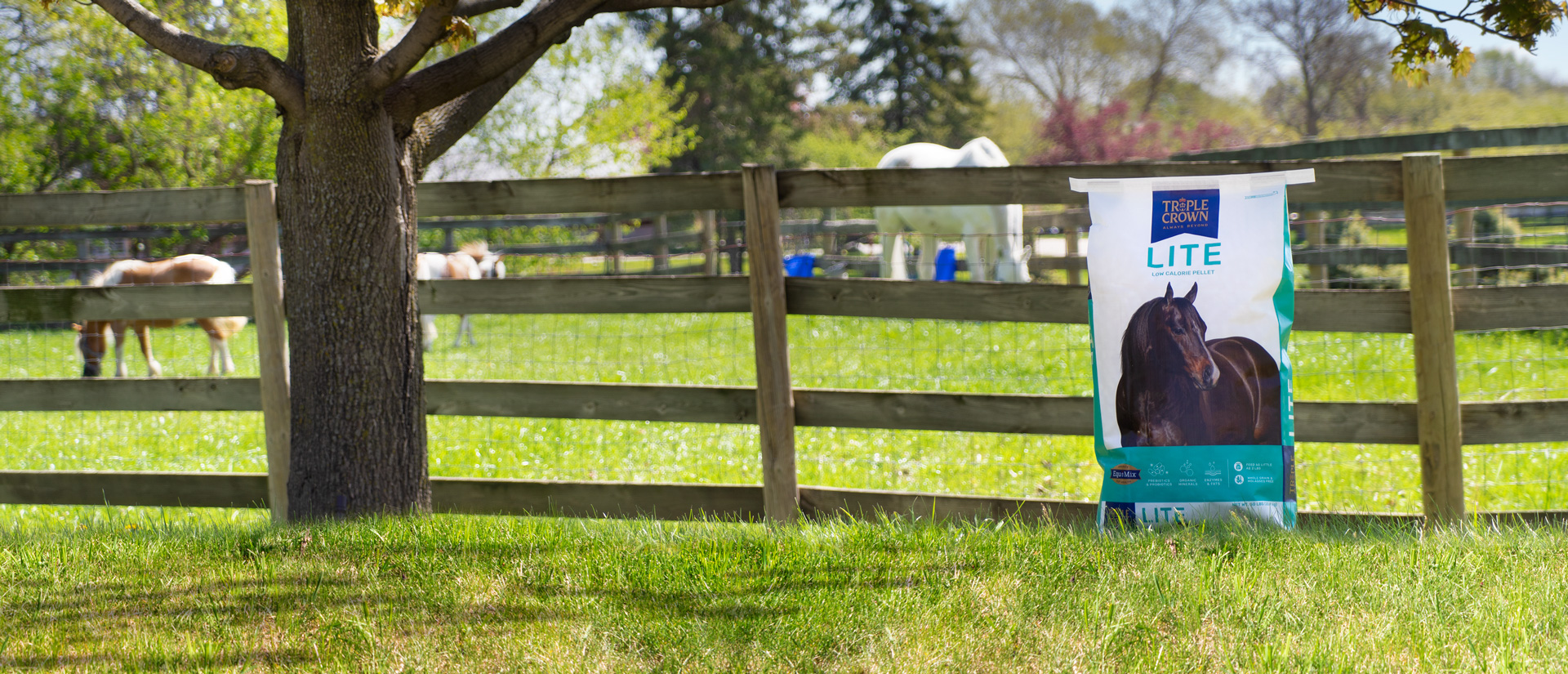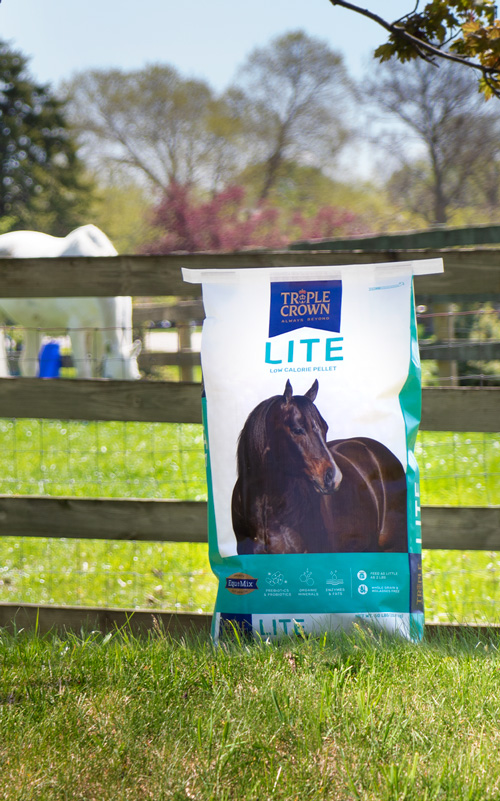 Ideal For:
Overweight horses
Ponies
Miniature horses
Features:
Whole grain & molasses free
Low starch & sugar
Low feeding rate
Helps Support:
Metabolic disease
Allergies
About Triple Crown Lite
Protein 12%
Fat 3%
Fiber 20%
1,150 KCAL/LB.
Triple Crown Lite is a whole grain and molasses free pellet ideal for easy keepers — horses that maintain their weight on very little grain or on grass and hay alone. It is also for miniature horses, horses with metabolic disease and those prone to founder and laminitis, and is designed to provide supplemental minerals and vitamins without encouraging excessive weight gain.
Guaranteed Analysis
Crude Protein (min.)

12.00%

Lysine (min.)

0.80%

Methionine (min.)

0.26%

Threonine (min.)

0.84%

Tryptophan (min.)

0.16%

Leucine (min.)

0.91%

Crude Fat (min.)

3.00%

Crude Fiber (max.)

20.00%

ADF (max.)

25.00%

NDF (max.)

44.00%

Calcium (min.)

1.75%

Calcium (max.)

2.25%

Phosphorus (min.)

1.00%

Magnesium (min.)

0.50%

Potassium (min.)

1.00%

Sodium (min.)

0.40%

Sodium (max.)

0.75%

Salt (min.)

0.75%

Salt (max.)

1.25%

Omega-3 Fatty Acids (min.)

0.22%

Omega-6 Fatty Acids (min.)

1.20%

Selenium (min.)

2.30 ppm

Selenium (max.)

2.95 ppm

Zinc (min.)

540 ppm

Manganese (min.)

380 ppm

Cobalt (min.)

2.00 ppm

Copper (min.)

140 ppm

Iron (min.)

200 ppm

Vitamin A (min.)

11,000 IU/lb.

Vitamin D min.)

2,000 IU/lb.

Vitamin E (min.)

305 IU/lb.

Riboflavin-B2 (min.)

4.60 mg/lb.

Thiamin-B1 (min.)

12.00 mg/lb.

Ascorbic Acid (min.)

80 mg/lb.

Biotin (min.)

0.40 mg/lb.

Total Direct Fed Microbials (min.)

3.64 billion CFU/lb.

Lactobacillus Acidophilus Fermentation Product (min.)

908 million CFU/lb.

Enterococcus Faecium Fermentation Product (min.)

908 million CFU/lb.

Bacillus Subtilis Dried Fermentation Product (min.)

25 million CFU/lb.

Saccharomyces Cerevisiae Yeast Culture (min.)

1.80 billion CFU/lb.

Cellulase¹ (Trichoderma Longibrachiatum Fermentation Extract) (min.)

0.68 million CU/lb.

Protease² (Bacillus Subtilis Fermentation Extract) (min.)

1,430 HUT/lb.
Ingredients
(Free from Restricted Ruminant Protein Products per Title 21, CFR 589.2000/2001)
Soybean Hulls, Wheat Middlings, Dehydrated Alfalfa Meal, Distillers Dried Grains, Ground Flaxseed, Calcium Carbonate, Salt, Sodium Bicarbonate, Dicalcium Phosphate, Yeast Extract, Yeast Culture, Calcium Silicate, Dried Enterococcus Faecium Fermentation Product, Dried Lactobacillus Acidophilus Fermentation Product, Dried Bacillus Subtilis Fermentation Product, Dried Trichoderma Longibrachiatum Fermentation Extract, Dried Bacillus Subtilis Fermentation Extract, Zinc Hydroxy Chloride, Manganese Hydroxy Chloride, Copper Hydroxy Chloride, Vegetable Oil, Butyric Acid, Zinc Oxide, Peppermint Essential Oil, Kelp Meal, Magnesium Oxide, Fenugreek Seed, Lecithin, Anise, Magnesium Proteinate, Selenium Yeast, L-Lysine, DL-methionine, L-Threonine, L-Leucine, Ascorbic Acid (Source of Vitamin C), Niacin Supplement, Biotin, Vitamin A Supplement, Vitamin E Supplement, Thiamine Mononitrate, Beta Carotene, Calcium Pantothenate, Riboflavin Supplement, Pyridoxine Hydrochloride, Vitamin B12 Supplement, Vitamin D3 Supplement, Soybean Oil, Choline Chloride, Menadione Sodium Bisulfite Complex (Source of Vitamin K Activity), Folic Acid, Hydrated Sodium Calcium Aluminosilicate, Manganese Sulfate, Lignin Sulfonate, Brewers Dried Yeast, Zinc Sulfate, Copper Sulfate, Cobalt Proteinate, Iron Amino Acid Complex, Ethylenediamine Dihydroiodide, (Propionic Acid, Sodium Benzoate, Potassium Sorbate (Preservatives)).
Feeding Directions
OTHER CONSIDERATIONS
Assuming a horse is consuming a minimum of 1.5 to 2% of its body weight in hay or pasture.
Adjust feeding rate to maintain optimum body condition.
CAUTION: In order to avoid excessive mineral and vitamin intake, DO NOT feed more than 5 lb. of Triple Crown Lite per day. Chronic intake of excess minerals and/or vitamins can adversely affect the health of your horse.
Provide salt and plenty of fresh, clean water at all times. Keep product fresh in cool, dry storage. Examine product daily. DO NOT use if old, moldy or contaminated with insects.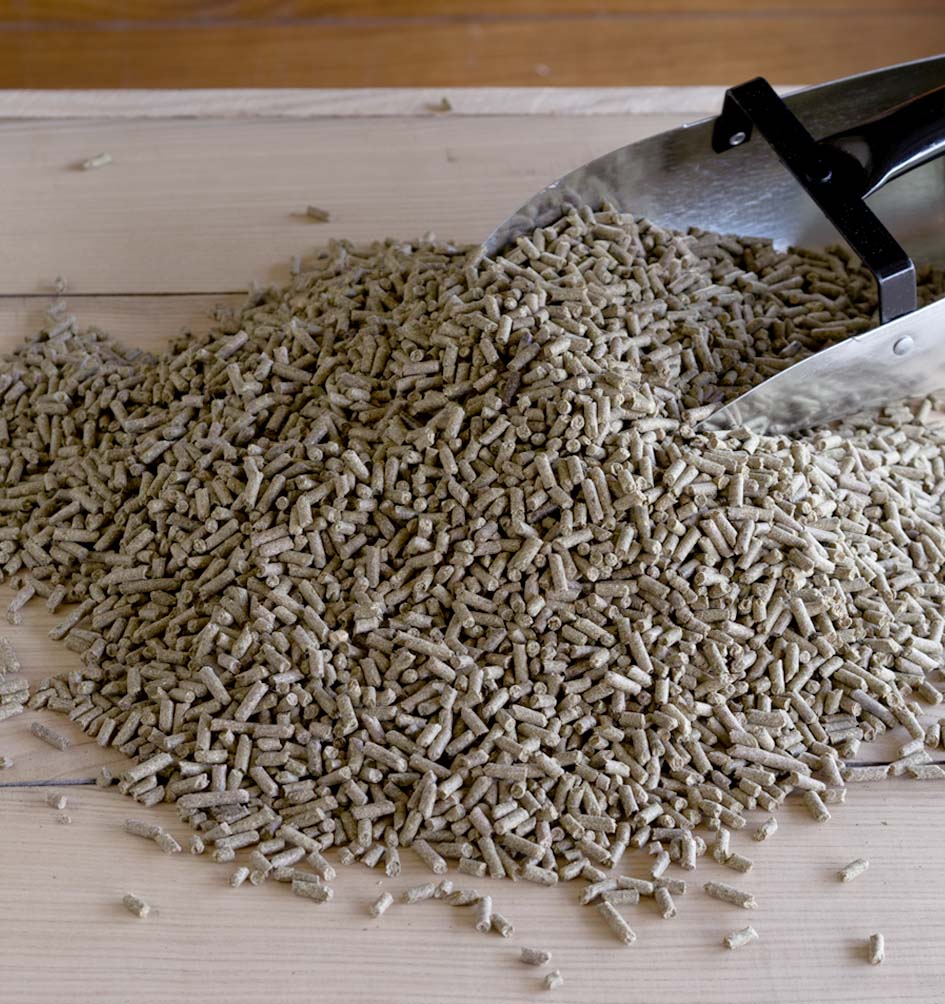 Learn About Lite
From a Triple Crown Expert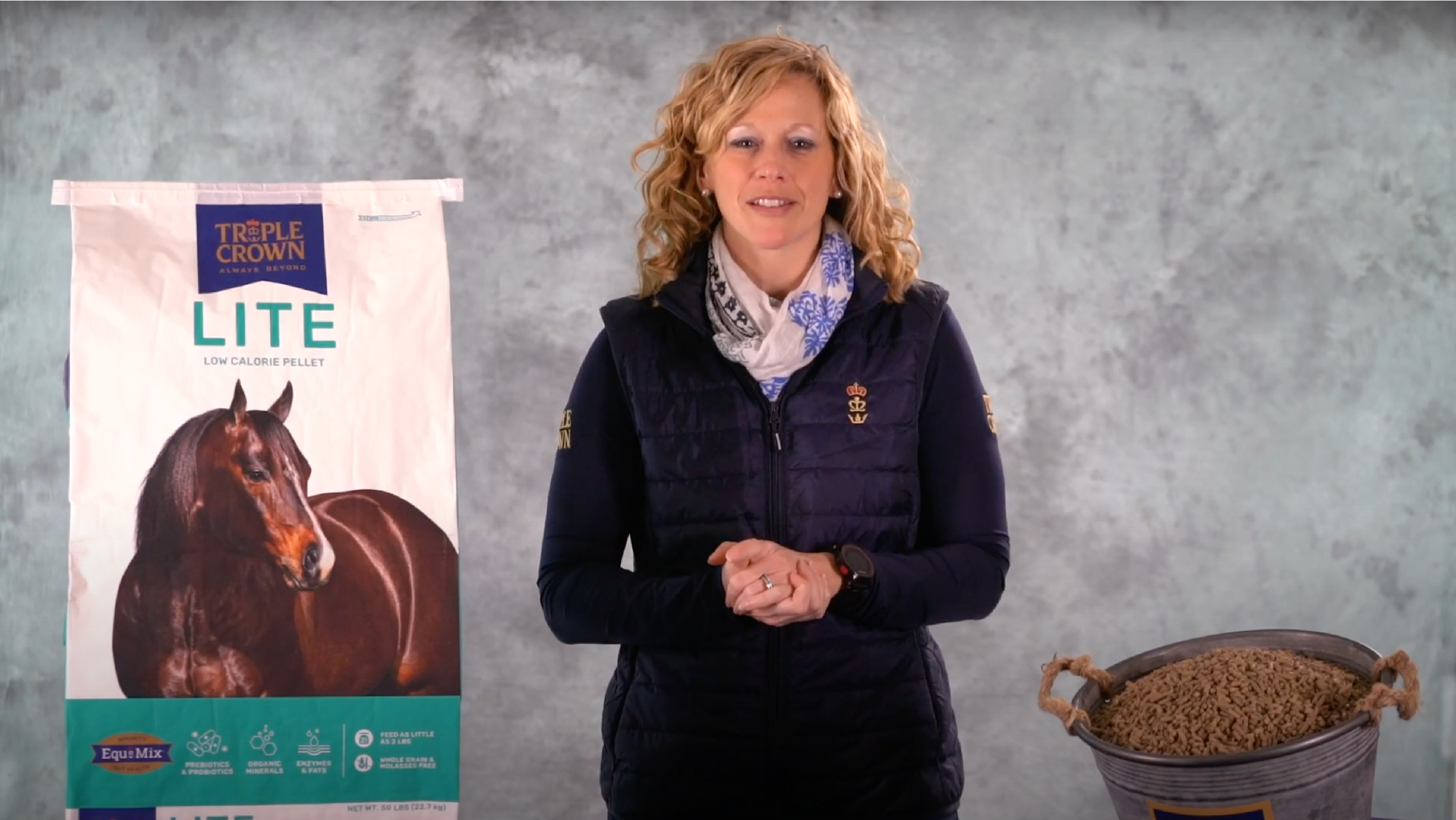 Lite
Average rating:
18 reviews
Dec 13, 2022
Great feed for my mixed herd!!
I have fed Triple Crown for many years, but I never fed the TC Lite, until I realized that I could probably simplify my feeding program, by doing so, so I switched my entire herd to it, and they look phenomenal. The only one still getting the TC Sr, is my hard keeping old mini, who has COPD.

My two mares who I use for lessons, both get around 2 lbs a day. My young standard jenny donkey who is nursing a month old baby, gets almost the same amount.

My mini donkey gets about a cup. Funny enough, my donkeys do so much better on the Lite, then they did the Ration Balancer. I suspect because donkeys are such great utilizers of their feed, that they didn't need quite the protein and nutrients that the Ration Balancer has. I am technically underfeeding my donkeys the Lite, but it works great for them. It soaks well, they all eat it up, and it's cost effective, as I'm feeding my horses much less, with better results.
Nov 30, 2022
Mini
My mini has been on Tripe Crown lite!
Nov 30, 2022
Using Lite for my insulin disregulation horse and overweight donkey. Lowest NSC
Nov 28, 2022
What a great product!
I love that this product is complete with such a little feeding rate. My broodmare is on the line of metabolic so it is perfect that she gets what she needs without the added fat.
Sep 19, 2022
Amazing product
I have 4 if my horses on this product. It just fills in the gaps I can't find from other products. Mine get alfalfa 2x a day and 4lbs of lite once a day. It keeps my horses at the top of their game.
1. One cellulase unit (CU) is defined as the amount of activity that will produce a relative fluidity change of 1 (determined with a calibrated viscometer) in 5 minutes in a defined carboxymethylcellulose substrate at pH 4.5 and 40°C.
2. One hemoglobin unit (HUT) of proteolytic (protease) activity is defined as that amount of enzyme that produces, in one minute under the specified conditions, a hydrolysate whose absorbance at 275nm is the same as that of a solution containing 1.10g per mL of tyrosine in 0.006N hydrochloric acid.
3. All Triple Crown feeds have fixed ingredient formulas. Values reflect an estimated analysis of multiple feed samples from across the U.S. with the understanding that geographic differences can impact the results. Estimated values determined by Equi-Analytical, Ithaca, NY.
Help your horse thrive