Triple Crown Perform Gold is a high fat, high fiber pellet ideal for performance horses or horses requiring additional calories, Perform is the first Triple Crown feed focused on both amino acid balance through the inclusion of whey protein, which is essential for muscle growth and development, and electrolyte balance, which aids in hydration.  With the inclusion of an organic, plant-based calcium, Perform also provides a buffering effect to support gastric health.
Learn more about the Perform Gold formula:

The guarantees on our website are the most current.  You will notice, we have increased a number of nutrient guarantees below and added a few new ingredients to reflect our updates to EquiMix. The ingredients listed on the website are in your bag of feed now. New feed bags will match these improvements over time.
GUARANTEED ANALYSIS
Crude Protein (min.)
12.50%
Lysine (min.)
0.70%
Methionine (min.)
0.25%
Threonine (min.)
0.48%
Tryptophan (min.)
0.17%
Leucine (min.)
0.88%
Crude Fat (min.)
12.00%
Crude Fiber (max.)
15.00%
ADF (max.)
19.00%
NDF(max.)
34.00%
Calcium (min.)
0.90%
Calcium (max.)
1.40%
Phosphorus (min.)
0.60%
Magnesium (min.)
0.50%
Potassium (min.)
1.10%
Sodium (min.)
0.50%
Sodium(max.)
1.00%
Chloride (min.)
0.50%
Salt (min.)
0.40%
Salt (max.)
0.90%
Omega-3 Fatty Acids (min.)
2.00%
Omega-6 Fatty Acids (min.)
5.00%
Selenium (min.)
0.60 ppm
Selenium (max.)
1.00 ppm
Zinc (min.)
220 ppm
Manganese (min.)
95 ppm
Cobalt (min.)
0.20 ppm
Copper (min.)
50 ppm
Iron (min.)
60 ppm
Vitamin A (min.)
5,500 IU/lb
Vitamin D3 (min.)
1,000 IU/lb.
Vitamin E (min.)
165 IU/lb
Riboflavin (min.)
2.50 mg/lb
Thiamin (min.)
7.00 mg/lb
Ascorbic Acid (min.)
40 mg/lb
Biotin (min.)
0.25 mg/lb
Total Direct Fed Microbials (min.)
3.12 billion CFU/lb
Lactobacillus Acidophilus Fermentation Product (min.)
790 million CFU/lb
Enterococcus Faecium Fermentation Product (min.)
790 million CFU/lb
Bacillus Subtillus Dried Fermentation Product (min.)
25 million CFU/lb
Saccharomyces Cerevisiae Yeast Culture (min.)
1.53 billion CFU/lb
Cellulase* (Trichoderma Longibrachiatum Fermentation Extract) (min.)
0.59 million CU/lb
Protease** (Bacillus Subtilis Fermentation Extract) (min.)
1,240 HUT/lb
NSC***
16.1%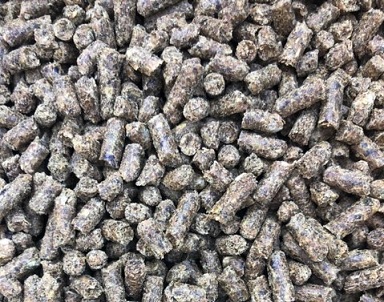 Ingredients
(Free from Restricted Ruminant Protein Products per Title 21, CFR 589.2000/2001)
Dehydrated Alfalfa Meal, Ground Flaxseed, Shredded Beet Pulp, Wheat Middlings, Dried Whey, Soybean Hulls, Stabilized Rice Bran, Distillers Dried Grains, Soybean Oil, Cane Molasses, Calcite, Calcium Carbonate, Salt, Sodium Bicarbonate, Dicalcium Phosphate, Yeast Extract, Yeast Culture, Calcium Silicate, Dried Enterococcus Faecium Fermentation Product, Dried Lactobacillus Acidophilus Fermentation Product, Dried Bacillus Subtilis Fermentation Product, Dried Trichoderma Longibrachiatum Fermentation Extract, Dried Bacillus Subtilis Fermentation Extract, Zinc Hydroxy Chloride, Manganese Hydroxy Chloride, Copper Hydroxy Chloride, Vegetable Oil, Butyric Acid, Zinc Oxide, Peppermint Essential Oil, Kelp Meal, Magnesium Oxide, Fenugreek Seed, Lecithin, Anise, Magnesium Proteinate, Selenium Yeast, L-Lysine, DL-methionine, L-Leucine, Ascorbic Acid (Source of Vitamin C), Niacin Supplement, Biotin, Vitamin A Supplement, Vitamin E Supplement, Thiamine Mononitrate, Beta Carotene, Calcium Pantothenate, Riboflavin Supplement, Pyridoxine Hydrochloride, Vitamin B12 Supplement, Vitamin D3 Supplement, Choline Chloride, Menadione Sodium Bisulfite Complex (Source of Vitamin K Activity), Folic Acid, Hydrated Sodium Calcium Aluminosilicate, Manganese Sulfate, Lignin Sulfonate, Brewers Dried Yeast, Zinc Sulfate, Copper Sulfate, Cobalt Proteinate, Iron Amino Acid Complex, Ethylenediamine Dihydroiodide, (Propionic Acid, Sodium Benzoate, Potassium Sorbate (Preservatives)).
Feeding Directions
Triple Crown Perform Gold is a high calorie diet designed to be fed to performance horses of any age. If feeding as a grain concentrate with hay, feed a minimum rate of 6 lb. per day to provide all necessary minerals and vitamins to horses in training and performing in strenuous type activities.
PERFORMANCE HORSES: Begin by feeding as much good quality forage as possible, along with free access to clean water and salt. Horses should receive the equivalent of at least 10 lb. of hay per day or more. Feed Triple Crown Perform at a rate that will maintain the horse's desired body condition and energy level. Use 0.5 lb. per 100 lb. of bodyweight or 6-8 lb. per day for an average size Thoroughbred or Quarter Horse-type horse as a starting guideline; then adjust as desired.
NOTE: Provide plenty of fresh, clean water at all times. Keep product fresh in cool, dry storage. Examine product daily. DO NOT use if old, moldy or contaminated with insects.
REVIEWS
Perform Gold
Average rating:
5 reviews
May 20, 2021
The best
I have fed Triple Crown for many years to all my horses. The Perform gold is probably the best feed for a thoroughbred. It keeps their topline in excellent muscle and their weight perfect. It helps their tummy and nervous issues also. Great feed. My 16.1 hand thoroughbred gets 3.5 lbs of the Perform/day and 2 lbs of the Gold Balancer/day. It is split into 3 feedings. He actually could lose a little weight but I rather see him thicker than too too thin. They can lose it quickly. The Balancer Gold combined with TC Golden Flax is soy free which can also help with horses that are itchy in Florida. I always recommend Triple Crown, there is a feed for every need.
Jan 19, 2021
Triple Crown Always
I have a OTTB I got that was decent weight wise, but was at risk to founder due to his soles being so thin, but after having him a few weeks on Nutrena Safe Choice Preform he dropped weight very quickly. So we then tried Sentinel Preform for around a month we had to feed him three times a day at 5 lbs per feeding, and at $29 a bag that goes quickly. We then swapped to Purina Ultium Competition and were feeding 11 lbs a day and he looked OK but not amazing. One day after having him 3 months someone recommended TC to me and I have never looked back! He is now on 8 lbs (4 in the AM and 4 in the P) with 8 oz of Triple Crown oil and Equintity and looks AMAZING, luminous coat, strong hooves with thick soles and is 1200 pounds of muscle! All I feed is  TC.  My 35-year-old is on their senior and alfalfa, my two-year-old is on a mix of their senior, alfalfa, and balancer and I get comments on them all the time!
May 20, 2020
Amazing feed!
Putting my paint gelding has been night and day difference. He went from being cinchy and constantly chomping on the bit, to completely relaxed at all times during our rides. He also has the energy levels I need out of him, but I'm feeding him 2lbs less than I was on his old grain. I'm so happy he comes out of his stall comfortable and willing to work every day now! I also love that this feed made his supplement program a lot cheaper; no additional electrolytes, muscle, stomach, or digestive support anymore! I'm so happy with this feed, I can't say enough good things about it!
May 13, 2020
Love this for my hard keeper
I'm so happy this feed is available. My endurance gelding is a hard working horse, and a hard keeper on top of that! He's a SUPREMELY picky horse and will only eat so much feed per meal as well. He's just an all-around difficult horse to feed. When the Gold Perform came out, I started offering him a small amount next to his regular meal, and he ate it well from the get-go! He whinnies to me when I go in the feed room and actually licks his bowl clean every meal now, instead of leaving anywhere from a couple handfuls to a pound of feed. He's also drinking way better than he was previously. I think the combination of gastric buffer plus added electrolytes is just what he needed. So grateful for this product
Mar 24, 2020
Love this feed!!!
I've had horses in my life for more than 20 years, I have never seen improvements in any horse of mine like this. I've owned many personal horses and rescues, this is by far the best feed I have ever used! We love it. My horses are thriving and I know I am fueling for the jobs that they perform. As long as they make Preform Gold, it's all we will feed!