Rice Bran
Naturals
40 lbs (18.1 kg)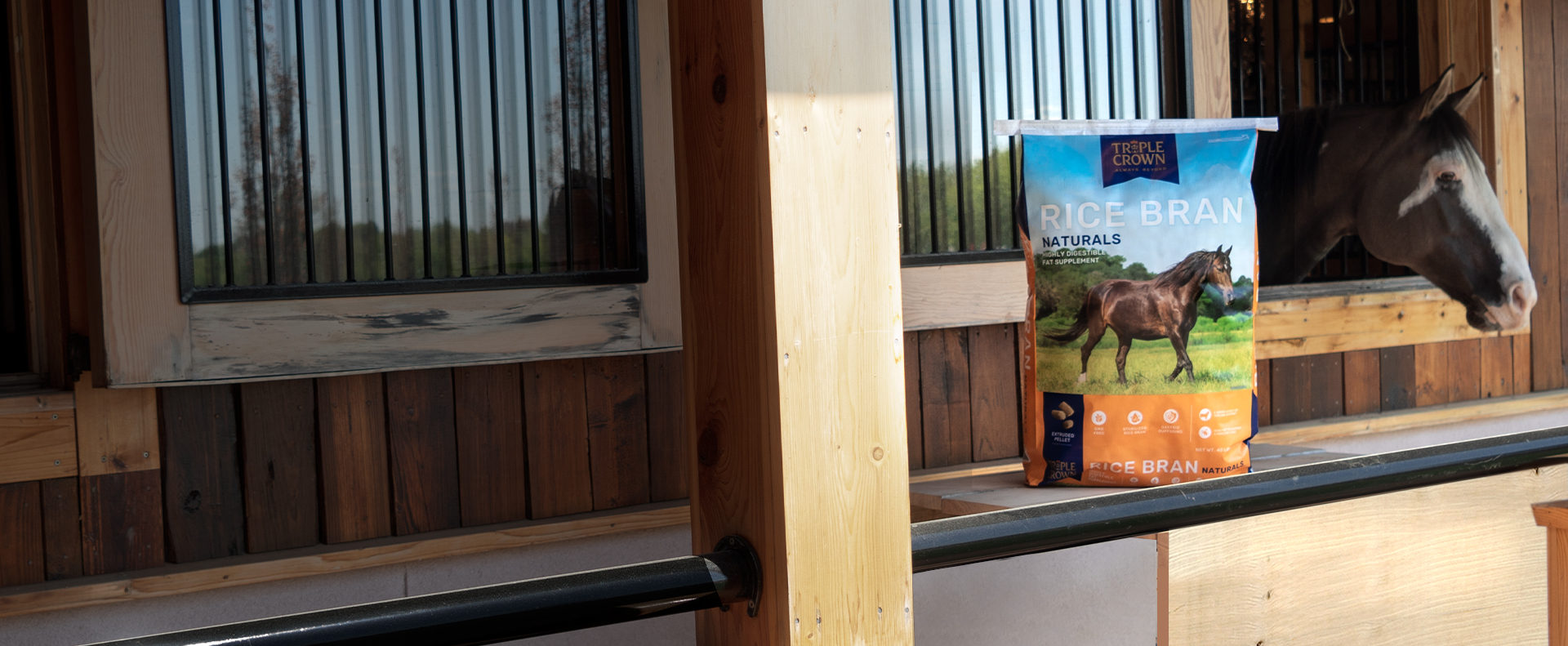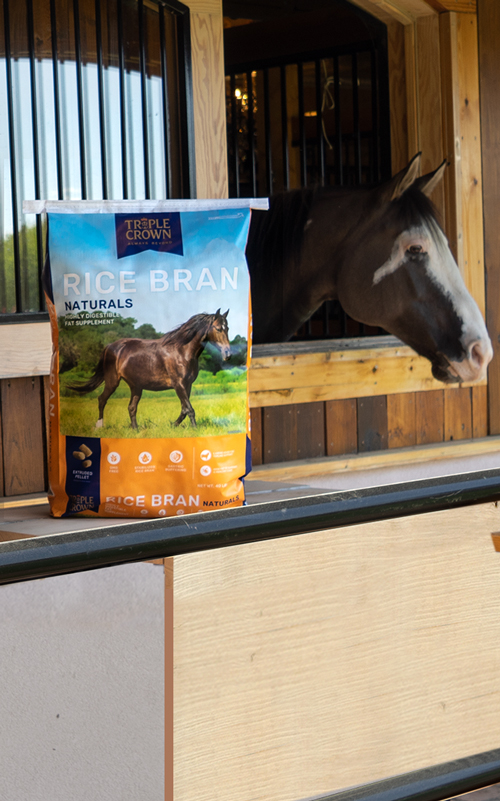 Ideal For:
Mature horses
Underweight horses
Performance horses
Features:
GMO free
Gastric buffering
Extended amino acid profile
Helps Support:
Top line support
Healthy skin & coat
Supplemental calories
About Triple Crown Rice Bran — Naturals
Protein 13%
Fat 17%
Fiber 12.50%
1,500 KCAL/LB.
Developed for underweight and hard working performance horses, Triple Crown Naturals Rice Bran is a GMO free, high fat supplement that provides additional calories to horses requiring more energy without the hyperactivity associated with high sugar and starch diets. This stabilized, extruded pellet features an organic, plant-based calcium that produces a buffering effect to support gastric health and is fortified with five added amino acids to improve protein synthesis and help develop a stronger top line. As a high fat supplement, Rice Bran naturally delivers an excellent source of essential fatty acids which are necessary for healthy skin and quality coat condition.
Guaranteed Analysis
Crude Protein (min.)

13.00%

Lysine (min.)

1.00%

Methionine (min.)

0.45%

Threonine (min.)

0.65%

Tryptophan (min.)

0.35%

Leucine (min.)

1.20%

Crude Fat (min.)

17.00%

Crude Fiber (max.)

12.50%

ADF (max.)

10.00%

NDF (max.)

18.00%

Calcium (min.)

1.50%

Calcium (max.)

2.50%

Phosphorus (min.)

1.50%

Magnesium (min.)

0.70%

Potassium (min.)

1.20%

Omega-3 Fatty Acids (min.)

0.20%

Omega-6 Fatty Acids (min.)

6.00%

Selenium (min.)

0.30 ppm

Zinc (min.)

25 ppm

Copper (min.)

12 ppm

Vitamin E (min.)

25 IU/lb.
Ingredients
Stabilized Rice Bran, Calcium Carbonate, Calcite, Lysine, DL-Methionine, L-Tryptophan, Threonine, L-Leucine
Feeding Directions
TO SUPPLEMENT IN DIET
| | |
| --- | --- |
| 660 lb. horse | 0.5 - 1.5 lb. per day |
| 880 lb. horse | 1.0 - 2.5 lb. per day |
| 1,100 lb. horse | 1.0 - 3.0 lb. per day |
| 1,320 lb. horse | 1.0 - 3.0 lb. per day |
| 1,540 lb. horse | 1.5 - 3.0 lb. per day |
OTHER CONSIDERATIONS
Supplement may be divided into multiple feedings per day.
Provide salt and plenty of fresh, clean water at all times. Keep product fresh in cool, dry storage. Examine product daily. DO NOT use if old, moldy or contaminated with insects.
Rice Bran — Naturals
Average rating:
1 reviews
Mar 31, 2023
Easy to use!
An easy fat supplement to just add into my horse's feed and my horse likes it! Thanks so much!
Help your horse thrive