Senior Gold
Textured
50 lbs (22.7 kg)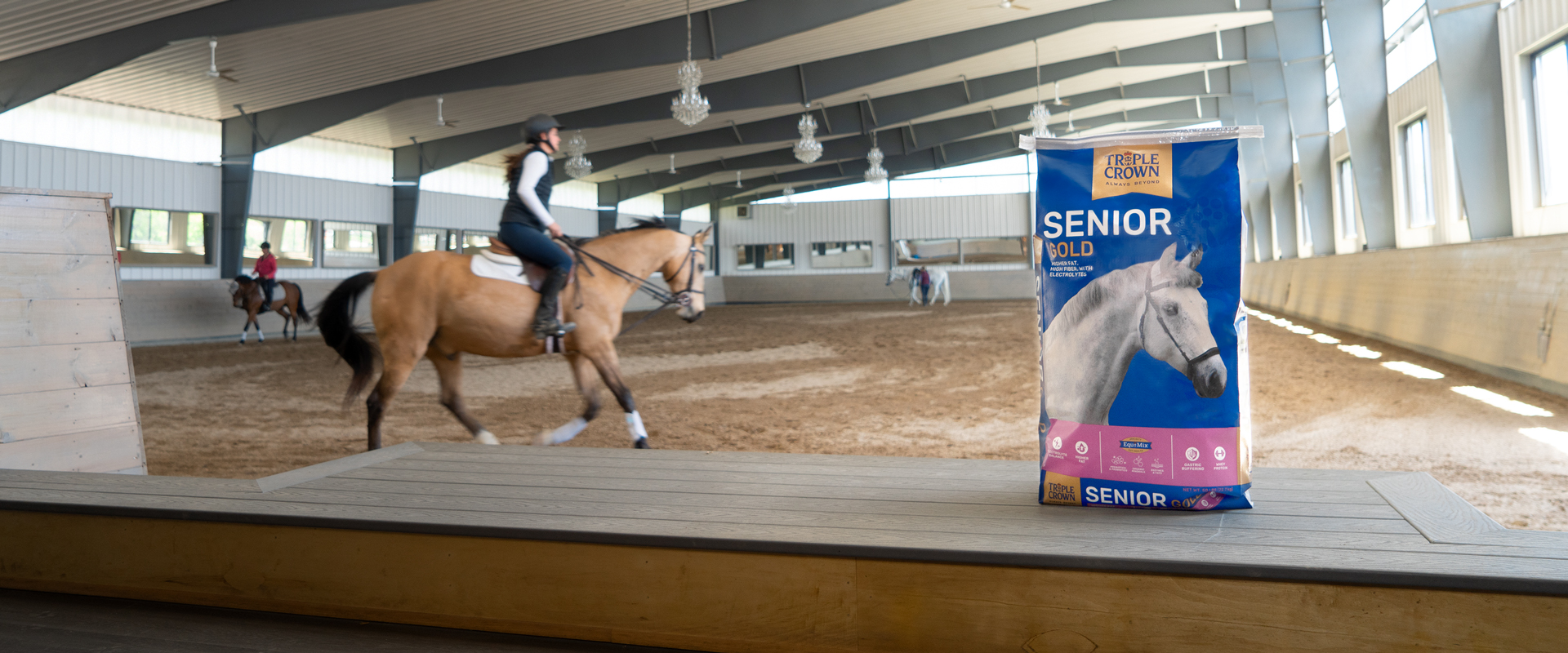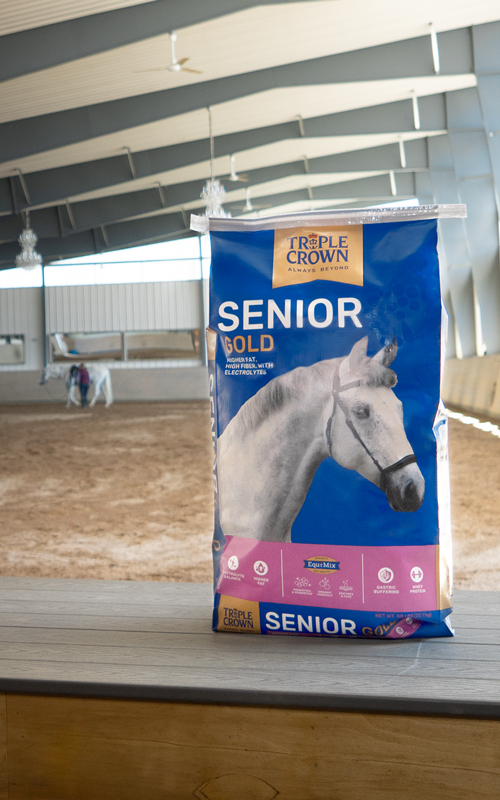 Ideal For:
Active, older horses
Performance horses
Metabolic horses
Features:
Whole grain free
Whey protein/amino acid balance
Gastric buffering
Helps Support:
Ulcers
Heat tolerance
Strong top line
About Triple Crown Senior Gold
Protein 14.5%
Fat 12.5%
Fiber 18%
1,800 KCAL/LB.
Developed for active, older horses, Triple Crown Senior Gold features a beet pulp-based formula with higher fat, an expanded amino acid profile and gastric buffering, which is ideal for performance horses and those under stress. This feed can be mixed with water to form a mash for horses that have difficulty chewing and swallowing.
Guaranteed Analysis
Crude Protein (min.)

14.50%

Lysine (min.)

0.90%

Methionine (min.)

0.25%

Threonine (min.)

0.70%

Tryptophan (min.)

0.20%

Leucine (min.)

1.00%

Crude Fat (min.)

12.50%

Crude Fiber (max.)

18.00%

ADF (max.)

22.00%

NDF (max.)

37.00%

Calcium (min.)

0.90%

Calcium (max.)

1.40%

Phosphorus (min.)

0.55%

Magnesium (min.)

0.40%

Potassium (min.)

1.00%

Sodium (min.)

0.50%

Sodium (max.)

1.00%

Chloride (min.)

0.50%

Salt (min.)

0.40%

Salt (max.)

0.90%

Omega-3 Fatty Acids (min.)

1.10%

Omega-6 Fatty Acids (min.)

5.00%

Selenium (min.)

0.60 ppm

Selenium (max.)

1.00 ppm

Zinc (min.)

260 ppm

Manganese (min.)

140 ppm

Cobalt (min.)

0.45 ppm

Copper (min.)

70 ppm

Iron (min.)

175 ppm

Vitamin A (min.)

6,000 IU/lb.

Vitamin D min.)

1,000 IU/lb.

Vitamin E (min.)

200 IU/lb.

Riboflavin-B2 (min.)

3.20 mg/lb.

Thiamin-B1 (min.)

8.00 mg/lb.

Ascorbic Acid (min.)

50 mg/lb.

Biotin (min.)

0.25 mg/lb.

Total Direct Fed Microbials (min.)

3.63 billion CFU/lb.

Lactobacillus Acidophilus Fermentation Product (min.)

920 million CFU/lb.

Enterococcus Faecium Fermentation Product (min.)

920 million CFU/lb.

Bacillus Subtilis Dried Fermentation Product (min.)

27 million CFU/lb.

Saccharomyces Cerevisiae Yeast Culture (min.)

1.77 billion CFU/lb.

Cellulase¹ (Trichoderma Longibrachiatum Fermentation Extract) (min.)

0.69 million CU/lb.

Protease² (Bacillus Subtilis Fermentation Extract) (min.)

1,389 HUT/lb.
Ingredients
(Free from Restricted Ruminant Protein Products per Title 21, CFR 589.2000/2001)
Shredded Beet Pulp, Dehydrated Alfalfa Meal, Wheat Middlings, Soybean Hulls, Dehulled Soybean Meal, Distillers Dried Grains, Ground Flaxseed, Stabilized Rice Bran, Dried Whey, Cane Molasses, Soybean Oil, Flaxseed Oil, Calcite, Calcium Carbonate, Monocalcium Phosphate, Dicalcium Phosphate, Magnesium Oxide, Yeast Culture, Hydrolyzed Yeast, Dried Enterococcus Faecium Fermentation Product, Dried Lactobacillus Acidophilus Fermentation Product, Dried Bacillus Subtilis Fermentation Product, Dried Trichoderma Longibrachiatum Fermentation Extract, Dried Bacillus Subtilis Fermentation Extract, Zinc Hydroxy Chloride, Manganese Hydroxy Chloride, Copper Hydroxy Chloride, Vegetable Oil, Butyric Acid, Zinc Oxide, Peppermint Essential Oil, Kelp Meal, Lecithin, Magnesium Proteinate, Selenium Yeast, L-Lysine, DL-methionine, L-Threonine, L-Leucine, Salt, Sodium Bicarbonate, Fenugreek Seed, Anise, Ascorbic Acid (Source of Vitamin C), Niacin Supplement, Biotin, Vitamin A Supplement, Vitamin E Supplement, Thiamine Mononitrate, Beta Carotene, Calcium Pantothenate, Riboflavin Supplement, Pyridoxine Hydrochloride, Vitamin B12 Supplement, Vitamin D3 Supplement, Choline Chloride, Menadione Sodium Bisulfite Complex (Source of Vitamin K Activity), Folic Acid, Hydrated Sodium Calcium Aluminosilicate, Brewers Dried Yeast, Manganese Sulfate, Zinc Sulfate, Copper Sulfate, Cobalt Proteinate, Iron Amino Acid Complex, Ethylenediamine Dihydroiodide,(Propionic Acid, Sodium Benzoate, Potassium Sorbate (Preservatives)).
Feeding Directions
OTHER CONSIDERATIONS
If feeding less than 6 lb. per day (per 1,000 lb. of body weight) in combination with hay, supplement with 1 lb. per day of Triple Crown Balancer or Triple Crown Balancer Gold in order to meet recommended levels of vitamins, minerals and digestive support.
If your horse cannot eat hay, be sure to feed 1 to 2% of body weight daily.
Adjust the amount of Triple Crown Senior up or down as needed after 2 to 4 weeks to maintain desired body condition. Do not feed more than 5 lb. at a single meal (3 lb. for ponies). Allow 3 to 4 hours between meals.
Provide salt and plenty of fresh, clean water at all times. Keep product fresh in cool, dry storage. Examine product daily. DO NOT use if old, moldy or contaminated with insects.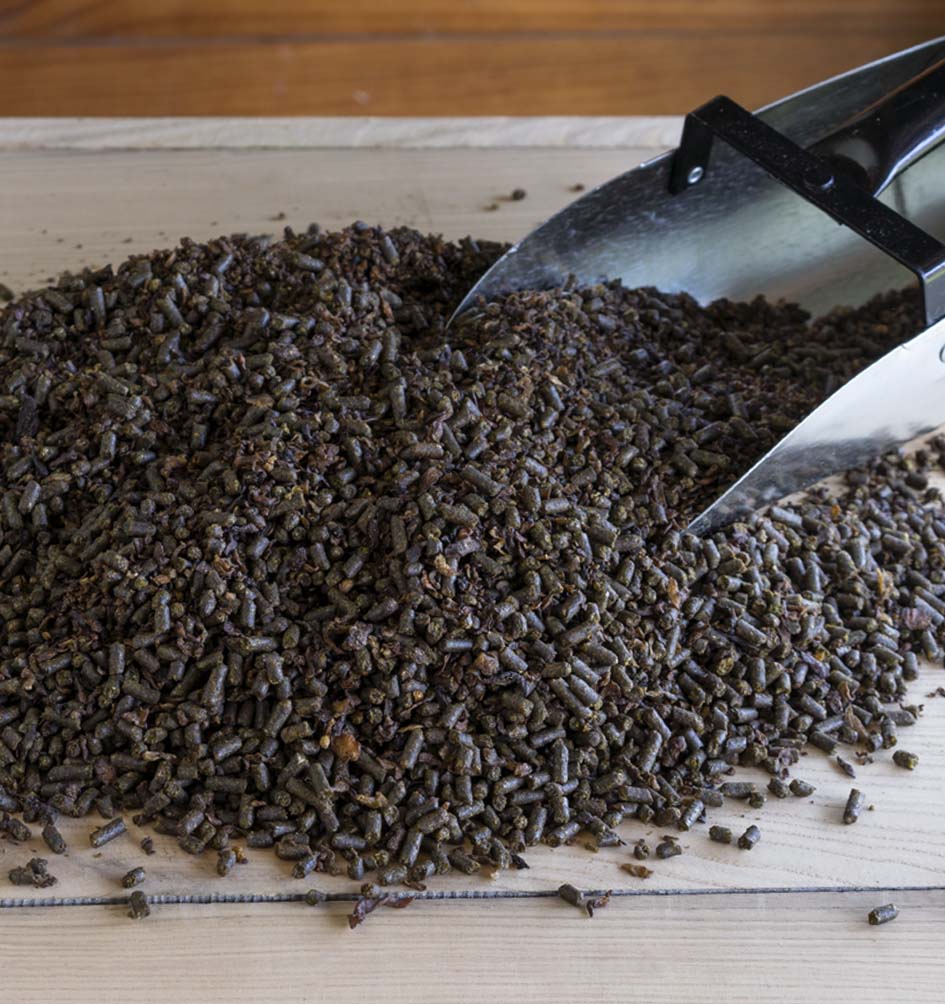 Learn About Triple Crown Senior Gold
From a Triple Crown Expert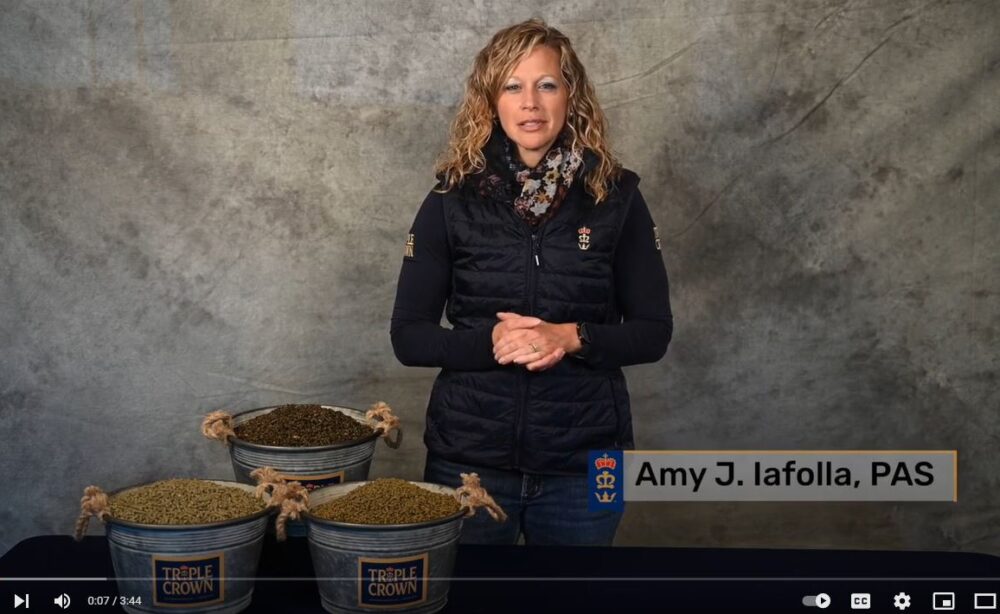 Senior Gold
Average rating:
26 reviews
Jul 5, 2023
Amazing Results!!
I have a 25-year-old gelding thoroughbred who has always had weight issues, until I switched to Triple Crown Gold Senior. He looks the BEST he has looked in 15 years. His coat looks great and he is maintaining his weight so well. I'm so glad I came across this feed and made the switch! He looks amazing!!
Jun 7, 2023
I switched over to Triple Crown Senior and then moved to Triple Crown Senior Gold for my 27-year mare. I do a lot of research before I feed and I found your ingredients are better formulated to meet my needs. We had a rough, wet winter in Oregon, which most aging horses would struggle with but Sweetie did really well on my feed regimen. She runs, bucks and kicks around and I pony her on trail rides to keep her going. Quality feed will make a huge difference in an aging horse and I have had people ask me "She is 27? What do you feed??" I feed my Triple Crown Senior Gold with my Triple Crown Essential Oils and she looks fabulous.
May 30, 2023
WONT FEED ANYTHING ELSE
I was first introduced to Triple Crown Nutrition's products though a friend back in 2006. I have tried several different brands and researched extensively into many many feeds. I can say without a shadow of a doubt TCF is the best. I have fed their feeds for 9 years to many different horses. The results are the same. The look and perform their best. TCF has something for every horse dependent on their needs, and I've never gotten the same results from any other company. Right now I am LOVING the Senior Gold, but I proudly feed their other feed lines without hesitation as well. I have been trying to get a sponsorship with Triple Crown for a few years because I am so passionate about their products. It hasn't happened yet, but my loyalty is the same. They truly make the best product out there, and I will continue to stand by their products for my barn and my clients.
May 16, 2023
Great product
I love that Triple Crown is so transparent about their ingredients! I always know exactly what I am feeding. All of my horses and boarders love TC Senior and Balancer. I have a few on StressFree Forage as well. Great for picky eaters and it's great that it easily can be made into a mash!
May 16, 2023
Most used product
The Triple Crown Senior Gold is the best, most used product in my barn. It is an excellent product for all of my Thoroughbred's. I have tried many products over the years and nothing compares to the results I have experienced with the Triple Crown line of products.
1. One cellulase unit (CU) is defined as the amount of activity that will produce a relative fluidity change of 1 (determined with a calibrated viscometer) in 5 minutes in a defined carboxymethylcellulose substrate at pH 4.5 and 40°C.
2. One hemoglobin unit (HUT) of proteolytic (protease) activity is defined as that amount of enzyme that produces, in one minute under the specified conditions, a hydrolysate whose absorbance at 275nm is the same as that of a solution containing 1.10g per mL of tyrosine in 0.006N hydrochloric acid.
3. All Triple Crown feeds have fixed ingredient formulas. Values reflect an estimated analysis of multiple feed samples from across the U.S. with the understanding that geographic differences can impact the results. Estimated values determined by Equi-Analytical, Ithaca, NY.
Help your horse thrive