Senior Active+
Extruded Pellet
40 lbs (18.14 kg)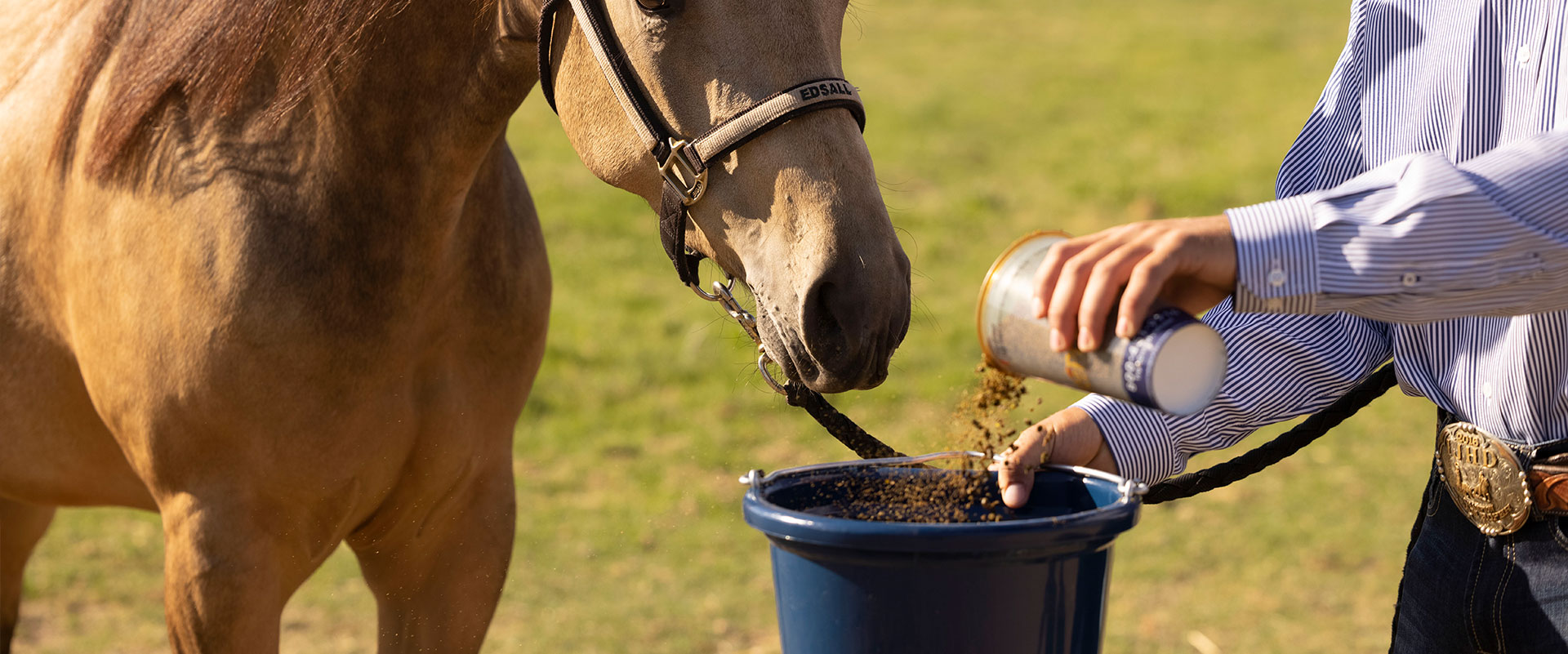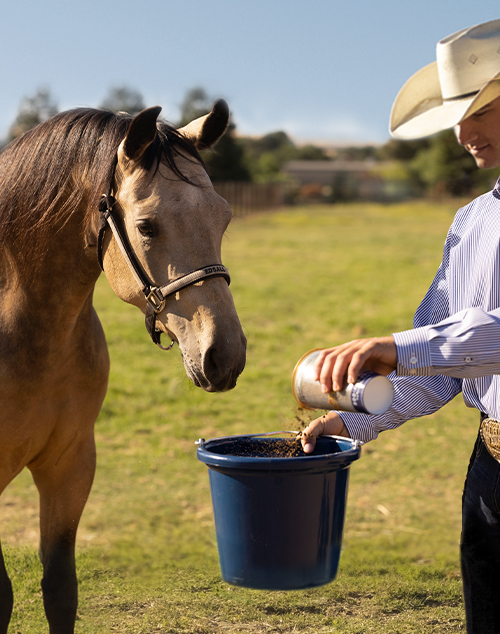 Ideal For:
Active, older horses
Performance horses
Hard keepers
Features:
Whole grain free
Molasses free
Extruded= enhanced digestibility
Gastric buffer
Helps Support:
Metabolic disease
Poor teeth
Ulcers
About Triple Crown Senior Active+
Protein 14%
Fat 12%
Fiber 16%
1,535 KCAL/LB
Developed for active, older horses, Triple Crown Senior Active+ is extruded for enhanced digestibility while providing gastric buffering which is ideal for performance horses or those under stress. This feed can be mixed with water to form a mash for horses that have difficulty chewing or swallowing.
Guaranteed Analysis
Crude Protein (min.)

14%

Lysine (min.)

0.95%

Methionine (min.)

0.30%

Threonine (min.)

0.80%

Tryptophan (min.)

0.15%

Leucine (min.)

0.97%

Crude Fat (min.)

12.00%

Crude Fiber (max.)

16.00%

ADF (max.)

22.00%

NDF (max.)

34.00%

Calcium (min.)

0.75%

Calcium (max.)

1.25%

Phosphorus (min.)

0.65%

Magnesium (min.)

0.55%

Potassium (min.)

0.99%

Sodium (min.)

0.25%

Sodium (max.)

0.75%

Chloride (min.)

0.50%

Salt (min.)

0.25%

Salt (max.)

0.75%

Omega-3 Fatty Acids (min.)

1.20%

Omega-6 Fatty Acids (min.)

5.50%

Selenium (min.)

0.60 ppm

Selenium (max.)

1.10 ppm

Zinc (min.)

220 ppm

Manganese (min.)

95 ppm

Cobalt (min.)

0.20 ppm

Copper (min.)

50 ppm

Iron (min.)

200 ppm

Vitamin A (min.)

5,930 IU/lb.

Vitamin D min.)

1,125 IU/lb.

Vitamin E (min.)

170 IU/lb.

Riboflavin-B2 (min.)

2.50 mg/lb.

Thiamin-B1 (min.)

7.00 mg/lb.

Ascorbic Acid (min.)

40 mg/lb.

Biotin (min.)

0.20 mg/lb.

Total Direct Fed Microbials (min.)

4.05 billion CFU/lb.

Lactobacillus Acidophilus Fermentation Product (min.)

1.13 billion CFU/lb.

Enterococcus Faecium Fermentation Product (min.)

1.13 billion CFU/lb.

Bacillus Subtilis Dried Fermentation Product (min.)

27 million CFU/lb.

Saccharomyces Cerevisiae Yeast Culture (min.)

1.77 million CFU/lb.

Cellulase¹ (Trichoderma Longibrachiatum Fermentation Extract) (min.)

0.68 million CU/lb.

Protease² (Bacillus Subtilis Fermentation Extract) (min.)

1,430 HUT/lb.
Ingredients
(Free from Restricted Ruminant Protein Products per Title 21, CFR
589.2000/2001)
Wheat Middlings, Soybean Hulls, Dehydrated Alfalfa Meal, Soybean Oil, Dried Plain Beet Pulp, Distiller's Dried Grains with Solubles, Oat Groats, Whole Flaxseed, Stabilized Rice Bran, Soybean Meal, Sodium Bicarbonate, Calcite, Calcium Carbonate, Monocalcium Phosphate, Salt, Magnesium Oxide, L-Lysine Hydrochloride, L-Tryptophan, DL-Methionine, L-Threonine, L-Leucine, Dextrose, Dried Enterococcus Faecium Fermentation Product, Dried Lactobacillus Acidophilus Fermentation Product, Bacillus Subtilis, Hydrolyzed Yeast, Zinc Amino Acid Complex, Manganese Amino Acid Complex, Copper Amino Acid Complex, Hydrated Sodium Calcium Aluminosilicate, Yeast Extract, Kelp Meal, Dried Yeast, Lecithin, Fenugreek Seed, Magnesium Proteinate, Selenium Yeast, Vitamin E Supplement, Ascorbic Acid, Niacin Supplement, Biotin, Thiamine Mononitrate, Vitamin A Supplement, Vitamin B12 Supplement, Beta Carotene, Pyridoxine Hydrochloride, Riboflavin Supplement, Calcium Pantothenate, Vitamin D3 Supplement, Choline Chloride, Folic Acid, Menadione Sodium Bisulfite Complex, Ferrous Sulfate, Zinc Sulfate, Manganese Sulfate, Copper Sulfate, Cobalt Proteinate, Ethylenediamine Dihydroiodide, Cobalt Sulfate, and Natural and Artificial Flavors.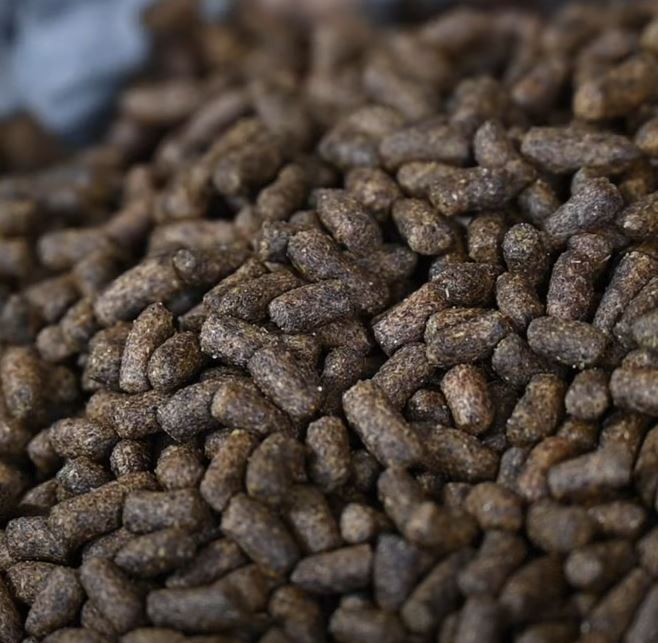 Learn About Triple Crown Senior Active+
From a Triple Crown Expert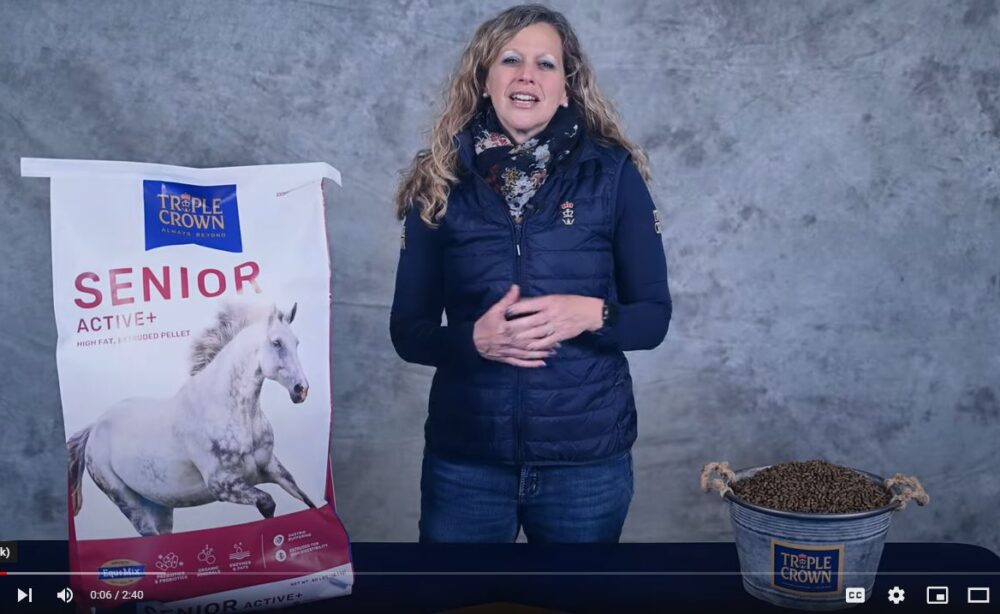 Triple Crown Feed
Average rating:
6 reviews
Sep 21, 2023
Older Dressage Horse Doing Great
I have a coming 18 yr old dressage horse that is also recovering from a horrible case of colitis and is doing very well on this feed.
May 1, 2023
Older horse
My 26 yr game horse is still competing strong!
Dec 12, 2022
Triple Crown Sr active+
I have been feeding Triple Crown active Sr+ to my 30 year old mare. She has not choked since eating it and her weight and coat could not be any better. I also give her Balancer since she doesn't get a lot of grain. I absolutely love the customer service I get when I have a question about any of the products and if I want or need to add anything. Since putting my Sr. mare on Triple Crown I have put the rest of my horses on Triple Crown. They all eat it and I feed less while giving them better quality and nutrition. Thank you Triple Crown for making a difference
Sep 19, 2022
Best product
I have a laminitic gelding who is on straight Bermuda. He is my everything everyday horse. He is a hard keeper also. I have tried many products that are safe for laminitis but haven't found one to put the weight needed on him till this product came out. Within 1 week there was a drastic difference in the way his coat looked his attitude improved and he is finally starting to put weight on. He gets 5 lbs a day soaked and after 1 week his ribs are finally going away. I can not express how thankful I am for this product.
Aug 29, 2022
Senior TB Looks Fabulous
My 26 year old TB has been on Senior Active for a month. She is worked about 4 days a week and was looking pretty good with the regular Triple Crown Senior, so when I saw there was an Active plus, I had to give it a try. I really didn't think it would make much of a difference. I've started to get compliments on how she looks. She is in the best shape of her life! People are amazed to learn she is 26 years old. Her butt is round, she is so shiny, and she has a calm energy that allows her to work without getting hot. This is good stuff!