A GMO-free diet. Ideal for horses with respiratory issues and those requiring additional calories, or assistance optimizing their performance, overall health and energy.
Triple Crown Steam Crimped Oats are Canadian sourced, high test weight and GMO free. Triple recleaned and dust free, these grains help optimize performance and health while ensuring your horse's airways remain clear.

Learn more about the Triple Crown Crimped Oats:

GUARANTEED ANALYSIS
Crude Protein (min.)
9.00%
Crude Fat (min.)
4.00%
Crude Fiber (max.)
12.00%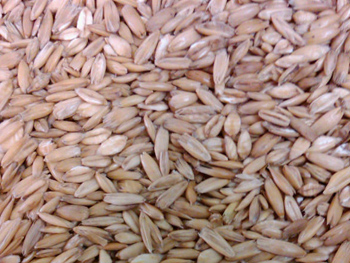 Ingredients
Steam Crimped Oats (Free from Restricted Ruminant Protein Products per Title 21, CFR 589.2000/2001)
Feeding Directions
Always provide good quality hay and/or pasture, salt and fresh clean water on a free choice basis. Adjust the amount of Triple Crown oats fed on a daily basis gradually to maintain horses body condition at a moderate level.
Do not feed more than 5 lb's of Triple Crown oats at a single meal and allow 3-4 hours between meals. Provide Triple Crown 30% Supplement at a feeding rate of 1.5 pounds per day for your average 1100 lb individual. If desired body condition is not met, please call us for consultation. 1-800-451-9916
NOTE: Provide plenty of fresh, clean water at all times. Keep product fresh in cool, dry storage. Examine product daily for mold or insect contamination. DO NOT use product that is old, molded or insect contaminated.
REVIEWS
Naturals Steam Crimped Oats
Average rating:
2 reviews
Apr 27, 2021
Steam Crimped Oats
The best steam crimped oats on the market! Every single bag is the same great quality and I've been feeding it for 15+ years.
Jan 21, 2019
oats
The steamed crimped oats are the cleanest oats I've found. Always smell fresh and low dust.