Timothy Balance®
Forage Cubes — Naturals
50 lbs (22.7 kg)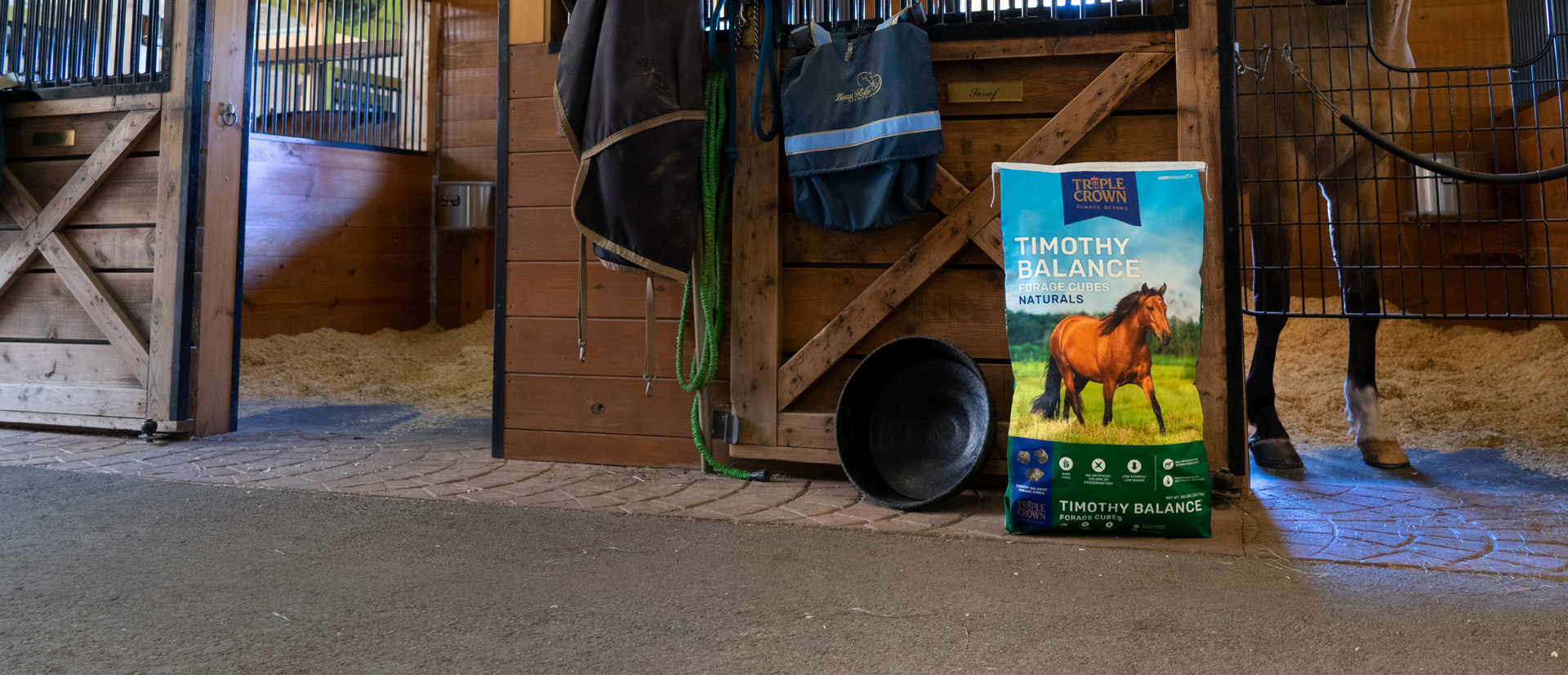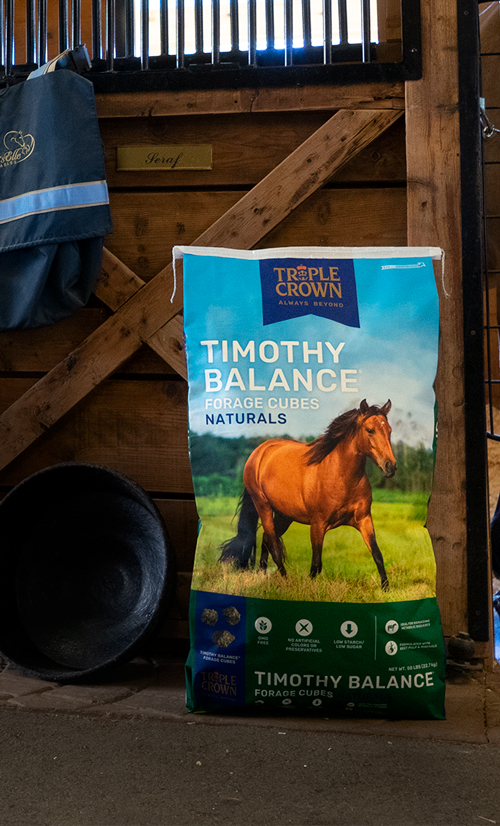 Ideal For:
Mature horses
Metabolic horses
Features:
GMO free
Alfalfa, molasses & soy free
Low starch & sugar
Helps Support:
Cushing's disease
Laminitis & Founder
Insulin Resistance
About Timothy Balance® Forage Cubes — Naturals
Protein 8%
Fat 1.8%
Fiber 35%
830 KCAL/LB.
Triple Crown Naturals Timothy Balance® Forage Cubes are a low protein forage replacement or supplement formulated with beet pulp and minerals. Designed for horses with Cushing's disease, Insulin Resistance, laminitis and other conditions when a low starch and sugar diet is recommended.
Guaranteed Analysis
Crude Protein (min.)

8.00%

Crude Fat (min.)

1.80%

Crude Fiber (max.)

35.00%

Calcium (min.)

0.50%

Calcium (max.)

0.80%

Phosphorus (min.)

0.30%

Magnesium (min.)

0.30%

Selenium (min.)

0.20 ppm

Zinc (min.)

90 ppm

Manganese (min.)

90 ppm

Copper (min.)

30 ppm

Iodine (min.)

0.80 ppm

Moisture (max.)

12.00%
Ingredients
Timothy Hay, Beet Pulp, Calcium Hydroxide, Monosodium Phosphate, Magnesium Oxide, Copper Sulfate, Zinc Sulfate, Manganese Sulfate, Sodium Selenite, Calcium Iodate.
Feeding Directions
OTHER CONSIDERATIONS
For older horses, horses with poor teeth or for horses prone to choke, cubes can
be soaked in warm water to loosen and make a mash. It is recommended
to offer in a feed tub, preferably at ground level.
Provide salt and plenty of fresh, clean water at all times. Keep product fresh in cool, dry storage. Examine product daily. DO NOT use if old, moldy or contaminated with insects.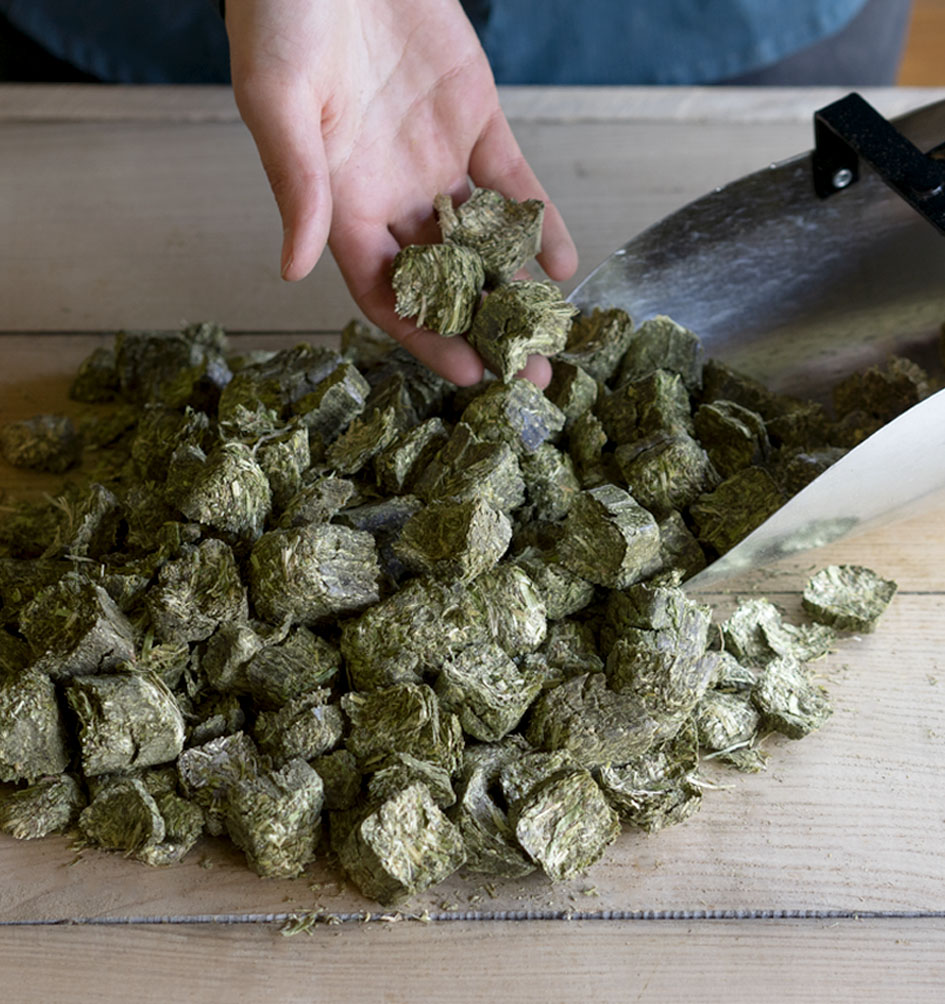 Learn about Timothy Balance® Forage Cubes
From a Triple Crown Expert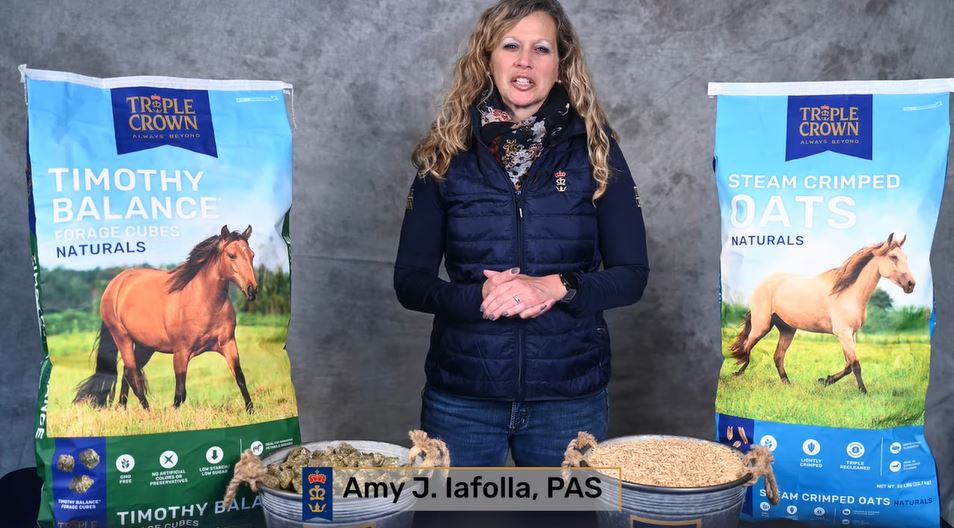 Timothy Balance® Forage Cubes — Naturals
Average rating:
7 reviews
May 23, 2023
Great source of low starch nutrition
I love the balance of Timothy and beet pulp for a healthy forage that is low sugar/ starch and palatable. It works well for my mini and my senior horses as well. Easy to soak.
Feb 15, 2023
Timothy naturals cubes
I love this product! I have a 20 yr old ,1400 lb AQHA with HYPP. These horses' diets are so tricky and this disease...so their diet is crucial. The Timothy naturals cubes are fantastic and he loves them and can get some good nutrition without starting seizure symptoms. The problem is finding it through various feed stores. HYPP is a horrible disease and very frustrating for the owner to find feed without hidden substances in it that is catastrophic to the animal. This brand has been perfect in supplying a great alternative for his needs rather than giving him something he shouldn't.
Feb 3, 2020
He loves them
Just to keep him moving, I got these to put in a treat roller for my 32 year old arabian. He cleaned that treat roller out the first night. Tonight, I put the treat roller in his stall and he left his dinner all excited to start rolling these out. Glad he loves them. He love the Senior feed too.
Jan 4, 2019
Good for IR and choke
I use this as a transport for my horses supplements. He is IR and has choked in the past, and these fit the bill for both: the cubes are smaller and softer, most break up by hand, and even in cold water they soak to mush quickly. They also work well for my mini mules, due to their size and softness, I can feed a handful dry to them without worry. Everybody loves them.
Oct 25, 2016
Good for my pony and for me too
I have Celiac Disease and it was a real challenge finding a low starch feed for my Laminitic pony that did not have traces of oat or wheat. This product has changed our lives. Thank you!
Help your horse thrive